Shruti's sympathisers block MP's way
Faridkot, November 20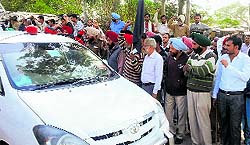 Members of the joint action committee formed to seek "justice" for Shruti Sachdeva today showed black flags to local Member of Parliament Paramjit Kaur Gulshan and blocked her way while she was heading to a school to inaugurate an event.


Members of the joint action committee try to block MP Paramjit Kaur Gulshan's way in Faridkot on Tuesday. A Tribune photograph

Sukhbir tells DGP to crack down on fake travel agents
Chandigarh, November 20
Deputy Chief Minister Sukhbir Singh Badal today asked Punjab Director General of Police Sumedh Singh Saini and Inspector General (NRI affairs) Gurpreet Deo to launch a campaign against illegal travel agents duping innocent youth, especially in the Doaba belt.

Mining ban has hit development: BSP
Fatehgarh Sahib, November 20
The Bahujan Samaj Party (BSP) will field its candidates on all seats in the state during the next Lok Sabha elections, said state BSP president Parkash Singh Jandali while talking to mediapersons here this evening.


Centre wants CM's special secy's salary stopped
Chandigarh, November 20
The Union Personnel Ministry has directed the Principal Accountant-General (Accounts), Punjab, to stop the salary of West Bengal-cadre 993 batch IAS officer, KJS Cheema, posted as Special Principal Secretary to Chief Minister Parkash Singh Badal, besides initiating disciplinary action against him.
FDI need of hour: Lakhowal
Chandigarh, November 20
Punjab Mandi Board chairman Ajmer Singh Lakhowal today said foreign direct investment (FDI) was the need of the hour and he wondered why Chief Minister Parkash Singh Badal and Deputy CM Sukhbir Badal were opposed to it.

Dr Chopra quits as head of selection panel
Chandigarh, November 20
Dr JS Chopra has resigned as chairman of the doctors' selection committee after the Health Department did not accept his recommendations. Irked at the selection list being tampered with and the papers carrying his signatures "trashed", Dr Chopra has put in his papers.

JS Chopra
Mittal: Civil surgeons to monitor activities of government doctors
Patiala, November 20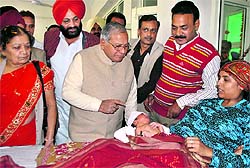 Health Minister Madan Mohan Mittal has said the civil surgeons will monitor the activities of all government doctors in their respective districts. Mittal, who was in the city today to inaugurate a newly constructed neonatal care unit at Government Mata Kaushalya Hospital, said he would not tolerate any lapse in this regard. The civil surgeons would be held accountable in case they failed to check this practice, he said.

Punjab Health Minister Madan Mohan Mittal during his visit to Mata Kaushalya Hospital in Patiala on Tuesday. Tribune photo: Rajesh Sachar

CCTV cameras to keep eye on 119 PCS exam centres
Patiala, November 20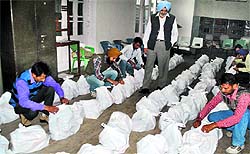 The Punjab Public Service Commission (PPSC) will install 120 CCTV cameras to monitor the proceedings during the Punjab Civil Services (PCS) examination schedule for November 25. The aim is to ensure complete transparency in the examination process. The commission has also hired around 550 mobile jammers for the purpose.

PPSC Chairman RS Suljana oversees arrangements for PCS exam 2012 in Patiala. Tribune photo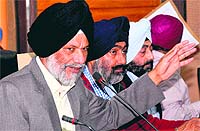 Now, sarpanches to be elected directly
Mohali, November 20
Overhauling the democratic process at the grassroots level, the Punjab Government has decided that sarpanches would be directly elected by villagers instead of the earlier practice of being nominated by elected members of the panchayat.


Rural Development and Panchayats Minister Surjit Singh Rakhra in Mohali. Tribune photo: Vicky Gharu

Rallying for a cause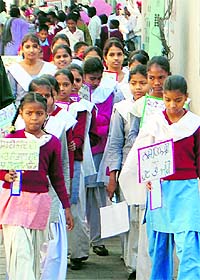 Students hold an awareness rally against drugs in Patiala on Tuesday. Tribune photo: Rajesh Sachar


Fatehgarh Sahib abduction case
Girl's parents allege police inaction
Fatehgarh Sahib, November 20
The parents of 19-year-old Ashia, who had gone missing from Mandi Gobindgarh on October 1, have alleged the local police had failed to bring back their daughter even having information about her whereabouts.

Monsanto offers hybrid maize seed to Punjab
Chandigarh, November 20
US-based Monsanto has offered to provide high yielding hybrid maize varieties suited to Punjab to help the state diversify crops.

Stray cattle menace hits rail traffic in Muktsar
Muktsar, November 20
The stray cattle menace is proving to be a major hindrance in smooth flow of rail traffic across the district with passengers having little option but to wait for hours together to board trains.

Red-tapism delays work on admn complex
Gurdaspur, November 20
Red-tapism has once again come in the way of the proposed six-storeyed Rs 35 crore District Administrative Complex (DAC) with the project design, prepared by the Chief Architect's office, hitting a roadblock.

Police functioning hit as Patiala range sans DIG
Patiala, November 20
The Patiala police range has been working without a Deputy Inspector General (DIG) ever since the transfer of the earlier incumbent last month.



Danga Peerat Welfare Society moves HC
Chandigarh, November 20
The Danga Peerat Welfare Society today moved the Punjab and Haryana High Court alleging that the Punjab Government was not following policies for the rehabilitation of the 1984 anti-Sikh riot victims.

Banks can't purchase properties of defaulters, rules High Court
Chandigarh, November 20
In a significant judgment, the Punjab and Haryana High Court has made it clear to banks that they can only recover the pending amount and not enrich themselves by purchasing properties of defaulters.

Notice to state on rehabilitating beggars
Chandigarh, November 20
Taking suo motu cognizance of a letter written by Punjab's former Health Minister and senior BJP leader Laxmi Kanta Chawla for the rehabilitation of rag-pickers, the Punjab and Haryana High Court today issued a notice to the State of Punjab.