Dismiss Capt's petition on shifting corruption case, govt tells HC
Chandigarh, November 21
Just more than two months after the Punjab and Haryana High Court issued notice on Pradesh Congress Committee president Capt Amarinder Singh's plea for transfer of Amritsar Improvement Trust case from Mohali to any court outside Punjab, the state today sought directions for dismissing the petition.
Mining norms may be relaxed: Centre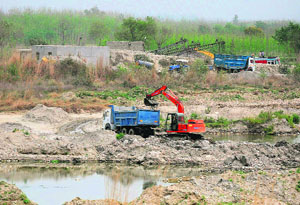 Chandigarh, November 21
Union Minister of State Environment & Forests Jayanthi Natarajan today agreed to shift the minor mineral projects of an area less than 5 hectares to the B-2 category. Earlier, even these projects were covered under the B-1 category and required an environment impact assessment (EIA) certificate which took an "abnormally long" period of more than 200 days. The Union Minster conveyed her agreement to Chief Minister Prakash Singh Badal, who apprised her of scarcity of construction material in the state due to stringent EIA norms, a press release said.
Historic Sangrur 'Kothi' to regain its grandeur
Sangrur, November 21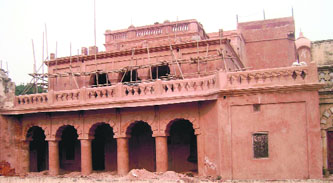 The 125-year-old 'Kothi', situated on the premises of Diwankhana in the Banasar Garden here, is being renovated by the Punjab Heritage and Tourism Promotion Board at a cost of over Rs 70 lakh. The 'Kothi' is famous for the bathing tank situated on its rooftop. The tank was reportedly used by the royal family of the erstwhile Jind state.
The 'Kothi' in Sangrur. Tribune photo: Sushil Goyal
Mata Kaushalya scheme: 2,000 women unpaid
Patiala, November 21
Several thousand women who delivered their children at government hospitals in Patiala district between the dates: December 16, 2011 to May 15, 2012, have not yet received the benefits entitled to them under Punjab government's Mata Kaushalya scheme.
Patiala MC passes plan to decongest roads
Patiala, November 21
The Patiala Municipal Corporation has passed its much-hyped Comprehensive Mobility Plan (CMP) which is aimed at making the city's roads less congested in the long run. The CMP had been in the pipeline for a long time.


Cotton glut: Mandis in the Malwa region are witnessing a sudden arrival of cotton that had been withheld by the farmers in the hope of price escalation. An official of the market committee said cotton arrival picked up on Monday when farmers brought 4,890 quintals to the market. The arrival was 4,250 quintals on Tuesday and 2,600 quintals on Wednesday.



Labourers unloading cotton in Bathinda. A Tribune photograph

Phoolka forms peace panel
Amritsar, November 21
To check the recurrence of violence in Delhi gurdwaras, noted lawyer HS Phoolka has formed a peace committee comprising representatives of the SAD (Delhi) as well as the SAD (Badal).
Border area farmers to hold protest
Amritsar, November 21
Farmer and labour organisations today announced to hold a dharna in front of the IG office here on December 10 against the alleged excesses being committed on farmers in border areas.


Notice to Punjab for acid attack victim's treatment
Chandigarh, November 21
The Punjab and Haryana High Court today put the State of Punjab on notice on a petition filed in public interest for the free plastic surgery and rehabilitation of a Morinda-based acid attack victim. The Bench of Chief Justice AK Sikri and Justice Rakesh Kumar Jain issued the notice for December 18 to the State of Punjab on the PIL filed by "Poor Patients Relief Society" through secretary HC Arora. The society is asking for free treatment, including plastic surgery, of victim Inderjit Kaur of Morinda.


BSF officer held taking Rs 1.8 lakh bribe
Chandigarh, November 21
Acting on a tip-off, the CBI today arrested Charu Narang, Deputy Financial Adviser to the BSF, while allegedly taking a bribe of Rs 1.8 lakh from a Ludhiana-based businessman, Sandeep Mehra. She had sought the bribe for clearing Mehra's tender file for supplying clothing and other items amounting to over Rs 10 lakh to the BSF.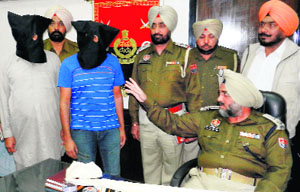 Arms of Keetu's gunman used in his murder
Moga, November 21
The Moga police has recovered one of the weapons used to kill former Akali MLA Malkiat Singh Keetu and arrested the main accused, Harpreet Singh, son of Keetu's nephew Karam Singh. Harpreet fired shots from a .315 bore rifle to kill his relative, said the Senior Superintendent of Police (SSP), Surjit Singh Grewal.
Two of the accused in the Malkiat Singh Keetu murder case in police custody.

Eight PUDA officials among 11 booked for fraud
Vigilance Bureau finds irregularities in purchase of electricity material for developmental works; two arrested so far
Bathinda, November 21
The Vigilance Bureau (VB) today registered a case of fraud against eight senior officials of the PUDA (Punjab Urban Development Authority). The PUDA officials, including the chief engineer, a superintending engineer, an executive engineer, two SDOs and three JEs, along with three contractors of the BDA (Bathinda Development Authority) have been booked for committing irregularities while purchasing electricity material for developmental works.
Four hurt in Chabal clash
Amritsar, November 21
Tension gripped Taran Taran's Chabal area today after members of Sri Guru Granth Sahib Satkar Committee clashed with members of a community in front of the Chabal police station. Four persons were reportedly injured in the incident.
Shootout at grain market
Sangrur, November 21
Hardip Singh, an arhtiya, was injured when one of his close relatives (also an arhtiya) allegedly opened fire at him at the local grain market today. He was admitted to the local Civil Hospital. Swaran Singh, DSP, Sangrur, said Dara Singh and Hardip Singh, who had been running their business together, separated last year. Following an altercation between them, Dara Singh allegedly opened fire at Hardip Singh with a revolver, he said. The DSP said the police had registered a case against Dara Singh, Harwinder Singh and Bharpur Singh.
Vigilance arrests vet for 'taking' bribe
Patiala, November 21
The Patiala Vigilance Bureau today arrested a veterinary doctor for allegedly accepting a bribe of Rs 2,000 from a farmer in lieu of releasing the postmortem report of his insured cattle. The team headed by Inspector Ram Phal, arrested Dr Rohtash Mittal who was posted at the veterinary dispensary in Naina Khurd village, for accepting the bribe from Major Singh. Pritam Singh, Vigilance Senior Superintendent of Police, Patiala, said the farmer in order to en-cash the insurance for his dead cow needed a postmortem report. — TNS