Cabinet approves policy for renewable energy resources
Chandigarh, November 22
The Punjab Cabinet, at a meeting today, approved the enactment of the "New and Renewable Sources of energy (NRSE) Policy- 2012"
Nothing wrong in banks financing application money, says High Court
Chandigarh, November 22
The Punjab and Haryana High Court has not found any illegality in banks financing "application money" for plots and flats in Punjab and Haryana. It has dismissed petitions filed in public interest against "advertisements and the process of financing the application money by the banks".
14 killed in bus-truck collision

Abohar, November 22
At least 14 persons, three of them from Gurdaspur district, were killed and 39 injured when a truck carrying fruit and vegetables collided head-on with a luxury bus at Hariyasar, 5 km from Hanumangarh, today.



The mangled remains of a luxury bus that collided with a truck on the mega highway. Photo: Raj Sadosh



43,000 tonnes of paddy yet to be lifted from Ferozepur mandis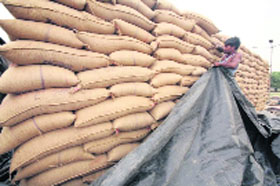 Ferozepur, November 22
Despite the government's tall claims, more than 43,000 tonnes of paddy is still lying in the district mandis. It is learnt that millers haver been demanding a "cut" for allowing commission agents to stack paddy in their mills.




Millers allegedly demanding 'cut' from agents for stacking paddy. A Tribune file photograph

2 workers asphyxiated while cleaning sewer
Sangrur, November 22
Two employees of the Punjab Water Supply and Sewerage Board, Tinku (24) and Ramesh (26), died today allegedly due to asphyxiation while they were cleaning a sewer disposal point near Rahi Basti here.
Akalis influencing ward demarcation in villages: Cong
Muktsar, November 22
With the initiation of demarcation process for village wards, the local Congress leadership today came out with its allegation against the ruling Akali Dal's constituency heads allegedly putting undue pressure on bureaucrats to get things done as per their wish.
Relying on superstition for reaping good profits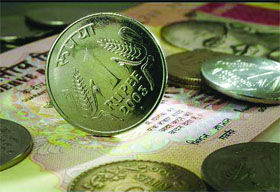 Gurdaspur, November 22
Farmers in the district make it a point to throw coins into either the Ravi or the Beas or their tributaries before heading off to a grain market to sell the 1120 variety of basmati.






Farmers throw coins into the Ravi or Beas before leaving for mandis

2 officers fined under Right to Service Act
Ferozepur, November 22
Two administrative officials have been fined under the Right to Service Act for not releasing the old-age pension of a woman within the stipulated time.
Capt seeks Saini's removal on phone-tapping issue
Chandigarh, November 22
Punjab Pradesh Congress Committee president Capt Amarinder Singh today sought the removal of the state Director-General of Police Sumedh Singh Saini in view of his indictment by the then Chief Justice of the Punjab and Haryana High Court Justice TS Thakur, now a sitting Supreme Court judge, in a letter to the Chief Justice of India in 2008.
Probe panel misses deadline
Amritsar, November 22
The three-member investigating committee constituted by Akal Takht Jathedar Giani Gurbachan Singh to probe the Gurdwara Rakabganj Sahib clash failed to meet its deadline and submit its report today.
Mohali most prosperous district
Ludhiana, November 22
Mohali has become the richest district in the state, replacing Ludhiana at the top spot.


Save the girl child
NCC cadets hold a rally "Save Girl Child" during the NCC Day celebrations in Patiala, on Wednesday. — Tribune photo: Rajesh Sachar
Ludhiana Metro project fine-tuned for final approval
Chandigarh, November 22
A high-levelled committee under the chairmanship of Sukhbir Badal, Deputy Chief Minister, today fine-tuned the Ludhiana Metro project report, so that it could be submitted to the Union Government for final approval.
Punjab govt to acquire 5,250 acres in Mullanpur
Chandigarh, November 22
Under the land pooling scheme, the Punjab Government today decided to acquire 5,250 acres of land in Mullanpur for the integral development of the area.
Employment fair held at Bassi Pathana crowds
Bassi Pathana, November 22
A state level employment fair was organised at the ITI institute here today in which more than 750 youth, who trained at ITI, took part. Representatives of over 11 reputed companies participated in the fair.
Health infrastructure ailing in Ropar
Ropar, November 22
The Health Department will hold a four-day Arogya Mela to promote the ayurvedic and homoeopathic medicine systems from tomorrow at Anandpur Sahib.
Rs 2.25 cr sanctioned for new fish market in Ludhiana
Ludhiana, November 22
The National Fisheries Development Board, Hyderabad, has agreed to sanction Rs 2.25 crore to build a modern hygienic wholesale-cum-retail fish market in Ludhiana. The market will be located at focal point in Koazkae village near here.
Grievances panel not formed despite Guv's approval
Sangrur, November 22
Even though the reconstitution of District Grievances Redressal Committees in the state was approved by the Punjab Governor through a notification on April 12, the committee has not been constituted in the district so far.
Bathinda politicians flaunt bodyguards
Bathinda, November 22
Thanks to the overzealous security set-up for political leaders in this part of Punjab, some 'selected' ones in this district have over one dozen bodyguards well-equipped with AK-47 assault rifles.
Red-tapism delays work on administrative complex
Gurdaspur, November 22
Red-tapism has once again come in the way of the proposed six-storeyed Rs 35 crore District Administrative Complex (DAC) with the project design, prepared by the Chief Architect's office, hitting a roadblock.
PTU student killed in road mishap
Bathinda, November 22
An 18-year-old student of the PTU Giani Zail Singh Campus was killed in an accident that took place on the Dabwali road adjoining the Delhi Railway Lines Flyover.
Women taking up drug trafficking
Bathinda, November 22
If earlier crime was a male bastion, women are now taking up the illegal activity, particularly smuggling drugs.
Sikhs want Punjabi taught in Assam schools
Guwahati, November 22
Sikhs living in Assam want Punjabi language taught in the state, Guru Nanak Chair at the Gauhati University and a cultural centre of their own in Guwahati city. These demands were placed before Assam Chief Minister Tarun Gogoi through Dr Ajaib Singh, member, National Commission for Minorities.
BSF official held on graft charges in CBI custody till tomorrow
Patiala: The court of Special Judge (CBI), Patiala has sent Deputy Financial Adviser of the BSF Charu Narang Thakur and Ludhiana businessman Sandeep Mehra to CBI custody till November 24.


17 trucks seized with illegally mined sand
Moga, November 22
Continuing its drive against mining mafia, the police has seized 17 trucks loaded with sand and arrested as many persons in separate incidents in the district over the past 24 hours. SSP Surjit Singh Grewal said the police had launched an operation against the sand mafia engaged in illegal mining on the Sutlej basin. He said so far, more than 80 FIRs, following directions from the High Court, had been registered to curb the illegal activity.