Videoconferencing facility begins at city district courts
Chandigarh, November 22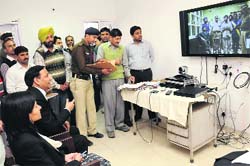 The UT district courts in Sector 17 today started the videoconferencing facility with Model Jail, Burail. A total of 21 undertrials whose challans were awaited were produced before the magistrate using the facility on the first day today.


District and Sessions Judge SK Aggarwal and Duty Magistrate Sukhda Pritam hear cases through videoconferencing at the district courts in Chandigarh on Thursday. Tribune photo: Manoj Mahajan
Conversation didn't reveal demand for bribe:
Desh Raj
Chandigarh, November 22
Under suspension Superintendent of Police (SP) Desh Raj today claimed that the conversation between him and complainant Anokh Singh did not reveal the demand of illegal gratification and the bribe money was "planted".
Desh Raj
Finding wheelchair, stretcher trolley in PGI a Herculean task
Chandigarh, November 22
For 80-year-old Onkar Nath, who has already been fighting the pain of tumour in the bone of his right leg, the challenges seem endless. Not only he has to lay pressure on his recently operated leg to sit on his son's scooter every time he comes to the PGI for a check-up, but also dares to walk up to the patients' lift in the New OPD block from the parking area with his bandaged leg.
Accountant found murdered
Chandigarh, November 22
Two commission agents in Banur allegedly murdered their accountant (munshi) of 10 years following a financial dispute yesterday and carried the body to Sector 26 in a car where they own another shop. The body of 50-year-old Danpat, who hails from Hamirpur, was recovered from a Fortunner car in Sector 26 this morning and both the accused agents are on the run.



A policeman inspects the vehicle in which the body was found at Sector 26; and (right) Roshan Lal, brother of the victim, at the Sector 26 police station, Chandigarh, on Thursday. Tribune photos: Manoj Mahajan
Accused surrenders in court
Panchkula, November 22
In a major development in an honour killing case, the maternal uncle of the girl, Anju, who was murdered and thrown in Morni, surrendered in the court today. The accused, Suraj Bhan, admitted that he, along with the paternal uncle and brother of the victim, had strangulated her. The court has sent him to judicial custody.



'IT sector needs expansion'
Chandigarh, November 22
"Infosys has recorded the fastest revenue growth from Chandigarh," said S Gopalakrishnan, president designate, CII, and executive co-chairman, Infosys Limited, during Destination IT @ North.


Infosys executive co-chairman S Gopalakrishnan during Destination IT @ North in Chandigarh.
Software export has hit a new high: UT Adviser
Chandigarh, November 22
"The software export from Chandigarh witnessed an increase from Rs 926 crore in 2010-11 to Rs 1,300 crore in 2011-12," said UT Adviser to the Administrator KK Sharma terming Chandigarh as a destination for IT companies during a conference on information technology in Chandigarh.
Experts delibrate upon benefits of medicinal plants
Mohali, November 22


To provide a platform for the networking international and national researchers, a three-day 3rd Biennial International Conference on new development in drugs' discovery from natural products and traditional medicines commenced at NIPER at Sector 67, here today.
Dr Nitya Anand, former director, Central Drug Research Institute , Lucknow.
Sukhna Lake — a paradise for migratory birds
Chandigarh, November 22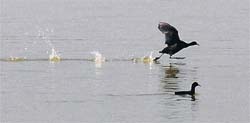 Sukhna Lake is brimming with hundreds of winged visitors like commom pochards, common coot, Brahmi duck, goose, bar-headed geese that have flogged the water body from the far-flung areas of the higher Himalayan region.
Leaving a trail: Migratory birds have finally arrived in the City Beautiful. They are a sight to behold at Sukhna Lake. Tribune photo: S Chandan
Dance to prevent memory loss
Chandigarh, November 22
"Regular exercise and learning skills such as music and dancing that involve the attention and functions of all portions of brain are the best methods to prevent memory loss," said experts at the PGI.
Bhangra fascinates Mexican performers
Mohali, November 22
The performers from Mexico, who came to
participate in the Chandigarh International Folk Festival, are fascinated by our own 'desi' bhangra and they have termed it as a 'dance of life'. Diana and Bibiana, who came from Mexico to perform in the 4th Chandigarh International Folk Festival at Chandigarh University, Gharuan, said the most fascinating thing, which they found in India, was Punjabi folk dance bhangra.
Participants from Mexico perform during the Chandigarh International Folk Festival at Gharuan on Thursday. Tribune Photos: Vicky Gharu
Tribal dances ready to enthral residents during Chandigarh Carnival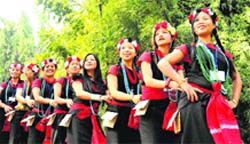 Chandigarh, November 22
Tribal dances of Arunanchal Pradesh will enthral the local crowd during the three-day Chandigarh Carnival, starting from tomorrow at the Leisure valley. Over 300 young dancers from Arunanchal will stage tribal dances during the carnival. Prominent among the tribal dances is a dance by "Nyishi" tribe, which is also called "Nyashang".
Participants from Arunachal Pradesh during a practice session at the Leisure Valley in Chandigarh on Thursday. Tribune Photo: Pradeep Tewari
Over 900 applications for vanity numbers
Chandigarh, November 22
The Registering and Licensing Authority (RLA), Chandigarh, has received over 900 applications for vanity numbers against the new vehicle registration series CH-01-AQ


St John's ignoring minorties: UT
Chandigarh, November 22
St John's High School,Sector 26, is not providing enough benefits to the minority community," the Chandigarh Administration has stated in an affidavit filed before the National Commission For Minority Educational Institutions, New Delhi, in the case, challenging the minority status of the school.


Teachers of private-aided colleges hold protest
Chandigarh, November 22
Classes were disrupted for the two hours at seven private-aided colleges in the city as the teachers were participating in a protest against the non-implementation of the Pension and Gratuity Scheme, which was enacted in 1999 by the Punjab Government. The classes remained suspended from 11 am to 1 pm today. This was the second time in a week when the classes were disrupted as the teachers had gone to strike. The strike was observed across Punjab. Earlier, the strike was held on November 20 following which the classes had come to a halt.
School management committees to buy uniforms for students
Chandigarh, November 22
Now, the school management committees (SMCs) of the government schools will buy school uniforms for the students. Earlier, the Education Department had proposed one- time cash subsidy, which was to be transferred in the joint account of students and their mothers for buying the uniform. After a series of meetings with the heads of the schools and with the department's senior officials, it was decided that the school management committees would be responsible for providing uniforms.
Tenders for bug detectors invited
Chandigarh, November 22
Learning a lesson following the unearthing of the cheating racket during its MD/MS examinations held on November 10, the PGIMER has now invited tenders for procuring jammers and bug detectors for the exam rescheduled for December 8.
All is not well with Education dept's website
Chandigarh, November 22
It seems that office of the UT education department is in no mood to highlight laurels bagged by the local sportspersons in various national and local tournaments for general public.