MC to fine shopkeepers
Hisar, November 22
The local Municipal Corporation has devised a novel way to solve the problem of encroachment by shopkeepers and haphazard parking by customers in Rajguru Market here.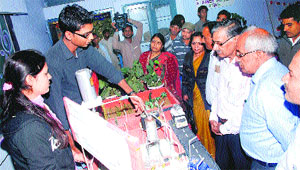 Students explain a model to visitors at a science exhibition in Government College, Bhiwani, on Thursday. Photo: Manoj Dhaka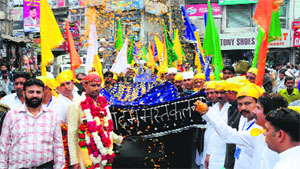 Devotees carry a huge chadar on the occasion of the annual Urs celebration of Bu-Ali-Shah Kalander in Karnal on Thursday. Tribune photo: Ravi Kumar
7 students hurt in accident
Rohtak, November 22
At least seven minor students and some teachers of a private school got injured, three of them seriously, after their school bus collided with a truck on the Rohtak-Baland road in the district today. The police has booked the driver of the truck, who is at large. The truck has been impounded.
Cancelled exams from Dec 10
Chandigarh November 22
The secondary and senior secondary examinations for September-October, 2012, of the Board of School Education, Haryana, which were cancelled at a few centres, would now be held from December 10 instead of November 24 due to administrative reasons, a spokesman of the board said today.
MDU students lock office of agency preparing results
Rohtak, November 22
A group of students owing allegiance to the Indian National Students Organisation (INSO) staged a demonstration and locked the office of the agency handling the preparation of the results of the examinations of Maharshi Dayanand University (MDU) in protest against alleged irregularities in the detailed marks sheets (DMC) and delay in the announcement of the results of various courses.
Encroachments around IAF stations in Faridabad, Gurgaon
Chandigarh, November 22
The Punjab and Haryana High Court today ordered a judicial intervention in the matter of encroachments and illegal constructions in the prohibited zones around the Air Force stations of Faridabad and Gurgaon.
Court slaps Rs 17-lakh penalty on HUDA
Chandigarh, November 22
Coming down heavily on HUDA for carving out plots on a piece of land which it never acquired and harassing two persons, the Punjab and Haryana High Court has slapped a Rs 17 lakh penalty on the authority.
Fake ticketing racket unearthed in Ambala
Ambala, November 22
A special investigating team of Vigilance sleuths from New Delhi have initiated investigations into a fake ticketing racket in Ambala, allegedly being run by a private agency in connivance with some Railways staffers.
Stir threat over delay in draw for HUDA plots
Rohtak, November 22
The inordinate delay in holding the draw of plots in Sector 5 here by HUDA has led to resentment among applicants who have now served an ultimatum on the authorities concerned to either hold the draw within 15 days or face an agitation. There are over 2.5 lakh applicants for about 450 plots in Sector 5 whose draw was scheduled to be held on September 19 but had been postponed due to a legal tangle.
State leads Punjab in supplying power
Ambala, November 22
The capacity addition in power generation undertaken by Haryana has finally started yielding results as the state has overtaken Punjab in daily power supply after commissioning of its Khedar and Jhajjar plants.
Cong in minority in Faridabad MC as 4 members join INLD
Faridabad, November 22
Four of the seven elected members of the Congress-ruled Faridabad Zila Parishad left for an undisclosed destination yesterday after formally joining the INLD, destabilising the reign of the ruling party (Congress) over the elected body.
Removal of illegal hoardings ordered in Kurukshetra
Kurukshetra, November 22
Taking note of unauthorised hoardings in the city and nearby areas, additional deputy commissioner Sumedha Kataria has directed the Municipal Corporation of Kurukshetra and other municipal councils to remove the hoardings within 15 days.
Find trainers to enhance teachers' skills, says Hooda
Chandigarh, November 22
Chief Minister Bhupinder Singh Hooda today stressed the need for identifying people who could impart training to teachers to improve their teaching skills.
Safai workers find bomb shells in drain
Ambala, November 22
Two safai workers of the civic body today discovered two bombs shells believed to have been used by the Air Force during a routine cleaning of a drain in Bazigar Colony of the Sadar area here today. The two workers reported the matter to their senior, who informed the police about the recovery.
Engineering student dies as car overturns
Jhajjar, November 22
An engineering student was killed and four sustained injuries when their car overturned near the Sector 9 bypass in Bahadurgarh town today.
2 murder convicts nabbed
Gurgaon, November 22
Amit and Zile Singh, two murder convicts who fled the Bhondsi jail in March, have been nabbed by the crime department. One of them was caught near the Bilaspur petrol station and during his investigation, the police got to know about his ally hiding in Rajastahn.
Youth held for molesting girl
Sonepat, November 22
Praveen, a married youth of local Mam Chand Colony, has not only dared to molest a girl in her house in West Ram Nagar but also forcibly put "sindoor" in her hair late last evening.
Body found
Rewari, November 22
Following the recovery of the body of Sarjit of Bulandshahr (UP) from a deserted place at Malpura village, near Dharuhera, yesterday, the police has registered a case of murder against assailants.