File traced: Namdhari issued arms licence on basis of Kurali ration card


Ropar, November 28
Sukhdev Singh Namdhari, a suspect in the Ponty Chadha and his brother's killing, used a ration card issued at Kurali to procure an arms licence from the district administration, reveals a file found in the Ropar Deputy Commissioner's (DC) office today. Kurali, now a part of Mohali district, was a part of Ropar till 2006.
Passport Verification: Role of policemen under scanner
Jalandhar, November 28
The Jalandhar (Rural) police is probing the role of police officials for helping Sukhdev Singh Namdhari, sacked chief of the Uttarakhand Minorities Commission, get fake documents for obtaining a passport from the Regional Passport Office here.
Cong: SAD has double standards on FDI
Chandigarh, November 28
The Punjab Congress today claimed Deputy Chief Minister Sukhbir Badal had exposed the Shiromani Akali Dal's (SAD's) "double standards" on the issue of FDI in retail by opposing it at the national level in conjunction with the BJP but "encouraging" it in Punjab by inaugurating a Metro Cash and Carry store in Amritsar.
Renovation of historical building
Pending bill payment, INTACH stops work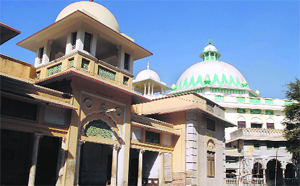 Faridkot, November 28
The Indian National Trust for Art and Cultural Heritage (INTACH), a non-government organisation (NGO), has complained to the Building Construction Committee of the Punjab and Haryana High Court against the state government for the alleged breach of contract and non-payment for the work done by it.
The partially renovated District Courts Complex in Faridkot. A Tribune photograph
10-storey building to come up in 48 hrs!
Chandigarh, November 28
Deputy Chief Minister Sukhbir Singh Badal will lay the foundation stone of a 10-storey building, INSTACON, to be constructed in 48 hours, in Mohali tomorrow.
Dowry death: Sangrur residents take to streets
Sangrur, November 28
A large number of residents today blocked traffic at Mahavir Chowk here for more than two hours in protest against the death of Gurpreet Kaur (23) of Khillrian village. Gurpreet had died under mysterious cirumstances on Monday night.
Scripting success story in his seventies
Amritsar, November 28
Seventy-six-year-old Jaswant Singh Khosa from Malaysia starts his day as early as 4 am and for the next 12 to 13 hours he writes copies of Guru Granth Sahib in Gurmukhi. It is the outcome of his faith and passion that he has already prepared five handwritten copies of the holy book in the last over two decades. He presented one copy to the Akal Takht on Monday.
Rehab centre maimed by funds crunch
Sangrur, November 28
Polio-stricken Sukhdev Singh, 21, a resident of Lehragaga, has been waiting for a caliper for several months. So has Kulwinder Kaur, 35, of Mehlan Chowk near here. Sukhdev Singh has visited the local District Disability Rehabilitation Centre (DDRC) at least five times, but in vain.
Rights panel representative inspects jail
Sangrur, November 28
A special rapporteur of the National Human Rights Commission (NHRC), S Jalaja, today visited the District Jail here. She inspected the jail and checked the facilities being provided to the inmates.
New Zealand offers technology to prolong shelf life of farm products
Chandigarh, November 28
The New Zealand Government yesterday expressed a desire to set up joint ventures with Punjab in various sectors, including industry, agriculture and milk processing.
Cong's Bhullar sees Valtoha's hand behind Taran Taran 'fake' case
Chandigarh, November 28
Former minister and senior Congress leader Gurchet Singh Bhullar today alleged that Khem Karan legislator Virsa Singh Valtoha was behind the registration of petty cases against two persons who had committed murder in Uttarakhand in order to create an alibi for them.
Badal writes to Jharkhand CM
Patiala, November 28
The coal stock in the state is declining daily owing to the disruption of supplies from Panem Coal Mines on account of an agitation in Jharkhand. The matter is crucial as Punjab has not received coal supply from Jharkhand's Pachwara mines since November 21.
Depts flouting instructions on re-employment
Chandigarh, November 28
Several departments are flouting instructions by the Department of Personnel against re-employing retired persons.
Highest incidence of stroke in Ludhiana
Ludhiana, November 28
With 62 persons out of 10,0000 suffering a stroke, Ludhiana has the highest incidence of stroke in the country, said Dr Jairaj Pandian, principal investigator of a research project "Ludhiana Population-Based Stroke Registry." The project is funded by the the Indian Council of Medical Research.
Choked drains make life miserable in Longowal
Longowal (Sangrur), November 28
Longowal residents have several reason to be unhappy with the administration. Broken roads, overflowing drains and stray dog menace are just some of the issues that residents are grappling with.
Taxis eat up parking space in Bathinda
Bathinda, November 28
At a time when city residents jostle for space to park their vehicles while visiting the market, the taxi drivers park their vehicles at a parking space located near Subhash Market at Gole Diggi.
Inmates taught law at Bathinda Central Jail
Bathinda, November 28
Legal Day was observed at Bathinda Central Jail today. The District Legal Services Authority organised a lecture for the inmates. District attorney Surinder Sachdeva and advocate Bansi Lal Sachdeva informed the jail inmates about the various laws. Jail superintendent Rajmahinder Singh Dhaliwal presided over the function.
Mid-day meal data to go online
Bathinda, November 28
With an aim to consolidate the data related to mid-day meals served in government schools, the Ministry of Human Resources Development (MHRD) is coming up with a website.
PRTC takes corrective measures, goes into black
Patiala, November 28
The Pepsu Roadways Transport Corporation (PRTC) which ran a loss of Rs 2.60 crore in April is now generating profit. Its profit in August was Rs 56.18 lakh.
Ace shooter Avneet Sidhu wins gold
Bathinda, November 28 Bathinda girl Avneet Kaur Sidhu, PPS, who is a DSP with the Punjab Police, today won the air rifle event at the 6th All India Police Shooting Sports Championship being held at the PAP shooting range, Jalandhar.
HC: Varsity can't charge registration fee twice
Chandigarh, November 28
In a significant judgement, the Punjab and Haryana High Court has quashed Baba Farid University of Health Sciences' decision to charge registration fee for the second time from students already registered with the varsity. .
3 get life term for killing sarpanch
Moga, November 28 Additional District and Sessions Judge Sukhwinder Kaur today sentenced three youths to life imprisonment for murdering Kuldip Singh, an Akali sarpanch of Hariewala village in Baghapurana subdivision.
Two injured in clash over land dispute
Sangrur, November 28
Two persons today sustained injuries in a firing incident over a land dispute in Bhullran village falling under the Amargarh police station.
VB arrests two for pilfering ration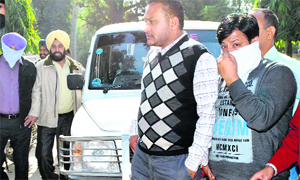 Patiala, November 28
Vigilance Bureau (VB) has arrested Charanjit Singh Grover, Assistant Food Supply Officer, Nabha and Inspector Mohit Aggarwal and registered an FIR against six others for allegedly selling subsidised ration in the open market.
Charanjit Singh Grover, Assistant Food Supply Officer and Food Supply Inspector Mohit Aggarwal being taken to police station in Patiala on Wednesday. Tribune photo
Liquor vend shot dead in Patiala
Patiala, November 28
A liquor vend employee Bhupinder Singh was allegedly shot dead from point blank range by some unknown persons near Rakhra village on the Patiala-Nabha road late last night. Police has started investigating the case.