Invading the testosterone territory of art
Even in apparently modern societies, women continue to receive discriminatory treatment. For decades, museums and galleries ignored women by denying them their rightful representation in the art world. This has been challenged now
Dr Saba Gulraiz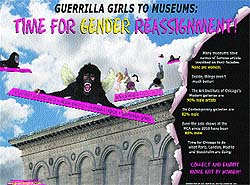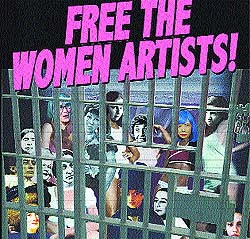 The posters of Guerrilla Girls make statements based on the fact that while most art schools have had more than 50 per cent women for decades, the number of women who make it in the art market is much fewer
In the 21st century we talk about equality and homogenization of world societies. We claim to have discarded the old stereotyped notion of gender and genderized perception. But, in reality, our global male-dominated societies have not yet thrown off their tattered garb of gender and racial discrimination that still continues to exist, even in the most advanced and modern nation-states. This is so bizarre and embarrassing that how these global realities that are deeply entrenched in the very fabric of social system also get structured in corporate, political and cultural institutions in the form of hierarchies and peripheries. Even the art world is not spared by the hypocrisy and dominance of the male contingent. This creates an ugly gap in the face of the post-modern world. 'Guerrilla Girls' is one among such heterodox voices who have taken up the task of bridging this gap to offer a hopeful vision of the world that would include all the voices in it.
Artists as activists
This feminist activist-artists' group, fighting racial and gender based inequalities in the Western world, was formed accidently about twenty-seven years ago in 1985 when they saw the underrepresented state of the women artists in the New York Art world. The siren call was the exhibition titled 'An International Survey of Recent Painting and Sculpture'. The exhibition mounted by the Museum of Modern Art had only 17 women artists out of total 169 participating artists. The status quo around the city in other museums and galleries, even the text books on history was a picture detrimental to the country that talks about equal opportunities and claims to be ahead of others in achieving equality. Guerrilla Girls took up this issue by horn and decided to expose gender discrimination in the art world by putting up a couple of posters on the streets of New York City.
This was their first artistic intervention to break the glass ceiling and expose the androcentric bias of the museums where women's art is strategically made obscured by keeping it locked up in storages or basements. The posters that caused all the turbulence in the boys' club were also a critique on women's own submission to their condition that denigrates them before the male supremacy. "If they throw you out the front door you go in the back door and if they throw you out the back door you go in the window and if they throw you out the window you go in the basement. And you don't even take it personally." These words of Jeffrey Katzenberg are enough to tell the treatment received by women art in museums and galleries and the passivity of women artists upon their own discriminated state.
Wearing masks for crusade
Now to speak the issue out loud and clear, they needed to come out of their comfort zone to work anonymously and keep their identity under cover. So they took the names of the most acclaimed dead female artists like Frida Kahlo, Kathe Kollwitz, Alma Thomas, Julia de Borgos, Rosalba Carriera etc. as pseudonyms. As women and also as established artists, (as many of them are) it was not easy for them to work as dual-identities and reconcile their real life with the guerrilla life but it was important to keep them from being caught, as putting up street posters is illegal in New York city. This also kept the focus on the issue without getting any credit. And about the gorilla mask, they say, it came about accidentally. "As an anonymous group we needed a disguise. One of our early members misspelled guerrilla as gorilla and we have worn gorilla masks ever since." By wearing this beastly masculine mask, they have not only challenged the male hypocrisy but have also subverted the notion of gender itself, as their creative appropriation misappropriates femininity and presents a radical image of women who have come out of their "genderized identity" to challenge the man's world as "transgressive icons".
Tools of transgression
These interventionists expose and appropriate prejudices and art world politics by employing mass advertising techniques and strategies. Their guerrilla operations for combating the male-chauvinism include protest actions, poster and billboard subvertisements, bus ads, letter writing campaigns, publication of books and other manipulation tools like spoofs and parodies. Humour is their main weapon to fight the serious issue of sexism and racism notwithstanding the fact that it has its own dangers in case the audiences fail to look seriously behind this mask of humour. Guerrilla Girls run this risk as they believe, like every joke is a tiny revolution, humor helps them fly under the radar. "If you can get people who disagree with you to laugh an issue, you have a hook right into their brain. Once inside, there's a much better chance to convert them" asserted these 'mask avengers'. This way, they unabashedly unmask the hypocrisies and strongly censure the dominance of the white-men in galleries and museums. One of such posters asks even the bigger question "Do women have to be naked to get into Met. Museum?" This strapline severely criticizes the museum of sexploitation of women because less than 4% of the artists in its Modern Art section are women, but 76% of the nudes are female. This poster, with its outrageous visual and statistically supported provocative strapline, brought the question of gender from the close door discussions into the very public space as it was displayed in the New York city buses.
Taking the issue beyond art
This gender discrimination is not restricted to galleries and museums only and to say that Hollywood, the most modern film industry nurtures the most conservative idea in keeping the stereotype alive, might sound ludicrous but it is true that the American cinema is an arena predominated by white-men while the women artists and artists of colour remain at the periphery. Seeing this gender bias, Guerrilla Girls expanded their operation to target and break the celluloid ceiling. These 'professional complainers' expose the politics of discrimination in Hollywood in their usual light-hearted, sarcastic yet bitingly trenchant style. Their billboard 'Anatomically Correct Oscar' bombards with statistics which say that no woman director has ever won an Oscar, only 35 of the acting awards have gone to people of color and 94% of the writing awards have gone to men only. Guerrilla Girls realized that demonstrating outside the galleries was not sufficient to claim the place that has long been denied to women. They needed to go inside the galleries and put up their own exhibitions. They have successfully shown in all the important spaces including Art Institute of Chicago, Tate Modern in London etc. They have not stopped here. They are making public appearances, doing talks, performances, workshops and large scale projects in countless countries including UK, Spain, USA, Canada, Italy and Turkey. They are relentlessly doing this and want the other women artists to do the same. Woen should know that if they want to bring a change, they will have to invade the 'testosterone territory' and show that it's not all men's world. "We believe that the world will continue slowly, slowly inching towards more rights for women and people of color and lesbian, gay and transgender people. But everyone has to speak up about the issue they care about. There's a long way to go" believe Guerrilla Girls and thus, carrying forward this feminist art activism as a movement in their own crazy guerrilla way.
This article is based on an interview of Guerrilla Girls taken by the author, an independent art writer and curator