M A I N N E W S
Menon in Beijing; Army chief reviews border security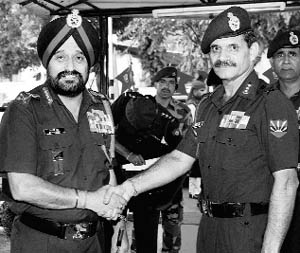 Army Chief General Bikram Singh with Eastern Army Commander Lt-Gen Dalbir Singh in Fort William. — PTI
Kolkata, December 2
On a day when National Security Adviser Shivshankar Menon arrived in Beijing for carrying forward the border talks, Army Chief Gen Bikram Singh reviewed the operational preparedness of troops along the China border in the NorthEast.
"Eastern Army Commander Lt Gen Dalbir Singh Suhag briefed the Army Chief on the operational preparedness and the security scenario in the eastern region," a defence spokesperson said. The Eastern Command is in-charge of securing the region east of Kolkata up to Arunachal covering boundary with China.
India is upgrading its defence preparedness along the eastern boundary by raising more troops, new formations and deploying more lethal assets such as the BrahMos supersonic cruise missile.
This was Gen Singh's maiden visit to the Fort William-based Command headquarter since taking over as Army Chief on May 31, this year.
The visit follows his earlier visits to the three Corps headquarters under Eastern Command based at Sukna, Dimapur and Tezpur in recent months.
"It is virtually a homecoming," said Gen Singh on arrival. Having commanded the Eastern Command for over two years, this is one formation that is very close to my heart," he said.
As a mark of respect to former Prime Minister I K Gujral, who passed away on Friday, several planned social events were cancelled during the visit, the spokesperson said.
The Army Chief, who has so far addressed nearly 16,000 officers during his official visits to various formations and units across the country, including via video conferencing, addressed over 250 officers posted in and around Kolkata.
Sharing his vision to enhance operational effectiveness of the Army, he dwelt on some of the thrust areas that include effective fulfilment of the constitutional obligations and assigned roles, including force modernisation as per stipulated time lines.
Gen Singh also stressed on effective human resource management to ensure highest standards of motivation and morale.
"In my reckoning, unless these people are happy, the Army cannot be strong and happy. We cannot afford to ignore our ex-servicemen and 'veer naris' (war widows)" he said, while delving on various measures initiated for their welfare.
Menon in Beijing for talks
Beijing: In the first high-level Sino-India contact since the once-in-a-decade leadership change in the ruling CPC, National Security Advisor Shivshankar Menon arrived here on Sunday for wide-ranging talks on bilateral ties, including the vexed border issue.
During his three-days stay here, Menon would be meeting some of the new leaders elected during last month's Congress of the ruling Communist Party of China (CPC) to succeed the outgoing administration headed by President Hu Jintao.
There is no official announcement here about Menon's schedule.
Besides holding talks with his counterpart and China's top diplomat Dai Bingguo, who too would retire in March next year, Menon is expected to call on Vice Premier Li Keqiang, the number two leader in the seven-member new Standing Committee of the party headed by General Secretary Xi Jinping, according to official sources.
Li is tipped to succeed Premier Wen Jiabao when he steps down in March after which a new administration headed by Xi, who would replace President Hu Jintao, would take over power formally.
The two officials designated as Special Representatives for the talks to resolve the border issue would review the progress achieved during the last 15 rounds of parleys and exchange views on a wide spectrum of bilateral relations, according to officials.