Committee moots development within 50-km radius of city
Chandigarh, December 20
The UT Administration has proposed a regulated development within 50 km radius of Chandigarh so as to lessen the infrastructural load on the city, which is already bursting at its seams.
Wildlife sanctuary not part of master plan
Chandigarh, December 20
The UT Administration has included only 114 sq km area in the cityís master plan-2031, which was submitted to UT Administrator Shivraj V Patil yesterday, leaving out the disputed 26 sq km eco-fragile Sukhna Wildlife Sanctuary area.
Hallo Majra dispensary without power for two days
Chandigarh, December 20

The 30-hour power failure at the civil dispensary in Hallo Majra has raised doubts over the potency of the vaccines stored in the freezer. During a visit to the dispensary at 10 am on Thursday, it was found that the freezers were not working due to power failure. The dispensary staff said a complaint had been registered on Wednesday.

Freezers for vaccines not working due to power failure at the Hallo Majra civil dispensary. Tribune photo: Pradeep Tewari
Hotel manager held
Chandigarh, December 20
Two days after Radhika's death due to drug overdose, the UT police today arrested the manager of Hotel Hill View, Sector 22, in a case of criminal conspiracy.


Liquor contractors make hay
Chandigarh, December 20
As if inter-state smuggling of liquor was not enough, city's liquor contractors are now resorting to smuggling of liquor within the city, much to the annoyance of the UT's excise department.
Christmas gift: Two special trains for revellers to Shimla
Chandigarh, December 20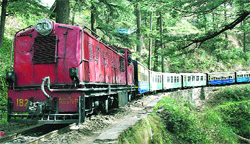 To meet the increasing rush of revellers planning to celebrate Christmas in the Queen of Hills, the Railways has announced two Kalka-Shimla special trains. The special trains will start from December 21. Shivalik Duplicate will leave from Kalka at 6.30 am and return from Shimla at 3.50 pm while Himalayan Queen Duplicate will leave Kalka at 12.45 pm and return from Shimla at 9.25 am.
Hope for heart patients
Chandigarh, December 20
Doctors at Fortis today performed a surgery using absorb, a first-of-its-kind device for the treatment of coronary artery disease (CAD). It works by restoring blood flow to the heart similar to a metallic stent, but then dissolves into the body, leaving behind a treated vessel that may resume more natural function and movement because it is free of a permanent metallic stent. Absorb is made of polylactide, which is commonly used in medical implants such as dissolving sutures.
Licences of 3 chemists suspended
Chandigarh, December 20
Licences of three chemists have been suspended for three months on the charges of stocking and selling intoxicant drugs in the city. The drugs, included cough syrups and pain killers.
caught in a crawl 4
No respite from jams even on the escape route
Commuters, especially office goers, businessman and students who earlier used to take the Udyog Path to save time consumed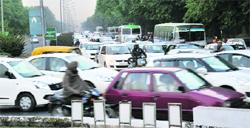 on travelling on the busy roads are now facing a similar situation on the road. While all the main roads in the city are not wide enough to bear the pressure of vehicles, the Udyog Path from Sectors 16/17/23 and 22 roundabout to Sector 28/29 light point (East End), which was once considered as the escape route to avoid traffic jam at peak hours has also become one of the busiest roads.
Vehicles are often caught in a traffic jam at Matka Chowk due to heavy inflow of traffic.



UICET to hold alumni meet today
Chandigarh, December 20
University Institute of Chemical Engineering and Technology (UICET) is going to celebrate its 54 years following which an alumni meet will be organised on Friday. The batch of 1987 will be honoured during the meet.




Students perform a cultural dance during their annual function at Kendriya Vidyalaya OCF, Sector 29, in Chandigarh on Thursday. A Tribune Photograph (L) and Students of SD College express solidarity with the Delhi gang rape victim, in Sector 32, Chandigarh, on Thursday. Tribune photo: Parvesh Chauhan