Divorce contributes to global warming, says Delhi study
Man Mohan
Our Roving Editor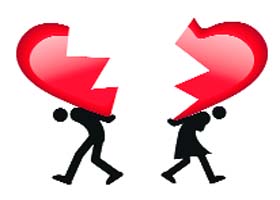 New Delhi, December 24
Divorce not only proves disastrous for children, but is also bad for the environment and contributes to global warming. Sounds ridiculous? Well, it's not going by recent research findings. The Capital's Additional District and Sessions Judge, Poonam A. Bamba says that this is true after her detailed research on this issue.
She was fascinated when she came across a study conducted by scientists at the Michigan State University that was reported in the proceedings of the National Academy of Sciences. It says that the global trend towards higher divorce rate has created more households with fewer people. More households mean more energy expended to build, towards fuel and to provide water for them.
Globally, the study points out, the number of households is increasing much faster than the number of people. Even in regions with declining population, there is a substantial increase in the number of households. Divorce is the main reason for reducing the number of people in a household. Whether there are two or three or six people in a house, the amount of fuel needed for heating is about the same.
"No data has been collected by any government or NGO in India to link divorces with global warming, but with my huge experience and studying research reports in the US (where divorce rate is alarmingly high) and Bangladesh, I can claim that in India also, the same story is happening," says Bamba, author of a popular book 'Perfect Marriage - Not a Mirage' that she wrote on the basis of first-hand "encounters" with husbands and wives in different stages of agony and despair while holding the matrimonial court. Till recently, the 51-year-old was heading the Family Court in Rohini.
She recently presented her research at the Delhi Judicial Academy during a workshop on 'Why divorce is bad?' Researchers at the Department of Women and Child at the centre have also taken note of it.
A trained mediator, Bamba asks, "Is it not worth sparing a thought before breaking a marriage, and may be for humanity's sake?" Currently, posted at the Patiala House Courts, soft-spoken Bamba always quotes American President George Washington's comment in a letter dated May 1785 on the bond of marriage: "I have always considered marriage as the most interesting event of one's life, the foundation of happiness or misery."
Researchers, says Bamba, also found that divorce tosses out economies of scale. In America, divorced households used 73 billion kilowatt-hours of electricity and 62,700 crore gallons of water in 2005 that could have been saved if households had stayed the same size as when they were married. Thirty-eight million extra rooms were needed with associated costs for heating and lighting.
As per the study, in the US and 11 other countries such as Brazil, Costa Rica, Ecuador, Greece, Mexico and South Africa between 1998 and 2002, if divorced households had combined to have the same average household size as married households, there could have been 7.4 million fewer households.
The number of divorced households in those countries ranged from 40,000 in Costa Rica to almost 16 million in the US around the year 2000. The number of rooms per person in divorced households was 33 per cent to 95 per cent greater than in married households.
Talking about the "economics of love", Bamba says a study conducted by the Centre for Policy Dialogue, Bangladesh, reported that taka 342,397.7 million, which was roughly 10 per cent of the gross domestic product of Bangladesh, was spent every year for the care of tortured or injured spouses, on their medical treatment, shelter and legal actions. Of the total cost associated with violence against women by their husbands, taka 131,180.7 million or 4.1 per cent of the GDP was spent on medical treatment of the injured or traumatised wives.
Women victims needed to spend taka 17,917 million covering treatment, displacement, arbitration, civil legal service, criminal justice and lost working days, due to spousal violence per head per year. "India is not behind on this score though," says Bamba.
The finding that 10 per cent of Bangladesh's GDP was being wasted due to 'spousal violence' has forced the government to take immediate measures to address the problem. The Bangladesh Government is now planning to include 'domestic violence' as a subject in the school curriculum.
"Would not husbands and wives in India like to contribute to the GDP and help our economy grow?" asks the judge, who always advice litigants in the divorce cases: "Try to save marriage as this will save your energy and other resources… promote love for better utilisation of national income."
Save the earth
The global trend towards higher divorce rate has created more households with fewer people
More households mean more energy expended to build, towards fuel and to provide water for them, thereby contributing to global warming
Whether there are two or three or six people in a house, the amount of fuel needed for heating is about the same
Even in regions with a declining population, there is a substantial increase in the number of households