Harivallabh Sangeet Sammelan

For raga pianist Utsav Lal, sky is the limit
Aparna Banerji
Tribune News Service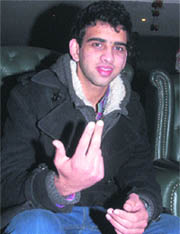 Utsav Lal
Jalandhar, December 28
Before him, one would have thought the idea of using piano as a medium to express the Indian classical music a bit too far fetched.
But thanks to his firm belief in his calling, young Utsav Lal proved that the world of possibilities that can be explored and supported through music are limitless.
That his guru Ustad Wasifuddin Dagar supported him in his endeavour goes to prove that his quest for piano as a medium to express Indian classical music was honest and grounded enough for someone as rooted in tradition as the stalwart to back it.
A child prodigy, an officially recognised "Young Steinway Artist" (in February 2010 and named on the worldwide artist roster of leading piano makers, Steinway & Sons), featuring on the Limca Book of Records for being the youngest (at age 14) award winner of Ireland's Metro Éireann Media and Multicultural MAMA Awards 2008 for championing Multiculturalism), Utsav, all of 20, has a huge list of accolades and felicitations to his credit, at such a young age.
Born in Delhi, Utsav moved to Dublin at the age of 13 when his father shifted base to Ireland.
Bringing the piano for the first time to the Harivallabh Sangeet Sammelan this year, Utsav is as humble as his work is path breaking.
"I had started by playing Bollywood songs and other Indian compositions on the key board. For two-three years, I absorbed what all I was learning. I also learned Western Classical music. But during my introduction and learning of various forms of music, Indian classical music pulled me most. It inspired me and allowed me to improvise. Till the age of 11-12, it was clear to me that Indian classical music was what I wanted and I wanted to do it on the piano," Utsav shared.
Wasn't he bothered that the new concept would be rejected? "No," he says, "It felt right and comfortable from the beginning."
Despite the fact that he had his share of critics who thought the two sounds just do not go together, Utsav says there were many big artistes who found his endeavour delightful.
In 2009, he met Ustad Dagar at the Darbar Festival in London and the legend asked him to meet him again.
"He listened to me and agreed to tutor me. He supported my effort to play on the piano and in fact taught me more techniques to incorporate classical sounds on the instrument."
A Dhrupad exponent supported his vision, his faith in piano was all the more reinforced.
In fact Utsav, who has also been called the 'Raga pianist', often attempts Dhrupad on the piano too.
"Not in its purest form, but yes, I do like to play compositions greatly inspired by the Dhrupad style," he says.
While Utsav is currently pursuing a jazz degree at the Royal Scottish Academy of Music and Drama, Glasgow, his perspective on music is unique and clearly marked by a deep understanding of the various disciplines that he has been tutored in.
Apart from Indian and Western classical disciplines, he has also dabbled in Irish traditional music, Scottish traditional music and Japanese music.
When asked isn't it difficult to pursue jazz and Indian classical music at the same time, he strongly disagrees, "I believe they complement each other and a knowledge of both disciplines ensures you stick to the raag and the rules."
When asked what is the most difficult part in incorporating Indian Classical music on the piano, he replies, "Creating the illusion of a meendh on piano is rather challenging. But every day, I am learning new ways of expressing Indian classical music on the piano. The meendh, too, one can manage by careful use of peddling or playing the notes very gently."
While he plays with many jazz musicians he is certain that Indian classical music is clearly what he likes best and while he has his share of critics, he quips, "On the piano my music shall always be."
A first
Utsav Lal, who plays Indian classical music on piano, has brought the unique combination of Indian classical music on piano for the first time at the Harivallabh Sangeet Sammelan