gang rape victim's death
Bitter memories of Ruchika's friends revived
Panchkula/Chandigarh, December 29
The death of the Delhi gang rape victim today revived the bitter memories of the friends of Ruchika Girhotra, who died this very day exactly 19 years ago. She was allegedly molested by a high-profile official. On December 29, 1993, Ruchika Girhotra, a promising tennis player, committed suicide. Around hundred people took out a candle-light march demanding en exemplary punishment for the rapists.


A student takes part in a candle-light march at Sector 17 in Chandigarh on Saturday. Tribune photo: Pradeep Tewari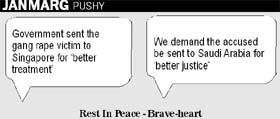 Cop booked for extorting money
Chandigarh, December 29
Two years after the UT police received a complaint against a constable for extorting money, a case was finally registered against the constable today after an inquiry by the police found him guilty. The police has booked the constable, Randeep Singh for extorting Rs 30,000 from a resident of Sector 44, Sushil Kumar. The constable was threatening him over a molestation complaint pending against his son.


Hira Lal Sibal July 16, 1914, to Dec 29, 2012
Case that remained close to his heart
Chandigarh, December 29
Back in 1945, the two famous Urdu writers, Saadat Hasan Manto and Ismat Chughtai, were made to face a legal trial on charges of obscenity in the Lahore High court. And one man who witnessed the whole drama unfolded in a the court was the departed 98-year-old legal luminary, Hira Lal Sibal, who not only defended the two writers as their legal counsel but also helped them acquitted in this case.
Union Minister Kapil Sibal (left), with his elder brothers Kanwal Sibal (middle) and Jatinder Kumar Sibal (right, in red muffler) at the funeral of their father Hira Lal Sibal in Sector 25, Chandigarh, on Saturday. Tribune photo: S Chandan
mayoral election
Party leaders decide to woo nominated councillors
Chandigarh, December 29
Jittery of cross voting in the Mayoral elections, the leaders of the two political parties-Congress and BJP-SAD alliance today held hectic parleys with their party councillors in order to consolidate their vote banks.


Facelift of railway station to begin in 2 months: Bansal
Chandigarh, December 29
Facelifting of the Chandigarh Railway Station will commence in next two months on ground, said Union Railway Minister Pawan Kumar Bansal who inspected the station along with officials today.
Union Railway Minister Pawan Kumar Bansal inspects a godown during a surprise check at the Chandigarh Railway Station on Saturday. Tribune photo: S. Chandan

Railway light point mishap
Victim had given car to his father
Chandigarh, December 29
Having lost his only son to the gruesome road accident in which a truck went on rampage at the Railway light point yesterday, Malwinder Singh, father of deceased Ajinder Singh, today said his son had dropped his car with him when he last came home on December 25 and himself chose to drive a bike.


Malwinder Singh, father of deceased Ajinder Singh, weeps outside the mortuary of the GMSH, Sector 16, in Chandigarh on Saturday. Tribune photo: Pradeep Tewari

Now, women can dial 1091, elderly 1090 in emergencies
Mohali, December 29
The police has set up helpline for women, children and senior citizens at the Phase VIII police station here. The helplines, which will cover the entire district, will function 24 X 7 and be run by nine women police officials assisted by four male personnel. The staff, which will be under an inspector, will have a vehicle at their disposal to attend to emergencies.
Officials of the Punjab police along with a women helpline van during its launch in Mohali on Saturday. A Tribune photograph

CITCO cancels musical evening at Sec 17
Chandigarh, December 29
Showing solidarity with the nationwide grief over the death of Delhi gang rape victim, CITCO called off its musical evening at Sector 17 Plaza here today. The performance of Punjabi singer Manak Ali was scheduled for the evening as part of New Year celebrations.
Residents stage a candle-light vigil in memory of the Delhi gang rape victim at Sector 17 Plaza in Chandigarh on Saturday. Tribune photo: S Chandan
CHANDIGARH SCAN
Training camp
A five-day training camp was organised by the Hindustan Scouts and Guides on the premises of DAV Senior Secondary School, Sector 8. The dignitaries who visited the camp from various states included Ravinder Talwar, VPS Rao, Harishbhai Bhatt, Niwas Sharma, GK Saxena, Vinod Kumar, Maqbool Ahmad, Narender Auditya, Mukesh Sharma, Parmod Kumar, Falguni Bahan, Kuldeep Sharma, GK Hullan, Nageshwar Rao, Jatin Bhai and Satyanarayan Suman.


654 JBTs for govt schools in Jan
Chandigarh, December 29
As a New Year gift to government schools, the Education Department is all set to recruit 654 contractual junior basic teachers (JBTs) by the first week of January. Officials said the fresh appointments would give a major relief from the shortage of teachers in the government schools of Chandigarh.
panjab university
Despite extension, BEd colleges fail to fulfil NCTE norms
Chandigarh, December 29
Even after the period of three months given to the BEd colleges to fulfil all the conditions laid down by the National Council for Technical Education (NCTE) lapsed, not a single college out of a total of 64 BEd colleges affiliated to Panjab University has complied with the directive.
FROM SCHOOLS
Exchange programme
Chandigarh: Amaritya Acharya, a class X student of Gurukul Global School, was among the 92 students who visited Japan as part of an exchange programme -- JENESYS 2012-13. The students were selected by the Central Board of Secondary Education in association in association with the Union Ministry of Human Resource Development on the basis of merit.