Homeless in search of shelter
Puneet Pal Singh Gill
Tribune News Service
Ludhiana, December 29
With no place to call home, they have little hope but to wait out the winter. As chill sets in and frosty waves sweep the region, the homeless are the worst affected, courtesy the Ludhiana Municipal Corporation, which has given a cold shoulder to their needs.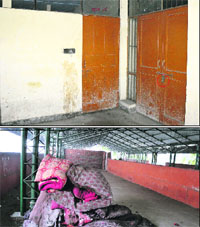 (Top) The locked temporary night shelter in the zila parishad building near Clock Tower; and quilts at the night shelter opposite the MC's Zone A office in Ludhiana. Photos: Inderjeet Verma
Many homeless die due to cold in winters every year, but this has failed to move the MC authorities. The civic body has also failed to comply with the orders of the Supreme Court which had asked all states to provide night shelters to the homeless in winters.
However, the MC converted two rooms in its fire brigade building near Manju Cinema and its cycle parking opposite the MC Zone A office at Mata Rani Chowk into temporary night shelters last year.
Though Mayor Harcharan Singh Gohalwaria claimed that the night shelter opposite the MC's Zone A office had been shifted to the Zila Parishad building near Clock Tower, but the truth is far from the reality. The night shelter was locked when The Tribune team visited the Zila Parishad building today. Quilts and mattresses were seen lying at the night shelter opposite the Zone A office of the MC.
The temporary night shelters are serving little purpose due to limited space. Moreover, the homeless prefer to stay near religious places where they get food, blankets and alms.
Last year, the civic body had also made arrangements for bonfire (using tree stumps) near Cheema Chowk, Bus Stand, Clock Tower and near Durga Mata Mandir, but this time, they too are missing.
Hundreds of people can be seen sleeping outside a temple near Jagraon Bridge, near a temple at Model Town Extension, on the divider of Jagraon Bridge, besides several other places.
A devotee said residents gave alms in the form of food and blankets to the homeless every day. "That is why, the homeless prefer to stay here. But if the MC constructs a shelter on the green belt along the boundary wall of the Government College for Girls, a large number of homeless could benefit from it," he said.
When contacted, Mayor Harcharan Singh Gohalwaria said despite making adequate arrangements, the homeless don't use the MC's night shelters. "We are fully equipped and have recently taken four rooms of a Zila Parishad building near Clock Tower on rent for a temporary night shelter." But when told that the night shelter was still locked, the Mayor was surprised and assured that he would look into the matter.