Supporters offer sweets to Kashmiri Devi after she was elected the Senior Deputy Mayor at the MC office in Chandigarh on Tuesday. (L) and Satish Kainth in a jubilant mood after being elected the Deputy Mayor in Chandigarh on Tuesday. Tribune photos: S Chandan
Differences within Congress come out in the open
Chandigarh, January 1
Internal rivalry among Congress leaders surfaced immediately after the party won the Mayoral elections when a scuffle broke out between councillor Satprakash Aggarwal and former councillor Bhupinder Singh Badheri in the Mayor's room. Other Congress leaders who were present in the room intervened and separated them.
Congress supporters vandalise Mayor's room
Chandigarh, January 1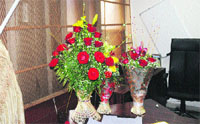 After the victory in the Mayoral elections, Congress supporters vandalised the Mayor's room. The Congress leaders and supporters, all gathered in the Mayor's room to meet Union Railways Minister Pawan Kumar Bansal and newly elected Mayor Subhash Chawla. They were trying to get their pictures clicked with the senior Congress leaders.
Blinds were pulled down in the Mayor's room at the MC office in Chandigarh on Tuesday. Tribune photo: S Chandan
MC will not impose house tax, says Mayor
Chandigarh, January 1
Well aware of the bleak financial position of the Chandigarh Municipal Corporation, the newly elected Mayor, Subhash Chawla, today said the civic body would not impose house tax on city residents. The MC is going through a financial crisis and has not received quarterly grants of Rs 89 crore from the UT Administration.
Thieves strike on New Year's Eve
Chandigarh, January 1
New Year celebrations turned sour for a Sector 35 family as thieves ransacked the house and decamped with jewellery and valuables worth Rs 25 lakh. The family was out when the theft took place.
Robbers hold 6-month-old at knifepoint in Panchkula
Panchkula, January 1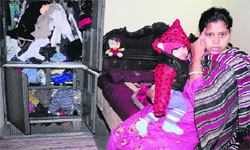 The New Year's Eve turned out to be horrendous for a family living in Sakteri at Mansa Devi Complex, Panchkula, when miscreants looted money and jewellery after holding a six-month baby girl at knifepoint.



The victim shows injury marks inflicted on her by robbers at Saketri in Panchkula on Tuesday. Tribune photo: Parvesh Chauhan


Heaps of garbage dot residential areas of Ward Number 5
Chandigarh, January 1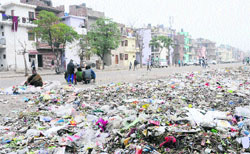 Newly elected City Mayor Subhash Chawla wants to make Chandigarh a world-class city by improving its poor sanitation, parking problem etc., but for that he has to start the work from his ward (Ward No. 5), which includes Sector 25 and Dhanas village.



Garbage lying in a colony at Sector 25, Chandigarh. Tribune photo: S Chandan
Mohali youth missing since Dec 24
Mohali, January 1
A 75-year-old man has been searching for his son who failed to reach Dehradun from Mohali. His car was found in a gorge near Rishikesh recently.
Campaign raises concern over safety of women
Mohali, January 1 In an attempt to stop harassment of women on roads and atrocities against them in the country, the Punjab Today Foundation flagged off the Mohali leg of a nationwide awareness movement.
New Year showers blessings on them
Chandigarh, January 1
It was a double delight for a number of mothers in the city who delivered babies on the first day of the year.


Archana with her baby, who was born on Tuesday (1);(2) Hardeep's baby with her aunt in Chandigarh and Malvika with her baby in Chandigarh. Tribune photos: Manoj Mahajan
The best way to squander public money
Chandigarh, January 1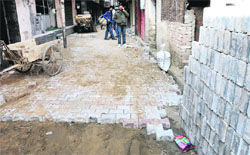 It seems that the municipal corporation does not give a second thought before wasting public money. It is spending Rs 16 lakh on the laying of paver block on roads at Burail. The paver blocks are being laid on metal roads. The work was started four days ago and is nearing completion.

Paver blocks laid on a road at Sector 45 in Chandigarh. Tribune Photo: S Chandan
City reels under cold wave
Chandigarh, January 1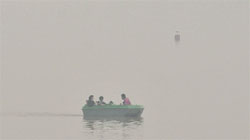 The city continued to reel under dense fog and cold wave, disrupting the normal life. The air, rail and road traffic was affected due to the reduced visibility in the city. Several trains were running behind their scheduled timings. The morning Shatabdi was delayed by 45 minutes, while the Himalayan Queen was delayed by 15 minutes.
Sukhna Lake covered with a thick blanket of fogTribune Photo: Pradeep Tewari
Flights grounded at Chandigarh airport on New Year too
Chandigarh, january 1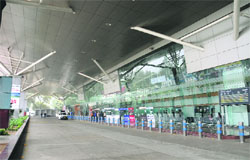 The Chandigarh airport management and airlines are suffering loss due to the continuous cancellation of flights operating from here. The bad weather also led to the cancellation of all the flights on the first day of New Year today, affecting hundreds of passengers.


The Chandigarh airport wears a deserted look due to the cancellation of flights. Tribune photo: S Chandan
Welfare board apprises NGOs of schemes
Chandigarh, January 1 Chandigarh Social Welfare Board today organised an orientation programme to apprise the local NGOs of the community development schemes launched for the needy. During the training programme, the board chairperson, Kamlesh, made the attendees aware of the schemes launched by the board and the UT Administration for various categories in the city.
Jyoti Murder Case: Sister to join investigations
Panchkula, January 1
The Panchkula police has called Jyoti's sister Ishu to record her statement tomorrow. The police claimed that Ishu could reveal some important clues about the link between Jyoti and Ram Kumar Chaudhary that may help in solving the murder mystery. Chaudhary had attended Ishu's wedding in 2009.


Teachers raise demands
Chandigarh, January 1
A seven-member team of the Government Teacher Union led by union president
PU to restrict entry to outsiders
Chandigarh, January 1
Entry of vehicles to roads leading to the girls' hostels at Panjab University will be restricted for outsiders between 5 pm and 10 pm. The university security staff will also step up patrolling in the evening.
VC favours regularisation of daily wagers at PU
Chandigarh, January 1
Welcoming the New Year, Panjab University Vice-Chancellor addressed the varsity employees today. He said jobs of the non-teaching daily wagers, who have been working on the campus for more than 10 years, would be regularised, if the Central grant to the university, which is presently on an ad-hoc basis, was made permanent.