Anti-rape law: Clamour for police, judicial accountability grows
Aditi Tandon/TNS

New Delhi, January 2
Police and judicial accountability are emerging as the dominant demands of the civil and legal communities petitioning the Justice JS Verma committee appointed by the government to review anti-rape laws after the Delhi gang-rape case. For the first time, demands are being raised for community monitoring of police probes into such offences.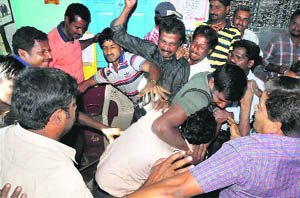 People beat up the principal of a government school for allegedly sexually harassing a Class VII girl in Chikmagalur in Karnataka on Wednesday. — PTI
Considering that 95 out of 100 victims of sexual assault never report the crime due to unfriendly procedures and police harassment and eight out of 10 witnesses turn hostile at some stage, people working on the law say punitive and administrative action is a must against police officers who don't register cases or delay investigations. The demand is to hold seniors liable for the negligence of juniors.
Anand Grover of the Lawyers' Initiative, which worked on the Criminal Law Amendment Bill 2012 to amend the IPC, the CrPC and the Evidence Act in sexual assault cases, says, "An FIR must be registered immediately. A police officer must be suspended for not doing so. We want community review of police investigations into sex offences. There have to community panels right up to the block level to track investigations independently and see that the police is doing its job. This must be part of the statute."
On the chargesheets, advocacy groups, including the Women's Rights Initiative headed by Additional Solicitor-General Indira Jaisingh, say officers who delay the challan beyond 90 days must face action. These groups want mass presence of women officials in police and judiciary, besides case workers to be attached to victims of sexual assault at all police stations.
The Human Rights Law Network led by apex court lawyer Colin Gonsalves said policing was the pivot of India's criminal justice system. There was no point in having a new law unless you change the attitude of the people who have to enforce it. "When South Africa got rid of apartheid, it sacked all racial policemen and inducted fresh talent. We need statutory public hearings on the role of police in neighbourhoods and prompt punishing and sacking of the guilty. The government has shifted the debate from policing to the law when we all know nothing will change unless the attitude of law enforcers changes," Gonsalves said.
In the Delhi gang-rape case, the police inaction was rampant at all levels-a private former Blueline bus was illegally plying at night; PCR vans were not patrolling, the accused had robbed people earlier in the day and escaped police action.
Today the IPC has no provision to punish police officers faltering in their duty. Activists are seeking changes to Section 166 to prescribe jail term, fine and even administrative action for derelict officers. "Seniors must lose their jobs if juniors fail in preventive policing. Why was the Delhi Police Commissioner so aghast when he was being asked to quit. It was as if why should he go? Why should he not?" asks Gonsalves.
Groups are also raising another question: Why does the government not appoint meritorious public prosecutors to fight rape cases the way they do in corruption cases? "A cadre of public prosecutors is needed for dealing with crimes against women. They must be trained to conduct a gender-just trial. Fast-track courts are a fallacy. We need speedy trial for all cases and for that we need the courts to stop granting frivolous adjournments and the lawyers to stop seeking these," says lawyer-activist Vrinda Grover in her recommendations.


Fast-track court inaugurated
Chief Justice of India Altamas Kabir on Wednesday inaugurated one of the five fast-track courts that would hear cases related to crimes against women. The court set up in the Saket Court complex would hear the case of the 23-year-old Delhi gang-rape victim from Thursday. Other fast-track courts would also start functioning the same day at Dwarka, Rohini and Tis Hazari.

Family agrees, but no provision to name laws after individual
Tribune News Service
New Delhi, January 2
Naming the revised anti-rape law after the 23-year-old Delhi gang-rape victim may not be possible for the Home Ministry. There is no provision in the Indian Penal Code (IPC), the Code of Criminal Procedure (CrPC) or the Evidence Act to name a particular section of a law after anybody.
Moreover, the IPC puts a bar on revealing the name of the victim.
Minister of State for Human Resource Development Shashi Tharoor started a debate yesterday by saying that the rape laws be named after the gang-rape victim.
The family of the gang-rape victim has, however, said that it would be an honour if the new anti-rape law is named after her. A new law can be given a specific name, but naming it after an individual will necessitate major amendments to several other Acts.
Section 376 of the IPC prescribes punishment for rape. But while dealing with such cases, several other sections of the IPC also have to be read with this section. In case a rape takes place at knife-point or gunpoint, Section 506 (criminal intimidation) comes into picture; and in case the rape victim is killed, Section 302 (murder) has to be invoked. Having a new law encompassing all such provisions will not be easy, sources say.
"There can be a criminal conspiracy or there can be a communal angle to the crime. How does one cover all that," says an official. As the IPC covers all crimes, some special provisions can be added to it for ensuring stricter penalty for rapists, he adds.
Pseudonyms like "Damini", "Amanat" or "Nirbhaya" are being used to refer to the Delhi gang-rape victim as Section 228-A of the IPC bars anyone from printing, publishing or revealing the real name of any rape victim. Justice Verma Committee has been constituted to suggest amendments to criminal laws to provide for quicker trial and enhanced punishment in cases of sexual assault against women. The committee will submit its report by January-end.
The panel is also reviewing criminal laws to strictly deal with juveniles involved in sexual assault cases.