Plan to spruce up visitors' gallery at Attari check post awaits nod
Amritsar, January 2
The plan to redesign the visitors' gallery at the Attari check post at the Wagah border for retreat ceremony is awaiting approval from the Ministry of Home Affairs.
Functioning of former Infotech MD under lens
Chandigarh, January 2
The functioning of a former Managing-Director of Punjab Infotech has come under the scanner with Industries Minister Anil Joshi requesting Finance Minister Parminder Singh Dhindsa to get an inquiry done into the financial affairs of the corporation at the earliest.
Panel slams Cong for ignoring minorities
Jalandhar, January 2
Punjab Minorities Commission chairman Munawar Masih today flayed the Congress for "not taking care of the interests of the minorities", especially the Christians, during its several decades rule in the state.


State to woo NRIs with privilege card, facilities
Chandigarh, January 2
The NRI Sammelan being held here and at Jalandhar on January 4-5 will see the Punjab Government not only wooing NRIs by extending special benefits to them, including a "privilege card", but also wooing the NRI media to project a "proper image" of the state abroad.
I was terrorised, molested, thrashed: Victim
Faridkot, January 2
To prove the complicity of those accused of abducting a 15-year-old girl from Faridkot three months ago, the police has reconstructed the sequence of events leading to the crime based on the victim's statement.
Patiala gang rape case
Accused being protected: Preneet
Patiala, January 2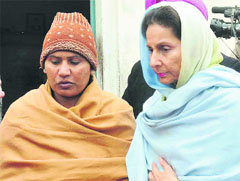 Union Minister of State for External Affairs Preneet Kaur today visited the family of the Patiala gang-rape victim at Badshahpur village in Patran sub-division of the district. Addressing a gathering of party workers in the village, Preneet flayed the state government for "delaying" action in the case which was initiated after directions of the Punjab and Haryana High Court.

Union Minister Preneet Kaur with victim's mother at Badshapur village in Patiala on Wednesday. Tribune photo:Rajesh Sachar
Amritsar arms licence scam
Form SIT, says DC
Amritsar, January 2
Amritsar Deputy Commissioner Rajat Agarwal has written to the Commissioner of Police for lodging an FIR against people running a fake arms licence racket from the city which was unearthed by the Patiala police in October last year.
Makkar: SGPC will reconstruct historic monuments in state
Amritsar, January 2
Shiromani Gurdwara Parbandhak Committee (SGPC) president Avtar Singh Makkar today said Chamkaur di Garhi, the site of the martyrdom of Sahibzada Ajeet Singh and Sahibzada Jujhar Singh, would be reconstructed with "a touch of originality to the historic site".
Panel demands hospital in Sangrur village
Sangrur, January 2
Apprehending the transfer of a big chunk of land of Ghabdan Kothi TB Hermitage, spread over 41 acres, to PUDA, residents of Ghabdan and nearby villages have formed a Ghabdan Kothi TB Hermitage Zamin Bachao Sangharash Committee.
Honey Singh's effigy burnt in Jalandhar
Jalandhar, January 2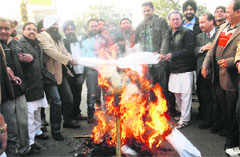 Activists of at least 40 organisations today came together to condemn the obscene lyrics rendered by Honey Singh, including "Main Hoon Balatkari". Angry activists burnt Honey Singh's effigy, who announced that they would not allow obscene singers to perform in the city.



Social activists burn singer Honey Singh's effigy in Jalandhar on Wednesday. Tribune photo: Malkiat Singh
Nine rape cases found fake, claims police
Chandigarh, January 2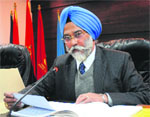 The Punjab Police today claimed that nine of the 63 rape complaints registered in December had proved to be false. Additional Director-General of Police (ADGP), Crime, Jasminder Singh, addressing a press conference here today, said : "Our police is committed to look into all complaints.There are a number of false cases being registered on account of personal rivalry".
Jasminder Singh, Additional DGP, Crime, at a press conference in Chandigarh on Wednesday. Tribune photo: S Chandan
Malerkotla case: Girl's father writes to Badal
Sangrur, January 2
After an inquiry was marked by the Sangrur Senior Superintendent of Police (SSP) to the Superintendent of Police (D) into the Malerkotla rape case, the family of the "victim" now alleges that the district police is trying to protect the accused, Mohammad Saif. The family has written to the Chief Minister in this regard.
Ayurvedic dispensaries without doctors in Sangrur
Sangrur, January 2
Out of the total 34 Ayurvedic Government Dispensaries in the district, the posts of Ayurvedic Medical Officer (AMO) have been lying vacant at 22 dispensaries for the past few years.
2 swine flu cases reported in Punjab
Ludhiana, January 2
As many as 14 suspected cases of swine flu have been reported across Punjab in the last fortnight. Out of these, two patients have been tested positive.
Five fall ill due to intense cold
Bathinda, January 2
Five people, who fell ill due to the intense cold, were today rescued by the NGO, Sahara Jan Seva. An 18-year-old fell ill due to the intense cold near Mehna Chowk.
Punjabi University to start helpline for women soon
Patiala, January 2
The Punjabi University will soon come up with a helpline number for female students in distress. The university in its drive to improve security on campus is doing ground work in this regard.


In 5 months, 394 peddlers held in Fatehgarh Sahib
Fatehgarh Sahib, January 2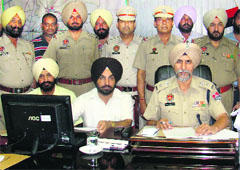 The district police has been leading a crusade against crime in the region for the last five months. It has registered 361 cases under the NDPS Act, 15 cases of rape, 13 cases under the Arms Act, 50 cases under the Excise Act and 15 murder cases.




SSP HS Mann addressing mediapersons in Fatehgarh Sahib. Tribune file photo
Rs 3 lakh stolen from arhtiya's shop
Sangrur, January 2
A sum of Rs 3 lakh was today found missing from an arhtiya's shop at Dirba, located over 25 km from here. The arhtiya Dharamveer found the amount missing from his safe at the shop, when he returned after having lunch at his house.