Badal cancels customary New Year visit
Chandigarh, December 31
The Punjab Government has decided to dedicate the first day of the New Year in the honor and dignity of women. A spokesman said the Chief Minister had cancelled his customary visit to pay his respects to Punjab Governor Shivraj Patil tomorrow, the first day of the New Year.
Parkash Singh Badal
In second term, coalition leaders set new record in extravagance
Chandigarh, December 31
After coming to power for the second consecutive term, Ministers and leaders of the ruling SAD-BJP coalition have been indulging in extravagance when it comes to renovation of their official bungalows in Chandigarh.
Cong gears up to meet SAD challenge in Moga
Chandigarh, December 31
The Punjab Congress seems to have taken the ensuing Moga byelection, necessitated by the defection of its legislator Joginderpal Jain to the SAD, as a challenge.


Meeting the icon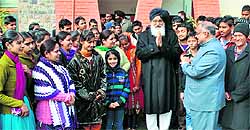 Rajya Sabha MP Avinash Rai Khanna takes students from villages in Hoshiarpur to the Punjab Vidhan Sabha in Chandigarh, where they met with Punjab Chief Minister Parkash Singh Badal on Monday. A Tribune photograph

Infant mortality rate down in state, Centre offers Rs 106 cr incentive
Chandigarh, December 31
On the New Year's Eve, there is encouraging news for Punjab as far as the health sector is concerned. The Centre has announced to give Rs 106.71 crore as cash incentive to the state for its performance in reducing the infant mortality rate (IMR) between 2009 and 2011.
Accused's mother alleges frame-up
Sangrur, December 31
Rashida, the mother of Mohammad Saif who is allegedly involved in a rape case, today alleged her son had been implicated in the case by the girl's family.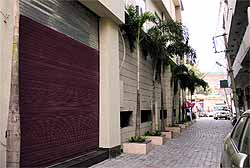 Land grab charge against man who assaulted AIG Mand
Ludhiana, December 31
"The Hub" is a night club, which is located in the busy Ghumar Mandi and stands on land worth several crore rupees. It is owned by an NRI, and was allegedly "usurped" by former Youth Akali Dal (YAD) leader Maninderpal Singh 'Sunny' Johar, once considered close to YAD president and minister Bikram Singh Majithia.
A view of the side entrance of the nightclub called The Hub. The entrance is in violation of the building bylaws in Ludhiana. Photo: Inderjeet Verma

Punjab yet to arrange funds for sewage plants
Sangrur, December 31
The state government has not been able to arrange funds for sewage treatment plants in 78 cities and towns of Punjab, said SL Singla, president of the district unit of RTI Activists Federation (Punjab). Out of these 78 cities and towns, nine are situated in Sangrur district, namely Bhawanigarh, Cheema, Dhuri, Dirba, Khanauri, Lehragaga, Moonak, Sangrur and Sunam.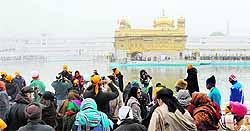 at almighty's doorstep: Devotees pay obeisance at the Golden Temple on New Year's Eve on Monday. Photo: Vishal Kumar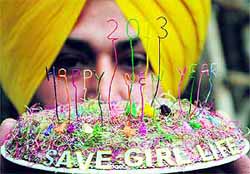 FOR A CAUSE: Artist Harwinder Singh displays his new creation with the message to save the girl child, in Amritsar on Monday. Photo: Vishal Kumar
Dense fog disrupts life in Bathinda
Bathinda, December 31
The prevailing foggy weather, apart from disrupting normal life, has also resulted in an increase in the number of road accidents.
PRTC to set targets for bus conductors to increase revenue
Patiala, December 31
While Pepsu Roadways Transport Corporation (PRTC) has managed to overcome losses by assigning targets to the depots, the management is now planning to set targets for conductors on all routes in order to increase revenue. The management feels that this will help them in fixing accountability at the junior level and generate more revenue.
Sangrur to invite PGI team to get smoke-free status
Sangrur, December 31
The district authorities will through the state Tobacco Control Cell invite a team from Postgraduate Institute of Medical Education & Research, Chandigarh, in a week, to study whether or not the district fulfils the parameters defined to become a smoke-free district.
Probe acquits policeman of rape charge
Amritsar, December 31
A probe by the Amritsar rural police into an alleged rape case has acquitted a head constable, his wife and a nephew.
Railways on right track at start of new year
Bathinda, December 31
The year 2012 remained a year of ups and downs as far as Bathinda railway junction is concerned. While the year's rail budget ushered in some good news and new development projects were started, old problems like shortage of porters prevailed.
Attack on AIG
3 sent to judicial custody till Jan 14
Ludhiana, December 31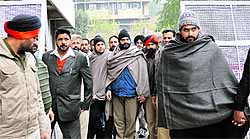 The court turned down the request for extending police remand of three accused in the Assistant Inspector General Counter Intelligence SS Mand brawl case involving a former Youth Akali Dal leader on Christmas eve. The Assistant Inspector-General was attacked in a discotheque 'The Hub' situated at Ghumar Mandi, Ludhiana.
Sunny Johar (centre) and two other accused in attack on AIG Mand being produced in the Ludhiana court on Monday. Photo: Inderjeet Verma

PGI should only function as a referral hospital: HC
Chandigarh, December 31
In a significant judgment expected to go a long way in curing ailing healthcare and medical facilities not just in Punjab and Haryana but even Himachal Pradesh, the Punjab and Haryana High Court has prescribed multiple lines of treatment, including upgradation of district hospitals and medical colleges in the "neighbouring states".
Counsel absent, Centre draws HC ire
Chandigarh, December 31
Admonishing the Central Government for the failure of its counsel to appear before the courts particularly in defence matters, the Punjab and Haryana High Court has asked the Union Defence Secretary to intervene.

Khalistani module busted, 5 arrested
Bathinda, December 31
Within a few hours of the DGP Sumedh Saini confirming inputs regarding Khalistan activists trying to regroup in the state, the police in Mansa today smashed a module of five such activists who had allegedly pasted threatening and seditious posters in five towns of the district.
'Cheated' by husband, woman sets herself on fire
Ludhiana, December 31
A 24- year- old woman sets herself on fire after her husband allegedly refused to live with her as she belongs to a lower cast.
60 bags of poppy husk seized
Sangrur, December 31
The Counter Intelligence Wing, Bathinda, today seized as many as 60 bags of poppy husk from a truck in an area falling under the jurisdiction of the Sadar police station, Sunam.
Teenaged girl abducted, 2 booked
Tarn Taran, December 31
Two youths have been booked under Sections 363 and 366 of the IPC for abducting a teenaged girl of Sursing village, 20 km from here.