Popular culture and the male gaze
Whether the mainstream culture feeds the bigoted mindset or is merely a reflection of societal schisms, the answers may not be simple. Yet there is no denying the linkage, howsoever tenuous or troubling it may be
Nonika Singh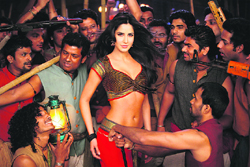 To sizzle or not

: Item songs may lead to or cash in on the sexist male mindset, these are an integral part of many a masala film.
A shaken and stirred nation outraged by the horrific gang rape of a 23-year-old paramedical student who succumbed to her injuries in Singapore is trying to come to terms with its grief. But while the brutal incident might have broken its insular composure, it has also been looking for reasons that give birth to such deviant men who can use rape as a weapon of terror against a hapless girl. As it grapples with the ugly reality, as it searches for answers among other things the popular culture comes under its radar.
Is popular culture misogynist that is anti-women? Does Indian cinema, particularly Bollywood, objectify women and more importantly what are item songs doing to the collective male psyche of the country that is by and large sexually repressed? As the Internet sites are flooded with livid responses many are also asking — what else can you expect in a country where raunchy item songs rule? So is the outburst against Bollywood's projection of women justified or misplaced?
No doubt each time a rape happens in India, invariably the discourse shifts to the peripherals and trivia what was the girl wearing… what time she was out and with whom? Mercifully while this time over the numbing brutality of the sexual assault prevented people from asking ludicrous questions, it hasn't stopped them from looking for scapegoats. Or red herrings, as celebrated theatre person Neelam Mansingh Chowdhry puts it. So is the connection between the popular culture that has shades of misogynism deeply ingrained in it and the warped mindset far-fetched? Eminent playwright and director Dr Atamjit doesn't think the linkage is unwarranted. On the other hand, he feels that we need to reject the demeaning aspects of the mainstream culture with as much vehemence with which we are rejecting the rapists today.
Filmmaker Habib Faisal wonders aloud why people aren't doing it in the first place. He agrees that, yes, in some films the camera gaze on a woman's body is akin to that of rapist. But then why is it that more people watch these films where women are being objectified and not ones where fully clothed strong female protagonists are the central leitmotif. He actually brings us to the chicken and egg debate….
Does popular culture feed bigoted mindset or do people lap up sexist and regressive kind of cinema for that's in sync with their inner selves? Either way there is no disputing that much that is happening in the world of entertainment is an antithesis to basic cultural values. So film after film is packed with item numbers where women are no more, no less than a piece of flesh, with lyrics that make them sound and seem 'available.' Indeed, no one is suggesting that item songs have been discovered recently. Go back in time, unfurl the pages of Hindi cinema and there was always a Helen, a Faryal doing the sexy cabaret songs. So what's the ado about in modern day world where as things exist, women's sexuality can't be kept under wraps? Besides, she has every right to express herself sexually too.
But what are those vehicles of expression is what Dr Atamjit wants us to delve into. He feels that when a woman gyrates to the tunes of Yo Yo Honey Singh, whose lyrics are without any doubt disparaging to women's dignity, somewhere wrong signals are being sent out to men. Many, including Chowdhry, however, feel that this thought is too linear, the cause and effect relationship an oversimplification of a problem with a much deeper malaise. Even if it is granted that certain strains of popular culture do accentuate fault lines in our patriarchal male driven social structure, this can't possibly be the main discourse, at best an aside.
At the same time, it can't be denied that those in the business of popular culture do have a responsibility or accountability. There is an urgent need to bring more real and credible characters on the forefront rather than sex sirens. Who are our icons does in a way decide where we are heading. But it's nobody's case that all this can be regulated. Or items songs can be banished. Or even that these should be, for as Chowdhry states, after all society has many layers, it has its fun moments too which is what many of these songs represent. Aesthetic or vulgar would anyway be a matter of personal choice. Besides, wouldn't regulation mean another face of Talibanisation. In a way, it would tantamount to an extension of the same psychology that blames the victims for inviting rape.
But Dr Atamjit feels that some regulation, especially where borders have been stretched to the extreme, has to be there. He argues for checks and balances in public spaces where people don't have the choice of choosing what they want to see or hear. The provocative lyrics of Honey Singh's songs for instance he asserts need to be monitored for content as these are blaring out in all public spheres. So, he might grant more liberty to cinema where people buy a ticket and watch it, he feels that when movies come to television the potential to corrode minds can't be underestimated. Indeed, even Anurag Kashyap of Gangs of Wasseypur fame whose films have come under fire for projecting violence has tweeted that women can't be objectified.
Now, here comes the crucial point. Is there a difference between women as sexual beings who have a right to choose how they live their sexual lives and their portrayal as consumable, dispensable objects? Ironically, the lines are wafer thin here too. One odd film like say Ishqiya is able to delineate the difference. With rest the lines are blurred, hazy and confused. So much so that often women in the glamour industry don't know and don't care that there is one. So it's not just Hollywood actress Cameron Diaz who says, "I think every woman does want to be objectified. There's a little part of you at all times that hopes to be somewhat objectified, and I think it's healthy," even our own gorgeous beauties echo similar sentiments.
In a talk show, Priyanka Chopra remarked that she has no problems with being objectified. But then she is part of the glamour industry where even shirtless men are depicted as objects of desire. Clearly in the world of beautiful people sex, sexuality, beauty, desirable are all put in one basket, under one nomenclature and governed by one rule—what sells. And it's a rule that doesn't apply only to Bollywood. Critiques of Hollywood too have cast fingers of accusation at the manner in which women are essayed on the silver screen, often as beings who are of little consequence on their own, their self-defined only in terms of their relation or hold over men. Indeed, objectification of women is not a phenomenon unique to India but in a socially diverse country as ours, responses can be very typical to our social fabric.
So while there are no easy answers to whether popular culture reflects what it observes or throws back, images that sow the seed for deviant behaviour, to deny any kind of correlation between popular culture and its ability to impact impressionable minds would be wishful thinking.