| | | |
| --- | --- | --- |
| | ARTICLE | |
No change in Pak hostility
Malik's utterances provide proof
by T.V. Rajeswar
During his recent three-day visit, Pakistan's Interior Minister Rehman Malik made several controversial and highly objectionable statements which go to confirm the view that Pakistan's hostility towards India remains unabated.
Malik had nothing substantial to say regarding action taken by Pakistan against the accused in the 26/11 attacks in Mumbai. He said that Pakistan's court had not found evidence against Hafiz Saeed acceptable. He went on to add that the case against Saeed and others was not a simple one like that of Kasab's case in India where he was found guilty and awarded death sentence.
Malik started a fresh controversy by alleging that Abu Jundal Ansari was an agent of Indian intelligence. He expressed the view that the Mumbai terrorist attack was due to the failure of intelligence agencies of both Pakistan and India. According to Malik, Abu Jundal worked for both countries and then "went rogue". From the records, it is seen that Ansari never said that he was working as a source for an Indian intelligence agency. Abu Jundal was working with the Lashkar-e-Toiba (LeT) on Pakistan soil, and when the Mumbai terror attack was carried out, he was in Pakistan and was sent to Saudi Arabia on a Pakistani passport. India was able to get him deported from Saudi Arabia after considerable pressure. The fact that the 26/11 attack was conceived, planned and directed from Pakistan has been fully established from Abu Jundal's evidence. The Home Secretary, R.K. Singh, reacted strongly to Rehman Malik's statement that (LeT) terrorist Abu Jundal was an operative of an elite Indian intelligence agency. He described it as a ridiculous remark. Jundal was working with LeT in Pakistan soil when the Mumbai terror attack was carried out. Reacting to Malik's remarks that Indian agencies could have prevented the Mumbai terrorist killings, the Home Secretary said the main issue was that the attack was conceived, planned and directed from the soil of Pakistan. Pakistan did not take action against these terrorist elements when the plan was being conceived and put into effect.
Among the various ramblings of Malik, the most objectionable one was his reference to the Babri Masjid demolition. His mention of Babri Masjid created a furore. The BJP's Leader of Opposition in the Rajya Sabha, Arun Jaitley said that the Indian government was so weak that Malik came to India and stated that the 26/11 attack was similar to the Babri Masjid demolition. Arun Jaitley went on to say that the Babri Masjid demolition was an internal matter and the Indian government should have asked the visiting delegation to say sorry for his comments.
Yet another provocative statement that was made by Malik was related to Kargil martyr Capt. Saurabh Kalia. The Supreme Court has asked the government whether the International Court of Justice needed to be approached to secure justice for the family of Capt Kalia, whose mutilated body was returned by Pakistan in 1999. With all these details available with him, it was highly objectionable that Rehman Malik should have rebutted the question on Capt Kalia in the manner he did. Much later Malik said that he would get the matter looked into after he returned to Pakistan. If only he had said in the beginning instead of that it was not known whether Capt. Kalia died due to a Pakistani bullet or weather, he would have redeemed himself.
During his lecture at the Observer Research Foundation in New Delhi, Malik said that Hafiz Saeed was an irritant for both India and Pakistan, but the evidence provided by New Delhi against the terror mastermind was not enough to prosecute him. He added that New Delhi was requested for evidence against Saeed and it sent Pakistan a dossier where there was only limited information. Based on that information, Pakistan arrested Saeed and prosecuted him. When Saeed was released by the Lahore High Court, Pakistan took up the case to the Supreme Court which also held that the evidence was not sufficient. However, Home Minister Sushilkumar Shinde exposed Malik's claim by pointing out that Saeed was never prosecuted for his role in the 26/11 attack.
Actually, Pakistan got all the evidence in respect of the boat which was hired at Karachi by the Lashkar elements, GPS locations, etc. How all this evidence was not enough is difficult to understand. This only betrays the hidden agenda of Pakistan. Saeed is known to be an ISI asset for being used against India.
During the Observer Research Foundation lecture, Malik also said that the Pakistani-American terrorist, David Headley, had conspired with al-Qaeda terrorist Ilyas Kashmiri, a retired major of the Pakistan army and three Indian terrorists — Abu Jundal, Jabiullah and Fahim Ansai — who had roamed freely and plotted India's worst terror attack.
The Home Ministry took into account the various controversial statements made by Malik and decided against making a joint statement with Pakistan's delegation led by him.
Malik was received by the Prime Minister, Dr Manmohan Singh, and at the meeting Prime Minister pointed out to Malik the lack of any action against the Pakistani elements responsible for the Mumbai attack. Malik renewed the request of the Pakistan government to the Prime Minister for a visit to his native village in Pakistan followed by a visit to the shrine of Guru Nanak Dev. The Prime Minister did not give any positive response to this request.
The Pakistan Interior Minister's statements again confirm that the Pakistan army continues to be supreme and even Pakistan President Asif Ali Zardari does not overrule its supremacy. As for the LeT, surely Pakistan cannot allow Hafiz Saeed's establishment at Muridke and, particularly, the training imparted by it for jihadist. The deliberate "Nelson's eye syndrome" in Pakistan will lead to chaos within that country itself.
Unknown militants attacked the Peshawar airport on December 15, resulting in the death of four people and injuries to several others. The attack was described as one of the most audacious raids by the militants since it was on an airbase of Pakistan. Again on December 17, a powerful car bomb exploded close to government offices in Jamrud town of Pakistan's north western Khyber tribal region resulting in the death of 19 people and injuries to at least 74. It was not clear who was responsible for the attack.
It may be recalled that the United States had announced a bounty of $ 5 million for full data on the activities of Hafiz Saeed, whom the Americans have blacklisted. Surely, at least after this action initiated by the US, Pakistan should worry about the activities of Saeed and consider effective action against him.
As long as Pakistan does not enforce law and order within its territory and ensure that agencies like Lashkar and its handlers such as Saeed are locked up, it would continue to suffer attacks by own militants like the ones at Peshawar on December 15 and Khyber on December 17.
The writer is a former Governor of UP and West Bengal.

| | | |
| --- | --- | --- |
| | MIDDLE | |
'What lesson will you teach?'
by R. S. Dalal
The brutalities committed on the helpless Delhi gang-rape victim, now dead, sent shock-waves across the country. The seething anger burst out in spontaneous protests, even taking an ugly, violent turn. The entire country appears to be in a lynch mode.
In my long years of police service, I have visited many scenes of violent brutal crimes. There are certain savage nomadic gangs moving from one state to another that have a modus operandi of perpetrating terrible violence.
A visit to one such scene of crime was a nerve-shattering experience. The barbarity of the criminals left me shocked and stunned. Could human beings be so cruel to their own fellow-beings! A wave of raw anger in the family members and relatives of the victims mauled me. They looked upon me as the one responsible for the dastardly crime. Trembling with anger, yelling, shrieking, shouting, they accused me of failure to protect them. "What restrained them from lynching me!" I often wondered later.
I would console, comfort them; promised quick arrests and pledged to teach those criminals a lesson. "What lesson will you teach?" they shrieked. "You'll arrest them, put them in jail and they'll be out after a while. Go, get them, if you've guts. We'll teach them a lesson ourselves."
I came back humbled, humiliated, boiling with anger. The immediate impotent revenge was to suspend a few cops, including the local thanedar. I convened a meeting of the best crime detectives of the district. "Look at the savagery of the gang. Look at the humiliation we suffered."
"Sir, we would trace these criminals without much delay. We'll not rest or sleep till we arrest them", they assured me.
"Will that be enough! Two of the male family members are still in a coma; three women have been severely beaten. Even a 10-year-old child has not been spared."
The meeting ended at that in a sad, sullen and angry mood. There was no shaking of hands, no parting greetings exchanged, no loud shuffling of chairs. The officers left the room amidst eerie silence.
"Do these criminals deserve to live", the thought came up again and again as I moved up and down the office room. Identifying, tracing and arresting such wily, mobile criminals is in itself a mini military operation. But arrests will not calm down the victims and the families. The trial will take a long time. Under the Anglo-Saxon system of justice that we follow, its only the evidence that succeeds. Truth could very well be the victim. The lawyers will pick some holes in the investigation, and the accused will be acquitted after many years of agonising wait.
How do I redeem my honour? Am I not responsible to protect the life and property of the citizens in the district? "Do I overstep the limits of law and deliver quick justice myself", I asked myself. Temptation was strong. "Am I not bound by law. Think of horrible consequences that could follow — commissions of inquiry, endless court appearances and the infamy", the counter-thoughts troubled me.
Today, the nation is in a lynch mode led by the ferociously aggressive media. Time is now to think rationally and set in place a responsive, reasonably fast-moving criminal justice system; to provide funds liberally to strengthen preventive, investigative and prosecuting capabilities of the police.

| | | |
| --- | --- | --- |
| | OPED — Women | |
Thirteen days of civic education and a death
In India we are currently at the threshold — between great public insecurity and societal breakdown. New spaces of anomie have emerged and this normlessness has spread into areas from where it should have been absent
Peter Ronald deSouza

When the news of her death in Singapore was broken by the media, on an early and cold Saturday morning, a pall of gloom descended on our household. There were tears in our eyes as we sat silently, each with their own thoughts, in mourning for a girl who had fought so hard, who, through a cruel turn of fate had been picked up from obscurity and placed before the conscience of the nation for a full 13 days. She shook our world, exposed the pettiness to which each of us had sunk: politician, police, intellectual, bureaucrat, academic, lawyer, judge, student and citizen. In those 13 days she compelled us to look within ourselves and feel ashamed at our individual and collective complicity in allowing our public spaces to be occupied by the criminal-politician. In those 13 days she did more for our civic education than has been achieved by decades of discussion during Question Hour in Parliament.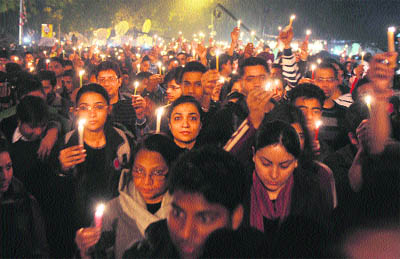 Protesters hold candles during a rally in New Delhi on December 29 following the death of a gang rape victim. — AFP
Ordinarily 13 days is a very brief period but in terms of what she was able to achieve, by stirring a nation, the 13 days was equivalent to the achievement of many lifetimes. Thinking about her on a cold morning the lines from W.H.Auden's tribute to W.B.Yeats came to mind. Each line seemed to be written for her, our own courageous lady. Let me write this for her with some minimum modification.
Earth, receive an honoured guest/Our great lady … is laid to rest/ Let the … Indian vessel lie/Emptied of its poetry.
In the nightmare of the dark/All the dogs of … India bark/
And the living nations wait/ Each sequestered in its hate/
Intellectual disgrace/Stares from every human face/
And the seas of pity lie/ Locked and frozen in each eye./
Follow, poet, follow right/ To the bottom of the night/ With your unconstraining voice / Still persuade us to rejoice;/With the farming of a verse/ Make a vineyard of the curse/ Sing of human unsuccess/ In a rapture of distress/In the deserts of the heart/ Let the healing fountain start /In the prison of his days/ Teach the free man how to praise.
For days people have marched in protest and in anger, shouted slogans to regain our democracy and restore the Republic of rights, protections, dignity and respect. After days of procrastination somebody heard us and promised to take action and respond to our demands. As they marched across the country, from Janpath to Rajpath, across the barricades, and in the face of imbecilic, 'dented and painted', statements, the people's voice was loud and angry. 'A moment comes, which comes rarely in history, when we step out from the old into the new, when an age ends, and when the soul of a nation long suppressed finds utterance'. Remember who said that and when.
And now she has gone. Her death, as the Prime Minister said, must not be in vain. Let us therefore convert our anger, at an apathetic state and an unresponsive society, into an analysis of the causes that produced this abomination and then, from that analysis, offer some policy recommendations. This short article is an attempt to identify the causes of the pathology, the sociological and political economy factors that lie behind the savagery. I shall discuss the problem in terms of four sets of issues: (i) the inability of social institutions to respond to the changing societal landscape, (ii) the impact of the criminalization of politics on our democratic processes, (iii) the infirmities of the law and order machinery, and (iv) the consequences, for our everyday lives, of the new social processes such as urbanization, migration, the new market in land, and the changing female-male demographic ratio. An analysis of the issues in each area will give us the evidence to frame appropriate policy responses some of which can be adopted immediately.
Social regulation and sexual impulses
Let me begin by recognizing that the evolution of all societies has been marked by the creation of social institutions and mores to regulate the sexual impulse inherent in the human species. This regulation is through both formal institutions - such as school, police, and courts - where rules of social behavior are formulated and perhaps codified into law, and informal institutions - such as family, clan and community - where social mores are prescribed and enforced through social approval and disapproval. These institutions, in combination, are expected to ensure that sexual perversities are punished and that, in the public interest, there is effective regulation of the sexual impulse. This may not and does not happen in many instances, because power and wealth override the norm, the result of which is that women in weaker positions, from subaltern groups, and also those within the dominant social group, get sexually exploited.
Rape is used as an instrument, both in war and peace, of subjugation and humiliation. Institutions are supposed to punish it harshly and so, we need to understand why 'the effective regulation of the sexual impulse, by social institutions, in the public interest' is not happening. This understanding is necessary for public security and to avoid societal breakdown. In India we are currently in that liminal space between great public insecurity and societal breakdown. New spaces of anomie have emerged and this normlessness has spread into areas from where it should have been absent: street, public transport, marketplace, school, and office. The formal institutions, especially the police and courts, seem increasingly unable to regulate perverse sexual behavior. The answer of why these formal institutions have become ineffective lies in politics.
Criminalization of politics
This undermining of our institutions has come from politics as detailed by the N.N.Vohra report on the criminalization of politics. Today we have many politicians with criminal records in our legislatures and assemblies. Apart from the obvious point that such people have no interest in the rule of law is the less obvious point of how the presence of such people in positions of power causes the personnel of law enforcement agencies to adopt an attitude of self-censorship. Such self regulation, by personnel within all regulatory institutions, results in the erosion of the impartial character of the institution and thus in their capacity to promote the public interest. The weaker the institution, the more brazen the behavior of the politician-criminal. Just read the paper every day.
There are many factors that need to be investigated as to why such a state has come about. We have to look at the processes of urbanization, and the anomie it produces, and further at the absence of new social institutions to respond to this anomie in the migrant population. We have to consider the new market in land that has emerged and how this has produced a group of fixers who enable land deals between buyer, seller, and politician. This is a dangerous social group that acquires wealth and power and knows that it has this because of its proximity to the politician. We have to look at the forces of modernity which have brought a large number of women into the public sphere, a social fact that produces a challenge to the old structures of patriarchy, the last dying gasp of which is the diktat of the Khaps. We have to look at the changing sex ratio of female to male because of female foeticide, which is less than one in many states, and assess what this ratio is doing to gender relationships. We have to look at practices of policing and the deficiencies in training of the police and also look at the judiciary and the judgments they give. In Delhi there is another issue that must be considered, the social composition of the police force whose attitudes to women mirror the attitudes of the groups from which they have been recruited.
Infirmities of law
There are three areas of reform of the system to make it more safe, on which much thought has already been expended, which we can immediately act upon. We must be above party politics here. I suggest the constitution of three All Party Task Forces by the government to study the reports, invite suggestions, and make recommendations within three months so that appropriate laws or amendments can be made. These are (i) a Police Reform Task force that would build on the submissions of the Prakash Singh case before the Supreme Court, (ii) a Electoral Reform Task force that would look at the reforms suggested by the ECI in 2004 and examined by the Legislative Department of the Ministry of Law and Justice in its report of December 2010, and (iii) a Judicial Reform Task Force that would look at the reports of the Law Commission of India, especially the 230th report. These three Task Forces must submit reports on the changes to our system, which must be adopted by all parties, before the 2014 general elections. Her death cannot be in vain.
Changing social order
In addition to these recommendations let me list administrative decisions that can be taken immediately across the nation. (i) Fewer police for VIP duty. This has become a curse. (ii) More women police officers in every state and more, all women police stations. (iii) More officers to be recruited from all social groups and all parts of the country especially in the metropolitan areas. (iv) Impart better training to the police, especially in crowd control during peaceful protests. It was pathetic in India Gate over the last 10 days. The police must also be trained in policing in the new age of 24x7 TV and social media. (v) Improve community policing. Learn from other places such as Chicago where it was adopted successfully. (vi) Require the ICSSR and UGC to jointly develop, as the EU does under its Framework Programmes, three large mutli- million rupee research programmes which a consortia of at least 5 research institutions in India will bid for to investigate: (a) the causes, sources and forms of violence especially against women and marginal groups, and the policy responses to them, (b) the processes of urbanization, their social consequences, and the institutions necessary to regulate them, and (c) the social impact of globalization on different groups in Indian society. While there is much money for research in science and technology, and for business and commerce, there is little money for social sciences to understand the social transformation underway. Many of the pathologies are social and we need social policies to deal with them.
Take the present case of savagery. What was done to the girl was so brutal that even the doctors had to control their tears when asked about her condition. Why was there such savagery in this rape case? Why was she brutalized such by six ordinary drunken men in a bus? Why do the papers report such cases of brutalization every day? Is this the fearful sign we have been dreading, of the spread of normlessness? Let us remember what led to Piggy's death in William Golding's The Lord of the Flies. His death has its source in the 'banality of evil' which had taken root in society. Hannah Arendt who explored the idea in 1963, in Eichmann in Jerusalem: A Report on the Banality of Evil, argues that ugly acts get normalized and get committed by ordinary people. India, it seems, is going through such normalization. We must stop the banality of evil from spreading through a reform of both our formal and informal institutions. Her death cannot be in vain.
Peter Ronald deSouza is Director of the Indian Institute of Advanced Study, Shimla