Economy slowdown cast its shadow
Ambika Sharma

Solan, December 30
With an overall slowdown in the economy, the industry in the state too felt the impact of low productivity and shrinking trade margins this year.
The industrial growth that had received an impetus from the 2003 central industrial package suffered adversely with a few new industries coming up and even fewer undertaking expansion.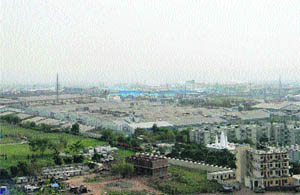 Though a few names like Indo Rama and Nestle did initiate their ventures this year, not much could be gained in terms of sizeable employment for youth.
An indication of the decline is manifested in the Value Added Tax (VAT) collections across the state whereas against the about 25 per cent growth recorded till November every year, the figures hovered around 14 per cent this year. With industry contributing a major chunk to VAT, an overall slowdown was amply reflected in the state.
In the Baddi-Barotiwala-Nalagarh (BBN) industrial area, which accounts for 70 per cent of the state's industry, VAT collections in lieu of industry saw a rise of only 16 per cent vis-à-vis last year while in the adjoining Sirmaur district this figure was as low as 2.20 per cent. Even in Kangra district, which had a sizeable number of industries, the VAT collections grew by barely 7.20 per cent.
Una district has proved to be the lone exception where VAT collections have seen a growth of 21.9 per cent till November.
While attributing it to the emergence of big units like Nestle, Assistant Excise and Taxation Commissioner, Una, Ujjwal Rana said factors like several units attaining optimum capacities had helped enhance VAT collections. This had also dispelled notion about the sustenance of industries after withdrawal of the central package.
The situation, however, appears to be grim for the pharmaceutical industry, fast moving consumer products-based industries and engineering units, with the ever-changing tax regime reducing trade margins and leaving little allurement for a unit to sustain in Himachal. The initial 16 per cent tax exemption available to units under the central package was scaled down to 2 per cent in the current Union Budget. Since all raw materials are transported from outside and finished goods are marketed outside the state, this decline in the central excise has drastically reduced trade margins as freight charges substantially add to the production cost.
Pharmaceutical units have suffered maximum on this account with nearly 25 per cent units, comprising small players, either having sold off their units or being on the lookout for buyers. These units comprise 7.14 per cent of the investors in the state and they produce nearly 50 per cent of the country's drugs.
Since the central excise exemption was available for 10 years, industrial units set up in 2003 have already availed this benefit and they were now manufacturing goods as a non-tax exempt unit while units which came into production later are still availing this benefit.
This disparity has created a situation where both tax-exempt and non tax-exempt units are running in the state, thus creating an unhealthy competition.
The discrimination of the Centre by allowing continuation of the central industrial package in Northeastern states while terminating it untimely in Himachal is resulting in a number of renowned pharmaceutical units shifting their high-value low-volume products to their sister concerns in Sikkim.
The move has drastically reduced employment opportunities and is a major factor leading to a decline in VAT collections.
The steel units that comprise 5.39 per cent of the total units have also suffered due to a decline in the construction owing to restrictions on mining of sand and gravels following the apex court directions. The unsteady power scenario, which was their major raw material, had also added to a decline in the profitability of this sector, said industry sources.