E-rickshaw drivers fall foul of law
Syed Ali Ahmed
Tribune News Service

New Delhi, December 30
When the e-rickshaw came into existence in the national Capital, it was welcomed by the city which had always longed for a better transport. The Centre for Equity and Inclusion (CEQUIN), an NGO, run by Sachin Pilot's wife Sara Pilot, donated an e-rickshaw to a woman, Kohinoor, in the Gaffar Manzil area of South Delhi, saying that it was pollution-free and would help women drivers earn their livelihood.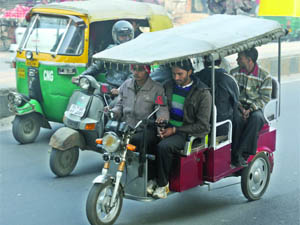 A man drives an e-rickshaw in New Delhi. Tribune photo: Manas Ranjan Bhui
Only a few such rickshaws were seen on Delhi roads those days and the government had no objection. Gradually, the number of e-rickshaws has started increasing. It was seen even at the India Gate roundabout and other areas of Lutyens' Delhi. The police did not object to its plying even in such areas though it was not allowed there.
Gone are those days, however. Now the drivers of e-rickshaws are reportedly harassed by the policemen. It is very hard for an illiterate driver to answer the technical questions of a cop, said a man who drives an e-rickshaw in South Delhi.
When the e-rickshaw came on roads, Arvinder Singh Lovely was Transport Minister who has brought about a lot of changes in public transport such as introducing low-floor and cluster buses, Gramin Sewa, etc.
By the time Ramakant Goswami took charge of the Transport Department, e-rickshaws mushroomed and were seen in many areas and the authorities noticed that it was a battery-charged vehicle.
According to law, e-rickshaws should have a battery which is less than 250 watt and their speed should also be less than 20 kilometer per hour.
So, the minister called a meeting of the senior officers of the three civic bodies, Environment and Transport Department last month to find a way to stop these e-rickshaws.
Any vehicle that has a battery of 250 watt or more and has a speed of 20 kilometer per hour comes under the Motor Vehicle Act and before coming on the road, all the legal formalities are required to be completed, said the minister.
The minister directed the manufacturers to abide by the legal formalities. In case of any lapse, such vehicles will be challaned and action taken against the manufacturers.
As the police started taking action against the e-rickshaws, the drivers took out a protest march at Jantar Mantar.
Rakesh, a 25-year-old man who has an e-rickshaw, said since the government had issued direction for having a battery of less than 250 watt, the policemen have started harassing us. "We do not know how to get the battery checked. Without giving a bribe, they do not leave us. Earlier, nobody cared about our vehicles."
The manufacturers have now stopped manufacturing such e-rickshaws. New vehicles have a battery of less than 250 watt.