Hurdles in normalising relations
A critical foreign policy challenge confronting India is the maintenance of friendly ties with its neighbours. India, it is claimed, cannot rise to its potential if it is embroiled in conflicts or tensions with its neighbours. India has supposedly failed in this regard.
Kanwal Sibal
Having good relations with neighbours is not a unilateral exercise; it is a reciprocal one. If India should have good relations with its neighbours, then it is equally incumbent on the neighbours to have good relations with India. No one can argue that India's conduct alone is deficient.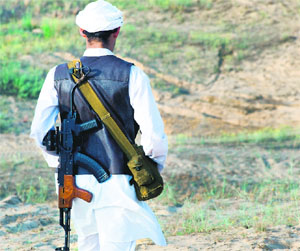 A Muslim rebel with a gun. Stability in Afghanistan and containment of the Taliban threat there in a regional context is another challenge that will acquire sharper contours post-2014. Photo: Shutterstock
India should, of course, try to do its best to win over the neighbours, but if the neighbours see it in their interest to balance a much larger India by drawing in external powers, and prevent their national identities from being overwhelmed by India's civilisational and cultural pull by emphasing differences with India and stoking anti-Indian national sentiments, there is little India can do. This challenge will not go away.
The argument that India as a bigger country should be more generous with its neighbours is fallacious. Big countries like China and the US do not believe in the merits of this approach. Vietnam and Cuba come to mind.
India's economic growth will be of key importance for tying our neighbours economically to the Indian market. It will be important to give stakes to a cross section of people in our neighbouring countries in various sectors of our economy. In this context the strengthening of SAARC should be a priority.
Our improved relations with the US have excluded one external factor that in the past complicated our relations with our neighbours. China, however, remains a problem in this regard.
Pakistan — a failing state?
Pakistan remains a perennial problem. While some aspects of our relations with that country are improving, as for example, in the trade area, larger questions about the rise of Islamic radicalism there and fears that Pakistan could become a failing state are being debated.
There is little that India can do help Pakistan fight its own internal demons. India is, in fact, the reason why these demons exist in the first place. Unless Pakistan radically changes its attitude to India, ceases to whip up religious sentiments against us that feed the jihadi groups, the problem of radicalism in Pakistan cannot be successfully controlled.
India should continue to encourage more economic and people-to-people ties with Pakistan, but should also be clear-sighted about the serious obstacles in normalising relations with that country.
We should shed the belief that concessions will make Pakistan more amenable.
India does not need to reassure Pakistan about its intentions or make Pakistan trust us. The reverse is needed: it is Pakistan that needs to make the requisite effort to convince India that it has abandoned the use of terrorism as state policy.
Do we have a stake in Pakistan's survival as a united country, or should we encourage the break-up of the country? So long as Pakistan is adversarial, we have no stakes in Pakistan's territorial integrity. It would be ironical for India to be supportive of Pakistan's geographical health when it wants a slice away a part of Indian territory.
We should not, however, actively seek to destabilise Pakistan, as managing a fragmented Pakistan would raise its own problems.
On the other hand, a broken-up Pakistan loses value for the Chinese. Even a chronically unstable Pakistan loses value. It is unlikely that the Chinese will want to rescue Pakistan with economic largesse. In that context, disarray in Pakistan is not unhelpful to us.
The Taliban threat
Obversely, we cannot have a viable Central Asia and even Afghan policy if Pakistan remains unstable. If this whole region is to be integrated economically, with energy and trade connectivity, the geo-political key is in Pakistan's hands.
The US is backing the project to link Central Asia with South Asia, with TAPI symbolising this vision, but the US's ability today to bend Pakistan to its will has suffered erosion.
Stability in Afghanistan and containment of the Taliban threat there in a regional context is another challenge that will acquire sharper contours post-2014.
The West is looking for a compromise with the Taliban, believing it can live with an Islamized Afghanistan so long as it is not anti-West. The backing the Muslim Brotherhood is receiving from the West in the Arab world would indicate that practical, realpolitik deals can be made with Islamic radicalism and rationalised. Such a scenario is not in our interest, but the means we have to forestall this are limited.
We have therefore a multifold challenge in Afghanistan, of retaining our presence and influence in that country, creating internal support for us there that can be used to counter the Taliban and the revival of radical forces there that can threaten our security directly with Pakistani support.
Lack of direct access to Afghanistan exposes the lack of a credible Indian policy towards Central Asia. We have to galvanise Iran to cooperate with us for an alternative access to Afghanistan trough Chabahar.
The Iranian nuclear issue has serious implications for India should there be recourse by the West to military action against that country. The de-stabilisation of the Gulf region which will occur as a result would be very costly for India, as India has huge energy, manpower and financial interests in the region. India would have to steer clear of the rising Shia-Sunni conflict in the Muslim world.
China's muscle-flexing
India's Look East Policy is now facing new challenges with the erstwhile equation between China and East and Southeast Asia disturbed by China's muscle-flexing in the South China Sea.
India has concerns about the freedom of passage through international waters, but otherwise India's priorities concerns are in the Indian Ocean area. However, for geo-political reasons, India would need to come closer to those countries targeted by Chinese claims, though without getting directly embroiled in the territorial disputes.
In the Indian Ocean area, India should try to maintain its dominant status as a littoral state as much as possible, knowing however that at some stage Chinese presence in these waters will increase, as is portended by China's active search for port facilities in this area.
India's declared openness to cooperation with China on maritime issues should be based on the legitimacy of not only China's presence in the Indian Ocean but also India's maritime presence close to China's shores.
India would need to give priority to its relations with Myanmar, now that the latter wants to loosen the Chinese grip over the country. Myanmar is of key importance to create east-west connectivity in this region from which India can benefit greatly. Our challenge is to implement our infrastructure projects in Myanmar without inordinate delays.
As part of our Look East Policy, keeping the Chinese dimension in view and bilateral benefits that can accrue to us, India would need to boost its relations with Japan, including mobilising Japan's clout in the ADB to finance the east-west corridors in Asia. Our increasing strategic engagement with Japan is a welcome move.
Other challenges
Beyond all these challenges, there are those of energy, food security and of climate change.
The energy issue is not one of foreign policy alone, but it has a strong external dimension for us because of our huge dependence on energy imports.
Our diplomacy will need to facilitate investment in hydrocarbon fields abroad as part of our energy security drive, besides working for avoidance of conflict in areas which are our biggest source of oil and gas. We have a shared interest with the US in this but US policies in the Gulf region, driven by the Israeli and Iranian factors, are not in line with our interests as they keep the area on the boil.
Energy, of course, is one area where technology can achieve such breakthroughs as can change the global energy scenario.
Climate change issues, in which energy use and environmental concerns intersect with issues of competitiveness and market openings for western technologies will become a source of increasing external pressure on India in the years ahead.
The water issue in South Asia-Tibet region looms ahead. Apart from countering Pakistan's cynical manipulation of the water issue to sustain its negative postures towards India, securing Chinese cooperation in transparent handling of the Tibetan dimension will be a challenge.
In the competition for access to natural resources, China is already far ahead of India because of greater financial resources at its disposal and its ability to organise a coordinated national effort to that end which our system does not permit.
A new Indian approach that goes beyond relying on the private sector to make economically rational decisions from their perspective would be needed, but that implies a different way of economic governance.
At the end of it all, the internal and the external cannot be compartmentalised in any country. Success or failure at home will mean success or failure abroad.
The economy is the building block of a successful foreign policy, as required resources then become available to erect defenses at home and to pursue interests abroad.
While it may not be a foreign policy issue per se, the establishment of an indigenous defence manufacturing base is vital for acting independently on the world stage. No country that cannot independently defend itself can reach big power status.
Our external dependence on arms and technology supplies limits the options available to our foreign policy.
Excerpted from the Y B Chavan Memorial Lecture on "India's Foreign Policy - Future Challenges" delivered by Kanwal Sibal, a former Foreign Secretary, at the Institute for Defence Studies and Analyses, New Delhi, on November 30, 2012