OPED —

World
Why India should look at Vietnam more keenly
The US, Japan and Singapore have all factored Vietnam's critical place in their strategic calculations in recent years. It is time that India integrated Vietnam in its strategic objectives in the region and took full advantage of its potentialities
Baladas Ghoshal
"Vietnam values India's friendship most. India has always stood by us in our difficult times and we can always depend on India," said Truong Tan Sang, the then President designate of Vietnam, at a meeting with me on 23rd June 2011 in Hanoi. After an excellent overview of the current strategic and political environment in Asia-Pacific region, he made a forceful point: "India is a responsible stake holder in the peace, stability and security in the region and has a unique role to play in the security architecture of Asia."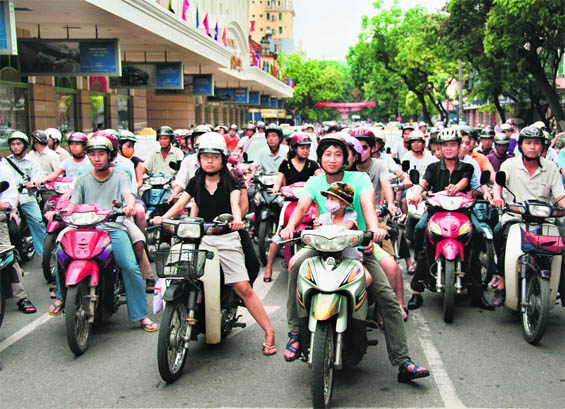 A busy and congested road in Hanoi, which has an estimated population of 6.5 million, making it the second largest city in Vietnam. Photo: Shutterstock
Within three months after becoming the President, Mr Truong travelled to India last year in October to reaffirm Vietnam's consistent policy of giving high priority to the strategic partnership with India, elevate it to a higher level and to promote the two countries' cooperation in all fields and at regional and international forums. Since then there has been a spurt in high-level visits from Vietnam to India, supported by business and government-level delegations. The latest is Prime Minister Nguyen Tan Dung, who is coming on December 19 to Kolkata first to meet business leaders and then to New Delhi to attend the anniversary of the India-ASEAN summit to be held on December 20-21.
Strategic location
Vietnam is important in the promotion of India's political, economic and security interests in South-East Asia, and in turn, in the success of our Look-East Policy. Vietnam's strategic position — as a neighbour of China, situated parallel to the great sea trade routes of Asia — always made the country tremendously important.
Vietnam's geographical configuration with a coast-line of over 3.300 km in length gives it a strategic footing in the naval waters extending from China's doorstep in the Gulf of Tonkin, a long littoral on the South China Sea, and ending with another dimension in the Gulf of Thailand. Its size and resources make it the politically and military predominant country in the Indo-China peninsula. While the above was earlier significant only to the United States and Japan in terms of lifeline sea-lanes running parallel to the Vietnamese littoral, it is also increasingly becoming important to India, as a major part of its trade takes place through the seas. India, therefore, has a stake in helping Vietnam emerge as a strong regional power and invigorate an Asian order that rejects hegemonic dominance by any power, not at least by China. The two countries have a common stake in the safety of the Sea Lines of Communication, particularly in South China Sea.
Vietnam's strategic significance has increased dramatically, owing to huge — and not always widely recognised — transformations in its economic performance and foreign-policy orientation. Reinvigorated by two decades of rapid economic growth and a broad-based opening to the outside world, Vietnam is now an emerging player in regional economic and security affairs. Indeed, in recent months the country has played a pivotal role in helping to establish Asia's emerging security order. In October 2010, Hanoi hosted the East Asian Summit, a meeting at which the US and Russia were recognised as Asian powers with vital national interests in the region.
A reliable supporter
On political and foreign policy issues Vietnam had been a consistent supporter of India, including our scheme for the reform of the United Nations and our recent bid for permanent membership in the Security Council. Apart from cooperation in the bilateral framework, the two countries have maintained close cooperation and mutual support at the regional and international fora such as the UN, NAM and other mechanisms in the ASEAN like the ARF, East Asia Summit and Mekong-Ganga Cooperation.
Vietnam along with other Southeast Asian nations perceive India as a benign power whose peaceful rise accrues significant strategic benefits for her to play a larger role in the region. This is in contrast to their perception of China whose emergence as a major economic and military power together with its irredentist claims over the whole of South China Sea and exclusive economic zones have created apprehensions in Asia about China's future ambitions and intentions.
Economically, Vietnam with its stress on economic liberalisation offers very attractive preferential prospects for Indian foreign direct investment in fields such as information technology, electricity, oil and gas, metallurgy, coal, transport, agriculture, fisheries, food processing, health care and medicine. In terms of India's energy security, Vietnam's offshore oil deposit offers opportunities for exploration and eventual supply to India.
Oil exploration
Indian companies, including ONGC Videsh (OVL) and Essar Oil subsidiary Essar Exploration and Production Limited, are expanding energy cooperation with Vietnam. OVL along with Vietnam's PetroVietnam joined hands to bid for the British Petroleum's stake in Nam Con Son gas fields spread over 955-square kilometre include two offshore gas fields, a pipeline and power project. OVL is reported to have invested $217 million on the gas fields and could invest up to $377.46 million. OVL also has stakes in two other exploration blocks 127 and 128 in Vietnam.
Even while China has raised objections to these explorations on the ground that the areas fall within the Chinese waters and has repeatedly warned India against such moves, New Delhi made it clear that its state-owned firm would continue to explore in the South China Sea. And Navy chief D.K.Joshi said a few days back that Indian warships would be prepared to set sail for the South China Sea if the country's economic interests there are threatened in any way. The exploration projects do not violate international law, and that China's opposition has no legal basis.
Defence cooperation
While politically India and Vietnam were always very close, economic and strategic aspects were missing from that cordial relations until about 2000 when the then Defence Minister George Fernandes visited Vietnam in March that year and agreed for a periodic security dialogue, thus creating an institutionalised framework for regular meetings between the defence ministers to discuss matters related to shared threat perceptions. In the 2003 joint declaration, India and Vietnam envisaged creating an "Arc of Advantage and Prosperity" in Southeast Asia. The New Strategic Partnership signed in 2007 further strengthened multifaceted ties ranging from political and economic engagements to security and defence cooperation, science and technology and close cultural contacts. Since then defence cooperation has increased considerably, particularly in jointly combating the menace of piracy and co-operation in ship building and hydrographic survey, joint naval training, joint anti-sea piracy exercises in the South China Sea, jungle warfare training, counter-insurgency training, air force pilots training in India and assistance to Vietnam in establishing defence production.
Vietnam's offer of port
In the context of its growing tension with China in the South China Sea Vietnam requires the support of a more credible naval power to intercede on its behalf to prevent the Chinese from upping the ante any further, and expects India to be one. Vietnam has given India the right to use its port of Nha Trang just south of China's new naval base at Sanya on Hainan Island.; the Indian Navy has already made a port call.
The Indian Navy was perhaps the only foreign navy in recent times to have been given this privilege by the Vietnamese at a port other than Halong Bay, near Hanoi. Vietnam has sought Indian help for augmenting the size and capabilities of it navy by supplying offshore patrol vessels and fast attack craft. India is already training Vietnamese naval personnel and helping maintain any equipment that Vietnam sources from Russia. New Delhi has also agreed in principle to sell Vietnam the Brahmos supersonic anti-ship missile and possibly Prithvi surface-to-surface missiles.
Less visible, but no less critical, is the Indian IT industry's involvement in devising network-centric solutions for the Vietnamese armed forces. Vietnam expects India to play a vital role in the capacity building of its military deterrence capabilities, and work together to address regional and global challenges. The evolving strategic partnership is meant for mutual benefit and is not meant for an alliance against any third country.
Bilateral trade
The India-Vietnam bilateral trade volume has increased from US$50 million in 1991 to over $2.7 billion in 2010 and is targeted to reach $7 billion in 2015. If direct flights between the two countries come into force by the beginning of next year, the trade might even jump to $15 billion. India pledged to take necessary measures to enable Vietnamese products to enter Indian markets so as to balance the two-way trade. India has offered Vietnam a US $45 million credit with preferential treatments for the building of a hydro-electricity power plant.
The list of major Indian exports to Vietnam includes animal feed, pharmaceuticals, medicinal materials, plastic, iron and steel, seafood chemicals, chemical products, machinery and equipment, leather and leather garments, motorcycle parts, fertilizers, and automobile parts. While India's import pepper, tea, coffee coal, rubber, cinnamon, and electronic components from Vietnam.
The writer is a Distinguished Fellow, Institute of Peace and Conflict Studies, New Delhi