This Khiladi isn't a game-changer
Nonika Singh
Punjabi na chup chaap aate hai na chup chaap jaate hai.... Expectedly with this tongue-in-cheek dialogue resounding all through, the film can be anything but subtle. Yet loudness is not the only failing of this Khiladi. Fashioned after similar other mindless entertainers like Rowdy Rathore and Housefull, this one even fails to serve the prime purpose for which these formula films are made, that is to entertain. Mildly and sporadically funny, high on action and low on IQ, as it treads the same path as N-number of other Hindi movies have, this cinema of escapism offer no respite of any kind.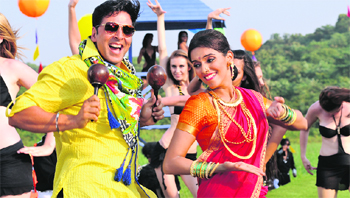 routine fare: Akshay Kumar & Asin Thottumkal
The storyline hovering around our Khiladi (Akshay Kumar) who for some strange reason is called 72 (Behatar in Punjabi) Singh, a fake policeman who helps real ones, is replete with inane conjectures. So, he has a family whose members are not only named after mathematical numbers from seventy onwards but which is like the United Colours of the World. So, there is a Canadian mother, a Chinese aunt and a South African grandmother. So much so even our Khiladi can't seem to find a suitable Indian bride.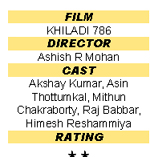 And this is where Manuskh (Himesh Reshammiya) a matchmaker-cum-wedding planner steps in. He has to find a suitable groom for a don Tatya Tukaram Tendulkar's (Mithun Chakraborty) sister Indu (Asin) who has scared many grooms away with her driving antics. So, who can match her better than the Khiladi whose scintillating speed is the stuff legends are made of? As yet another cheeky dialogue in the movie goes Duniya mein teen cheezein hoti zaroor hai par dekhi kissi ne nahin namely bhooton ka sansar, sacha pyar aur Bahatar Singh ki raftar. Yet neither his nor the film's raftar can rescue it from falling into the abyss of ennui. The film does move at a reasonable speed. But based on a skeletal, that too done to death story line, average performances, it offers nothing you haven't seen before.
Even the much touted item number Balma picturised on Claudia Ciesla is a dampener. Surprisingly all-in-one Himesh Reshammiya who is the story writer, producer, actor and of course the composer, isn't as bad as an actor. Perhaps for he only has a supporting role. In the role of the composer, well, some songs do sound good but stand out like sore thumbs in the movie that makes it clear from scene one that it is not meant to be taken seriously. All very well for caricatures as characters, lampooning and spoofs as a leitmotif`85. can be hilarious provided there is some method in the madness. Sadly all of this is missing. It is at best a rehash of masala movies sans zing of its own.
Sure some dialogues have pun and certain comic sequences make you grin. But the dreary tracks woven within the main narrative make you grimace soon enough and bring the comic quotient down. What's worse, the film perpetuates clich`E9s and stereotypes about Punjabis ad infinitum and ad nauseam. If only like the boisterous, lively Punjabis the movie had been full of beans it wouldn't have turned into a gruelling test on one's patience.

Animated to perfection
Ervell E. Menezes
Hotel Transylvania 3D is a delightful spoof on the eerie monsters of our time (and therefore in animation), having good humour, excellent music, well-spaced and with some great lines - a truly satiating experience, except for a wee bit of slapstick.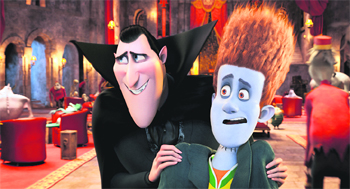 A still from Hotel Transylvania 3D
Enter, Drac (voice of Adam Sandler), short for you know who, black cape et al, singing to his little girl Mavis "hush little vamp`85" setting the tempo for things to come. Fast-forward to the present day and it's Mavis' 118th birthday, so Drac is 'settigupa' party and calling a plethora of monsters, some known and others not. There's Frank (Kevin James), short for Frankenstein, and wife Eunice (Fran Drescher), Wanda (Molly Shanon) and Wayne Weerwolf (Steve Burcini); Griffin the Monster (David Spade) and of course his daughter, his overprotected daughter Mavis (Selena Gomez). Jonathan, the traveller (Andy Sandberg), is the human who wanders into alien monster domain.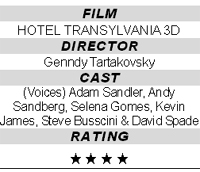 Based on a story by Todd Durham and the Hagerman brothers, it is a delightful narrative that sticks to the old beliefs that vampires thirst for human blood is only nocturnal. Victimised, Drac, the oldest vampire, has vowed vengeance and war against humans. But then Jonathan comes along`85and there's a ray of hope.
The monster delicacies are lizard fingers, worm cake and other such body parts and Mavis' favourite expression 'holy rabies'. But women's lib seems to have filtered down to them and Mavis shows spunk when charmed by the dapper Jonathan and takes her vampire dad by the horns, as it were. Then on to this amusing story - the musical component by a five (and more)-piece band set the tempo and it is able to adapt to all kinds of music with old Drac also joining in the revellery (a word never associated with horror movies). Refreshing, indeed!
So, it's fun ("I invented fun," says Drac) and games as never before. You just have to lap it up and that's not a request. It will do the long-sagging Hollywood image a world of good.

Nothing to play for
Ervell E. Menezes
Films on sport are few and far between, yet when they do happen it is not without a sense of expectation. Playing for Keeps, however, immediately dispels that hope despite an ensemble cast because it alternates between sport and romance, virtually spoon-feeding the viewer.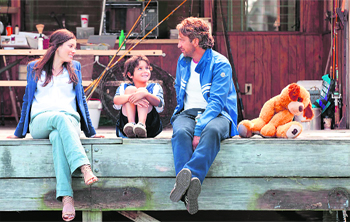 MISSED CHANCE: Noah Lomax & Gerard Butler
George Dyer (Gerard Butler), King George in his soccer playing days, is now upon bad times, always in debt and estranged from his wife Stacie (Jessica Beil), who has a live-in boyfriend and his eight-year-old son Lewis (Noah Lomax). It is through his son's craze for soccer that George is asked to coach his school team. George expectedly becomes a favourite not only with the lads but more importantly with their moms who fall over themselves cooing "coach, coach`85" Among them is Pattie (Uma Thurman), the sexy wife of school benefactor Carl (Dennis Quaid), Denise (Catherine Zeta-Jones), a former TV anchor with plenty of contacts, and a weepy, emotional Barb (Judy Greer).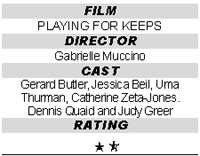 So, it's a case of plenty for George and though he has to show some soccer skills, this contemporary of David Beckham, is busier with his romantic demands. What's more, Denise is setting him up for a sports commentator's job with ESPN. Hence, between this, that and the other, all perfectly predictable, we are put through an ordeal that is only 105 minutes long but seems longer. There are at least three of better endings but no, director Muccino chooses to take the longer route in familiar Hollywood formula style`85.yuk.
Gerard Butler goes through the motions of his predictable part quite enthusiastically and is supported ably by Jessica Beil while Uma Thurman, still looking desirable, and Catherine Zeta-Jones are merely decorative. Dennis Quaid suffers through his very one-dimensional character. Utterly miss-able!