The importance of being Piro in Punjab
A dearth of reference points in the history of Punjab for empowered, disarmingly confident women has revived interest in a 19th century obscure poet whose life has become a topic of serious academic enquiry, transcending vernacular interest
Anshu Malhotra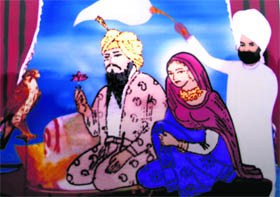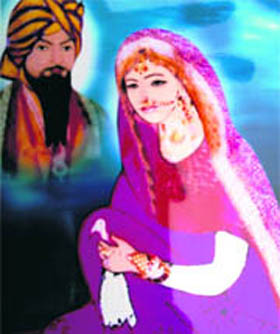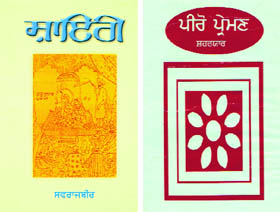 An artist's impression of Piro based on her writings. Sawrajbir's "Shaairi" and Shaharyar's play based on the life of Piro "Piro Preman" have inspired scholars, artists and thespians to have a re-look into the poetry and life of Piro.
Of late there has been a buzz about the nineteenth century obscure woman, Piro, from a relatively lesser known sect, the Gulabdasis, in Punjab. Punjabis in India (and Pakistan) in the know have let their imagination soar with her - a couple of plays have been written on her - Shahryar's Piro Preman, and Sawrajbir's Shairi. The latter has inspired friends from across the border and a play, based on the book has been performed by Pakistan's Ajoka theatre group led by Madeeha Gauhar in both Lahore and Amritsar. Latterly, the head of the branch of the Gulabdasis based in Hansi, Haryana, Sant Vijendra Das, has collected all of Piro's extant writings in a volume Sant Kavyitri Ma Piro, transliterating her writings from the Gurmukhi script to Devnagari, perhaps for the benefit of his sect's present followers and providing an exegesis of her work. Her collected work in Gurmukhi, Piro Kahe Saheliyon, has been recently edited and published by Veer Vahab of Fazilka. Equally enthused are academics, and her work has engaged scholars in Punjab and outside.
Why this interest in Piro that has generated goodwill across borders, and has transcended the vernacular and cosmopolitan publishing and academic worlds? There are many reasons for this: the lack of warm human stories on the status of women in Punjab; Piro's own rather unconventional life, most of it available to us amazingly in her own cryptic and mystifying (and mystic) poetry; her ability to transcend Hindu/Muslim differences that became the bane of Punjab as India moved towards independence; her low caste origins particularly important in a Punjab seeing dalit assertion; and of course the quality of her writing. I will briefly shed light on some of these factors, underlining the importance of being Piro, in her times and in ours.
Lack of narratives about women
Punjab has been associated with prosperity and economic well-being since independence, more so after the green revolution. However, Punjab's story has been dismal in relation to human development indices, especially so in the manner in which Punjabis treat their women. A good indicator of Punjab's awry development is the female sex ratio here (893 women for every 1000 men) glaringly proclaiming the widespread prevalence of sex selective abortion, and an ever insidious demand for 'machine da kaka'. Contemporary Punjab seems bereft of heart-warming stories about its women. Also important to remember are that the recent attempts at dalit assertion have created divisive politics in Punjab, reminiscent of the religious antagonisms that created fractious borders in Punjabi hearts, as in its landscape.
Historically Punjab has presented somewhat of a paradox. The British believed that the Punjabi Jats' women were hard working and enjoyed a good status. While the first part of the statement is indubitably true, the second part is open to debate. Likewise they believed that the Sikh religion in Punjab held women in high regard. Besides the invented histories of the Singh Sabha movement, there exists little concrete evidence of the same, except for Guru Nanak's statement of all men being born of their mother's wombs. Indeed the colonial officials' own figures for female infanticide indicted both the Jats and the Sikhs for this crime. Similarly despite the spread of education among women in the colonial period, thanks mostly to the efforts of the Arya Samaj and the Singh Sabha, Punjab singularly lacked women who were autonomous and agential. In the reams of published material produced by the afore-mentioned movements one hardly comes across women who wielded either the pen or their selves with any flourish or self-confidence. While historians in recent years have discovered and written copiously on women autobiographers in Bengal (Rashsundari Debi to Kailashbashini Debi) and Maharashtra (Ramabai Ranade to Parvati Athavale), besides other literary, journalistic and organizational ventures by them (Pandita Ramabai and Kashibai Kanitkar come to mind), there are few such stalwarts in Punjab. We have to wait till the twentieth century and the likes of Amrita Pritam to see the contribution of Punjabi women in the literary sphere. It is in this context that the discovery of Piro seems so heartening. Not only was she a person who seemingly chose the course of her own life and determinedly fashioned it, she was gifted with a literary flair and a sharp intellect. Her very existence, particularly because she came from the seams of society, beckons Punjabis towards better tales to relate about themselves, their women, and their caste and religious traditions. So who was she?
A woman straddling social change
While Piro straddled the pre-colonial and the colonial periods (she died in 1872), her life was shaped by spiritual and literary tastes of the former. Though not much is known about her life, she gives us a glimpse of it in an autobiographical fragment in a set of her Kafis or verses. We know that she was a Muslim prostitute who came to live in the dera of Guru Gulabdas, a Sikh Jat, unconventional and maverick in his persona as in his institutional choices, keeping his establishment open to low castes and following few prescriptive rules. Her move was so audacious that she suffered its consequences, described in her writing as a theatrical episode of abduction, rescue and miracles. She also spoke about her crisis as an instance of habitual conflict between Hindus (inclusive of Sikhs for her) and the Muslims, an overtly acrimonious drama, belied only by her writing that ridiculed and dismissed such creedal differentiation. Piro emerges as a person on the cusp of change, ushering in the modern impulse -in her autobiographic oeuvre or her prescience of the coming religious conflict. But also as a woman steeped in her sect's inheritance of Bhakti ethics and Sufi emotions, speaking profoundly of the emptiness of religious externalities. Besides her stunning and multi-layered autobiographical verses Piro wrote mystical poetry, verses jointly produced with her guru, and celebratory songs to be sung during the festive Holi season.
It is the quality of her writing and the themes she explores that evoke admiration. She wrote in turns frankly, disarmingly, haughtily or with rancour. She presented herself as a woman, a low caste, a scathing critic of religious animosities, and a mystic who could invoke a Kabir, a Mira or even a Bulleh Shah. It is difficult to capture her myriad voices, a Piro sometimes beseeching, at others condemnatory, mystical and pious, obdurate and self-confident, but a few examples must suffice. On being a low caste woman, a prostitute besides, who nevertheless could not be debarred from the path of salvation she wrote: rakho sarni asaran ko houn sudar nari; jaat-ajaat na dekhiya, tum Kubjan tari;….tari Ganka Ajamal na paap vichare, Piro kehsi satguru tum neech udhare (Keep me at your feet for I am but a sudra woman; You did not bother about caste when emancipating Kubjan;….you did not consider the sins of Ganka, the prostitute, or of Ajamal; Piro says satguru you are benevolent to the low born). On defiantly doing away with the niceties and antagonisms between the Hindus and the Turaks she wrote zestfully: Javna asi pardes saiyon, Turak Hinduan pare kahavna; Asi tyag jana mat Hinduan da, nahin Turkan da kuj dharavana; Jithe pahuch na Turak te Hinduan di, saiyon aise makan mein javana; Piro Ram jharokre baith ki ni mujra kul jahan da pavana (We will go to a foreign land friends far away from Turaks and Hindus; We will sacrifice the doctrine of the Hindus nor keep anything of the Turaks; where neither Hindus nor Turaks can reach, let us reach such a place; Piro says sitting on Ram's window we will dance away the norms of the clan and the world).
Evoking the past for present references
Piro in her evocation of Bulleh says: Piro piya aap hai main bhin nahin piya (Piro herself is piya, not separate from him) reminding one of Bulleh's: Ranjha Ranjha kardi main aape Ranjha hoi (calling out to Ranjha I became him). And of Mira: Piro pi piyalrra matvari hoi (On drinking of the cup Piro became intoxicated); and of Kabir in his insistence upon the certainty of death and of this life to make a difference: Piro bandiye jag lai hun jagan vela, aise janam malavrra phir hoe na mela (Piro woman awake it is time to rise, You'll get but one birth). And finally an angry Piro upbraiding Hindus and Muslims for their fetishistic ritualistic religion in which there was no place for women: Kurre majab banaut ke kar kurre dave, lind much ko kat ke phir Turak kahave; Hindu bane banaut ke dhar janu choti, bane banaut na narian gal dono khoti (Making false religions and promises, You make Turaks by snipping the penis and the moustache; Hindus are made with janeyu and choti, women cannot be made thus, they are both wrong).
It is these many moods of Piro that have lent her writing to multiple interpretations, indeed appropriations. For some Piro is the Punjabi example of a woman mystic in the likes of Lalla of Kashmir or the Rajput Mira, even though Piro most often puts herself in the company of low caste saints like Kabir or Raidas. For some, she is the helpless woman caught in a bad situation, however, with an inborn mystical insight, searching for an anchor, ultimately found in Gulabdas. For others she represents a woman's search for a true lover, a man a helpless woman must rely on. And for still others she is the agential woman, self-fashioning and adamant, despite her marginal origins, pushing the envelope of her times and circumstances. But for all Piro is a good story to tell, a woman who could help Punjabis overcome caste and religious differences.
The writer teaches history in the University of Delhi and is working on a monograph on Piro, with a historical perspective.