Gun Culture
Politician-police nexus much to blame
Chandigarh, December 7
The key accused in the murder of Assistant Sub-Inspector Ravinderpal Singh in Amritsar on Wednesday had been issued three arms on a single licence.The police will have a tough time explaining as to why this was done and what was the threat perception that he faced.
Golden Jubilee Celebrations


PAU gears up for PM's visit today
Ludhiana, December 7
The Punjab Agricultural University (PAU) has high expectations from Prime Minister Manmohan Singh's visit to the campus tomorrow. The Prime Minister would be the chief guest at the university's golden jubilee convocation.
Saluting the heroes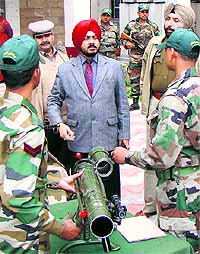 Patiala Deputy Commissioner GK Singh watches an exhibition during the Armed Forces Flag Day in Patiala, on Friday. Tribune photo: Rajesh Sachar


Alumni who did agricultural varsity proud feel ignored
Chandigarh, December 7
It is not only agriculture and allied fields in which Punjab Agricultural University (PAU) has played a key role in making Punjab the country's food basket, but the university has also produced several achievers in various fields.

Bill introduced in Lok Sabha for full religion status to Sikhism
New Delhi, December 7
The Lok Sabha today saw the introduction of an important private members' legislation seeking to amend the Constitution of India to accord the status of full-fledged religion to Sikhism. Shiromani Akali Dal member from Khadoor Sahib Ratan Singh Ajnala introduced the Bill this evening. The legislation reflects a long-pending demand of the Sikh community, which has been seeking amendment to Article 25 of the Constitution that grants freedom to citizens to profess religion.




Illegal mining: Cong to raise issue in Assembly, says Jakhar
Pathankot, December 7
The Congress is set to raise the issue of illegal mining of sand and gravel at the winter session of the assembly. The Congress Legislature Party session Leader, Sunil Jakhar, trained his guns at the mining mafia during a protest rally here a few days ago.



Property tax in Punjab from April '13
Ludhiana, December 7
The state government has constituted two committees that will have to facilitate the implementation of property tax by January 15, 2013.

Dharmendra's kin too have usurped his land
Ludhiana, December 7

More skeletons continue to tumble out of the closet following the arrest of two property dealers who had allegedly masterminded and encroached upon 1,333 square yards of land belonging to film actor Dharmendra. Ravinder Sood, caretaker of Dharmendra's ancestral property, today claimed that there were around 40 land grabbers, including the actor's relatives, who had encroached upon his 3-acre plot in Ajit Nagar area of Haibowal in Ludhiana.
Maluka against posting women in remote areas
Chandigarh, December 7
The Education Department has issued directions to all District Education Officers and schools to take measures to check physical or mental harassment of female teachers, especially in remote rural areas of the state.
IIT Ropar students top on recruiters' priority list
Ropar, December 7
The Indian Institute of Technology (IIT), Ropar, may not be a preferred campus for IIT-JEE top rankers from Chandigarh when it comes to deciding which IIT they want to opt for but its students are on the top list of companies for campus placement.
IT raids on 3 shops in Sangrur
Sangrur, December 7
A 40-member team of the Income Tax Department, led by Additional Commissioner Harjinder Singh, raided three shops in the Chhota Chowk area here.
Punjab chemists: We have been framed by the police
Patiala, December 7
The Punjab Chemists Association has blamed the police for harassing the chemists and registering false cases against them under the Narcotic Drugs and Psychotropic Substances Act (NDPS).
Cong MLA flays kabaddi extravaganza
A Tribune photograph
Traditional mode: Congress MLA from Gidderbaha Amrinder Singh "Raja" Warring on Friday rode on a donkey cart in Doda area of Muktsar as a mark of protest against the "unnecessary" huge expenditure being incurred on the 3rd World Kabaddi Cup by the Punjab Government.

Govt criticised: Warring alleged that the law and order situation in Punjab had gone from bad to worse as the government machinery was busy holding kabaddi matches. The mining mafia too was having a field day, something evident from the high sand and gravel prices.
Rs 13,000 cr earmarked for rural areas
Fatehgarh Sahib, December 7
The state government has earmarked Rs 13,000 crore to provide basic civic-cum-educational facilities in rural areas and thereby encourage people not to migrate to cities.
Minor untraced, people stage dharna
Sangrur, December 7
A 25-member action committee staged a dharna in front of the Sadar Police station in Mehlan village, over 10 km from here. People led by the committee members protested against the police's inability to trace a minor girl, who was allegedly kidnapped from Kular Khurd village a few months ago.
Mandi Gobindgarh MC to install CCTVs
Mandi Gobindgarh, December 7 In a bid to keep a tab on snatchers and other anti-social elements, the Mandi Gobindgarh Municipal Council has decided to install CCTV cameras at all strategic points in the town.
MCB passes proposal for loan
Bathinda, December 7
The proposal to borrow Rs 100 crore from HUDCO for implementing hundred per cent water supply and sewerage projects in the city was passed without any hue and cry yesterday.


2,596 acres sold illegally: Punjab
Chandigarh, December 7
The Punjab government has admitted the illegal sale of 2,596 acres of nazool land in four districts.
Respond to PIL on mining by Monday, DCs told
Chandigarh, December 7
A Division Bench of the Punjab and Haryana High Court today directed the Deputy Commissioners of Ropar, Mohali and Pathankot to respond to a petition, that alleged that corruption was rampant in these areas, by Monday or be present.