Finally, Lokpal gets office, now seeks more staff, powers
Chandigarh, December 6
Punjab Lokpal, who was without an office for the past three weeks, today got one in the state's mini-secretariat in Sector 9 here. Room No. 426 has been re-allotted to the Lokpal, where his office was located till the end of March. Following the retirement of the previous incumbent, the room was allotted to an IAS officer.
ASI's daughter had close shave
Amritsar, December 6

Robinjeet Kaur, daughter of killed ASI Ravinderpal Singh, could have also been killed had the assailant not run out of ammunition, said eyewitnesses. Shiv Kumar, a shopkeeper at Chheharta who pelted stones at the attackers, said: "I reached the spot after hearing gunshots. I saw the ASI lying injured waiting for help as his daughter pleaded with him to accompany her to a hospital."

Robinjeet Kaur breaks down at her house in Rampura village on Thursday. Photo: Vishal Kumar

Policemen targeted in the past too
Amritsar, December 6
The murder of Assistant Sub-Inspector (ASI) Ravinder Pal Singh has once again brought to the fore the deteriorating law and order situation in the city.
CLP Leader Sunil Jakhar consoles the wife of the deceased policeman; and (right) the victim's father with DGP Sumedh Saini and Revenue Minister Bikramjit Singh Majithia at Rampura village in Amritsar on Thursday. Photos: Vishal Kumar
Cong plans dharna against ASI's killing
Rampura, December 6
Congress Legislature Party Leader Sunil Jakhar said today that the Congress would stage a dharna to protest against Ravinderpal Singh's killing.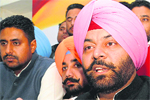 Sukhbir must quit, says state YC chief
Chandigarh, December 6
President of the Punjab Youth Congress Vikramjit Chaudhary today sought Deputy Chief Minister Sukhbir Singh Badal's resignation for the state's deteriorating law and order situation.


Vikramjit Chaudhary, state Youth Congress chief, at Chandigarh on Thursday. A Tribune photograph

Trade expo kicks off in Amritsar
Amritsar, December 6
The seventh Punjab International Trade Expo (PITEX) kicked off today at Ranjit Avenue here without any formal inauguration due to weeklong mourning on the death of former Prime Minister IK Gujral being observed in the state.
Private hospital offers to treat acid attack victim
Chandigarh, December 6
A fortnight after the High Court put the State of Punjab on notice on a PIL seeking free rehabilitation of a Morinda-based acid attack victim, Fortis Hospital has come forward for her treatment. Appreciating the gesture, the High Court today invited the representative of Fortis Hospital to assist the court on December 20, the next date of hearing.
Sanjha Morcha to launch stir on December 10
Jalandhar, December 6
The PPP-led Sanjha Morcha will start an agitation against the SAD-BJP government from December 10. A decision in this regard was taken in a convention of the Sanjha Morcha here today.
NHAI notice to upcoming DAV University
Jalandhar, December 6
The upcoming DAV University has got embroiled in yet another controversy with the National Highway (NH) authorities slapping a notice on its management for violating the National Highway guidelines.
DGSE suspends govt teacher
Patiala, December 6
Punjab Director General of School Education (DGSE) Kahan Singh Pannu today suspended primary school teacher Madhu Kathuria of Government Elementary School, Rasulpur, Patiala, for manhandling her female colleague Neelam Kumari and committing financial irregularities in the midday meal funds.
Traders in food industry told to acquire licences
Patiala, December 6
The District Health and Family Welfare Department has warned people, who manufacture or sell food products, of strict action if they don't get their licences made under the Food Safety and Standard Act 2006 by February 5, 2013.



International trade expo kicks off in Amritsar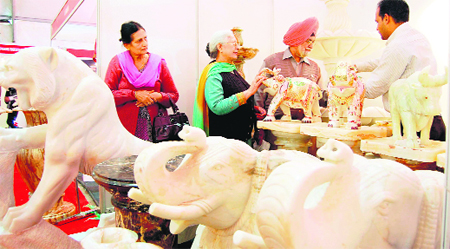 Visitors at a stall at the 7th Punjab International Trade Expo that started in Amritsar on Thursday. No formal inauguration was held due to weeklong mourning in the state on the death of former Prime Minister IK Gujral. The event will witness participation from Pakistan, Mozambique, Egypt, Lebanon, Thailand, Hong Kong, Nepal, Ghana, and Afghanistan. Photo: Sameer Sehgal
In black & white: HC clears air on Punjabi language for govt jobs
Chandigarh, December 6
A person who cannot write Punjabi cannot be deemed to have knowledge of the language, the Punjab and Haryana High Court has held.
Contempt notice to Chief Secy, 2 others
Chandigarh, December 6
The Punjab and Haryana High Court today issued contempt notices to Punjab Chief Secretary, Principal Secretary (Home) and another officer for allegedly not complying with an undertaking on transfers of PPS and IPS officers.
Minor raped, strangled
Gurdaspur, December 6
A Class VIII student of Senior Secondary School, Ghalari, was raped and strangulated at Hasanpur village,15 km from here, late last evening. The body was found in the village fields.
Rs 1 crore seized during IT raids
Ludhiana, December 6
Yesterday's raids on the premises of those working in the Punjabi entertainment industry resulted in the seizure of Rs 1 crore. The Income Tax Department seized incriminating evidence from some FDs and nineteen bank lockers of Punjabi singers, actors, producers and film distributors.