FIFTY FIFTY
Spare the rod to save the child
KISHWAR DESAI
The problem of violence towards children is rarely discussed in this country. We assume that parenting is easy and that everyone can bring up a child, little realising that more often than is widely understood, both adults and children can have psychological problems or be extremely vulnerable to abuse. In the absence of social monitoring and counselling — both for adults as well as children — things are very likely to (literally) get out of hand.
Disciplining children and more importantly controlling the anger of a disgruntled adult are equally tough. It is only because Indian society remains very secretive and closed-minded about family concerns that many crimes taking place at home — from domestic violence to child abuse — are frequently glossed over. Usually, these problems are dismissed as "ghar ki baat" and often neighbours and law agencies assume that families will best resolve their differences, even if it involves physical or mental cruelty.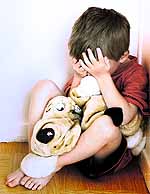 Any form of violence can scar a child for life.

In the past few decades, we have seen enormous changes taking place all over the world, viz-a-viz laws that protect children even from family members. Unfortunately, most of the recorded child abuse is usually perpetrated by family members, including parents. But despite that, we in India, still lack stringent laws which would protect children from physical violence and torture.
Most of us would remember the horrifying case of Falak, a baby girl, who eventually died after being brutally attacked. But there are many other equally frightening cases that have taken place abroad. Indeed, the whole of UK was shaken up by the case of Baby P (real identity was never revealed), a very young child who had been beaten and burnt by his caregivers. Battered and broken, he died. The social services which were supposed to have been keeping an eye on him were severely reprimanded and resignations followed. Of course this was an extreme case, but cases like these prod a nation into re-examining their laws and possibly change them for the better.
This is precisely what one had hoped would happen after the dreadful case of Falak. That our government would wake up and a proper child protection Act installed and strengthened, so that children at risk could be identified and given swift help. Also, the strictest punishment would be meted out to the perpetrators. But none of that happened. In fact, since there are no social security or welfare networks in India, a child at risk is very likely to simply slip through the cracks and disappear from view, into circumstances which could be worse than hell.
We forget children are our future and that whilst we pride ourselves on being parents if we can provide them with all the required facilities, including a good education, sometimes other things get neglected. An increasingly competitive environment has put huge pressure on both parents and children, and even this can be a trigger for violence. Everyone longs for perfection, but alas, that is only a chimera. We are all basically flawed creatures and it is up to us to ensure that our children do not inherit our fears and our lost dreams.
In the recent case of the Indian couple in Norway, it is difficult not to sympathise with the plight of the child and that of the parents. The worst that can happen to a parent has happened to them. They have been separated from their children and accused of cruelty. Even if the allegations are eventually proven to be untrue, many secrets of their personal and private lives will now come out into the open.
From their case, and others, it is obvious that we, as Indians, can no longer take recourse in the argument of "cultural differences" for using corporal punishment. Moreover, when we live in a foreign country, we will have to learn to abide by the rules abroad. Norway, much like other European countries, takes child rearing extremely seriously.
In all the years I have lived in the UK, I have yet to see a British child being smacked. Rarely does one see them even being yelled at. This might be a shock to those of us who are used to Indian parents using a harsher form of discipline, but psychologically it has been found that any form of violence can scar a child for life.
Common forms of punishment — slapping a child, rapping on knuckles, locking them up in a room — might not be truly violent, but even these can instill fear in a vulnerable mind. Yet in many parts of India, it is still considered fine to even use a stick. Recently disciplinary techniques in schools have also come under the scanner, when children have been humiliated and tortured in every way possible: from being forced to strip to being hit so badly that they have gone blind, or deaf.
For a society that supposedly believes in non-violence, we are probably among the most violent, especially towards those who are more defenseless than us. Perhaps instead of blaming the Oslo courts for upholding their stringent laws and the fact that they have now convicted both V Chandrasekhar and his wife Anupama to over a year each in prison for their treatment of their seven-year-old son Sai Sairam, we should all begin to introspect and suggest that similar laws, now internationally accepted, should be created in India as well.
Perhaps a light has been shone on what might be the least discussed part of our society — violence towards children within the family. Why don't we look into the mirror and see the reality for what it is?