prime concern counterfeit notes

Real threat from fakes
By Shaurya Karanbir Gurung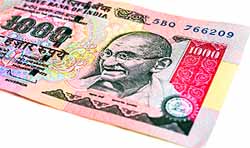 Operators of fake Indian currency notes (FICN) are using South East Asian couriers to smuggle it into India. Couriers from Thailand, Malaysia, the Philippines and Vietnam have been apprehended in Nepal and Bangladesh, from where FICN is usually smuggled into India. Seizures have also been made in Thailand, Sri Lanka and Denmark. An Interpol report states that last year alone, 13 countries reported Indian currency entering their area was counterfeit.
Pak conspiracy
Intelligence agencies say Pakistan is the main source and producer of FICN. "The machines that are used to make currency are only available with sovereign states. They can't be bought by a person or a gang," say sources. "Issuance of legal tender is a sovereign function of a state and any such act, which hampers and compromises this function amounts to directly or indirectly undermining the sovereignty of that country. It also disrupts essential services," they say.
Traffickers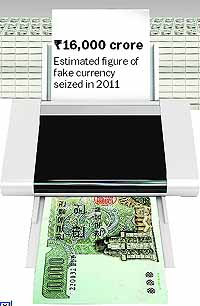 Photos: Shutterstock
Sources reveal couriers are mainly caught in Nepal and Bangladesh. Last year, a Thai national was arrested in Kathmandu for carrying Rs 45.79 lakh of FICN. Based on the inputs of the Directorate of Revenue Intelligence (DRI), two Vietnamese nationals were arrested with Rs 94.37 lakh FICN in Kathmandu. A Pakistani national was also apprehended.
In April this year, the Nepalese authorities arrested a Vietnamese and seized FICN worth Rs 98.10 lakh. It was sent by a Thailand-based racketeer, who had received it from a Pakistani operative.
Intelligence agencies are probing if there is a nexus between Pakistan terror outfits and gangs in South East Asian countries. Intelligence officials say FICN operators change flights to enter India. "We screen people coming from Pakistan, Bangladesh, UAE and Nepal. But until recently, we never suspected a person arriving from South East Asian countries," sources say. About 48 foreign nationals have been caught with FICN in different states from 2009 till June this year. In 2009, 12 Bangladeshis, an Iranian and two Nepalese were arrested. Twelve Bangladeshis, a Malaysian, a Nepalese and two Myanmar nationals were arrested in 2010. Last year, seven persons from Bangladesh, seven from Nepal and one from Oman were apprehended. This year, a Belgium national and a Pakistani have been arrested so far.
In March this year, Bangladesh security agencies arrested a man with FICN worth Rs 10 crore.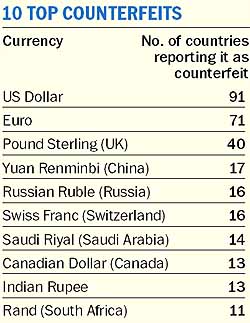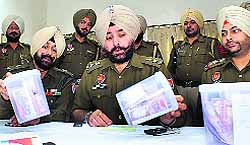 The Punjab Police recently seized fake currency worth Rs 1.5 lakh in Rajpura. File photo: JS Virdi

Traditional methods
From Pakistan, FICN is brought to Chittagong and taken to Dhaka. Thereafter, it is taken to Kaliganj, Telkuti, Jamir Pur, all in Bangladesh, and smuggled into Malda district of West Bengal. An alternative route is Keraniganj and Biswanathpur, from where it is trafficked into West Bengal's Murshidabad district. Rackets also operate from parts of Shillong and Assam. Poor quality currency plates have been recovered from several places in Assam.
Officials of the BSF say cross-border smugglers bring FICN from places where there is no fencing. Couriers are also known to throw the consignment over the fence.
"Counterfeit currency also gets exchanged in local markets near the border," a BSF official says. Till August this year, the BSF seized FICN worth Rs 15 lakh. It is smuggled into Punjab by couriers and via the railways.
The Sashastra Seema Bal (SSB), which guards borders with Nepal and Bhutan, says seizures are mainly reported from the Indo-Nepal border. In July, the SSB nabbed a resident of Nepal with FICN. In July, the Punjab Police and BSF seized a consignment of heroin and arms in Amritsar. The haul comprised Rs 5-lakh FICN.
Modus operandi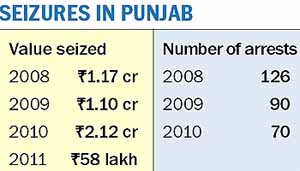 A Filipino was arrested in Nepal last year for carrying FICN worth Rs 1.22 crore, hidden inside baby talcum bottles. In another case, the accused had concealed FICN of the face value of Rs 96.82 lakh in packets of detergent powder, cornflakes and tea cans. Most couriers are unaware of the kingpins. "These are people in need for money. Some are small-time smugglers of electronics goods while the others work at shops owned by racketeers," sources say.
Terror angle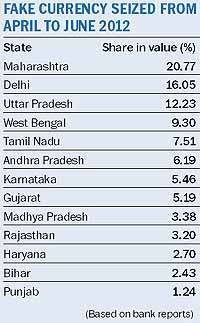 Several terrorists infiltrating into J&K have been caught with FICN. As per a government committee report, the estimated figure of FICN in 2011 was over Rs 16,000 crore. In November last year, the Delhi Police arrested an Indian Mujahideen terrorist, who was later reportedly murdered by two gangsters. He was apprehended with FICN of the face value of Rs 1.93 lakh. In December last year, two men suspected to be militants of Babbar Khalsa International, were arrested for possessing FICN worth Rs 1 lakh.
David Coleman Headley, alleged member of the Lashkar-e-Taiba, was given FICN for reconnaissance of sites for the 26/11 terrorist attack.
Flooding banks
In 2008, the UP Police seized fake notes from a man, who revealed the involvement of a cashier working at the Dumariaganj branch of a bank. A team of the police and RBI officials examined the currency chest of the bank concerned and found counterfeit notes worth Rs 4.02 crore.
Every year, FICN worth crores is found in banks. From April to June this year, 45 banks and financial institutions reported 84,387 counterfeit currency reports (CCRs). Various offices of the RBI had reported 994 CCRs.
What is being done
A FICN Coordination Group has been set up to share intelligence. The National Investigation Agency (NIA) has been empowered to prosecute offenders. The Terror Funding and Fake Currency Cell was set up in 2010 to probe cases of terror financing. In 2009, the NIA requested the Security Printing and Minting Corporation of India (SPMCIL) to constitute a committee to examine fake notes. The NIA sent samples with the legal tender of Pakistan, Bangladesh, Nepal and Myanmar. The forensic analysis shows these are similar to the legal tender of Pakistan. In 2008, the RBI set up the High Level Group on Systems and Procedures for Currency Distribution. A Forged Notes Vigilance Cell, at the head office of each bank, compiles the data of fake notes and provides it to the RBI and the Financial Intelligence Unit-India. The RBI has instructed banks to re-issue notes only if the notes have been checked for genuineness.