good news
Innovator, whose muse is abject poverty
By Bijay Sankar Bora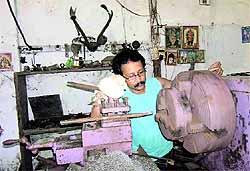 working to serve:

Uddhab Kumar Bharali at his workshop in Lakhimpur, Assam.

Uddhab Kumar Bharali from Lakhimpur town of north Assam has earned global fame for his technology-driven innovation of cost-effective, user-friendly machine and tools that make life comfortable for the common man. Not yet 50, awards and accolades have been bestowed on Bharali, who "lives to innovate". Recently, he won NASA's prestigious Create the Future Design contest for his bench-top pomegranate de-seeder. And he has been able to achieve all this from his small workstation-cum-research centre.
"When I first developed a polythene filmmaking machine at a cost of Rs 57,000, I took a bank loan of Rs 1 lakh. I was in dire straits because of a family loan burden of Rs 18 lakh. Today, there is no loan to be repaid. Life has been very hard, but also satisfying as I can help needy people," he says.
"I hail from a small town surrounded by agrarian villages inhabited mostly by poor people. I observe their lifestyle and the hurdles they surmount every day to carry on with their business of life. It gives me the idea for my innovations, which are meant for common people. I always think of doing something new, so it can benefit them. Innovations are my obsession as well as passion," he says.
"The beauty of Uddhab Bharali's innovations is that they are unique, efficient and cost-effective for first-generation entrepreneurs like me," says Angshuman Goswami, a young entrepreneur who bought a concrete brick-making machine from Bharali for a mere Rs 60,000. The market price of a concrete brick is Rs 7.50. The machine can produce 600 concrete bricks per day with the help of two workers and does not cause pollution.
Chitta Borthakur of Bishwanath Chariali, Assam, procured a machine to make coconut husk cakes for Rs 1 lakh. The machine produces 250 kg of coconut husk cake every day. "A similar machine would cost Rs 12 lakh if it has to be procured from Kerala. That is beyond the purchasing power of entrepreneurs like me. Bharali has promised to upgrade the machine, so that I can meet the demand," Borthakur says.
Creations of concern
Some of his innovations include pomegranate de-seeders promoted by TePPDSIR, Government of India; lap-cutting machine for eri and areca nut bisector promoted by the IIT, Guwahati; passion fruit gel extractor; cone-shaped agarbatti maker promoted by Gujarat Agarbatti Association; safed musli peeler promoted by Maharashtra Musli Growers Association; mosquito repellent making machine (herbal) promoted by a self-help group from Kerala; manual bamboo splitting machine for Ethiopia; cassava peeling machine for South Africa; garlic peeling machine; trench-digger machine; root slicing machine; sugarcane chips maker; improvised muga reeling machine; decortications machine; dehydration plant; and dry arena nut de-husking plant.
"Nine of my technologies are in the international market. Pomegranate de-seeder has received appreciation from many countries. Without any support from anyone, I have set up UKB Agrotech to continue my research. I have employed a group of trained workers. This unit has produced around 50 skilled workers so far," says Bharali, who has a soft spot for the poor and goes all out to help them. He sets aside 25 per cent from his income from royalty and patents, etc. for R&D, 5 per cent for his family and with the rest, he helps old-age homes, cancer patients and other people in need.
"I have seen very hard life. I know how it is to be in abject poverty. I hear a voice from the deepest corner of my heart, prodding me to develop a device that will help physically challenged women wear clothes without any help. Whenever I see models walking on the ramp flaunting designer clothes, I wish to make such a device for disabled women," he says.
President's Award
Often, Bharali is invited to take classes in technology innovations, especially in agriculture and rural development sectors, at the IIT, Guwahati, and Indian Institute of Entrepreneurship. He is UGC visiting faculty at Dibrugarh University in Assam. Bharali is currently working on an electric portable paddy thrasher. If it works, he plans to upgrade it to separate paddy from the plants on the field itself.
He is a winner of various prestigious awards, including the President's Award for innovation (2009), Shristi Samman by NIF-India (2007), and Meritorious Invention Award by the Department of Science and Technology, Government of India.
Bharali was adjudged first in the open innovation competition (Northeast) organised by the Department of Science and Technology, Government of Assam, for his unique "toileting and cleaning chair for physically challenged people".