News Analysis


Drawing flak for politicisation of police
Chandigarh, December 9
The SAD's political strategy of keeping its rank and file "satisfied" by handing over informal administrative control of police stations and district-level police officials to its legislators or designated area leaders has come back to haunt the party.
Mr Sukhbir, time to walk the talk on good governance
Cash transfer an uphill task in Punjab
Chandigarh, December 9
The government may not be able to achieve its ambitious target of implementing the direct cash transfer of various subsidies under the Aadhar scheme in three districts of Punjab by January 1. With the Aadhar enrolment still being slow and bank linkage of Aadhar cards being abysmally low, it may be an uphill task to start the direct transfer of subsidies in the next 23 days.
Uncertainty looms over Indo-Pak trade via rail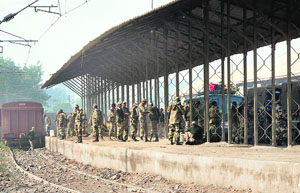 Amritsar, December 9
Though India received 19 wagons of rock salt from Pakistan and exported 34 wagons of goods to it earlier this week after almost a month, uncertainty looms large over the bilateral trade via the rail route which has come to a halt after Pakistan traders stopped cement export in view of heroin seizures in rail cargo.



Armymen take a break at the Attari station which otherwise remains deserted these days. Photo: Vishal Kumar


5 SAD-BJP constituency incharge cut to size
Gurdaspur, December 9
Five powerful SAD-BJP leaders who have been designated halqa (constituency) incharge of the very Vidhan Sabha seats they had lost to their Congress rivals in the Assembly poll have been relegated to the background by the state government. They have not been adjusted as guests of honour for the kabaddi world cup matches slated to be held here on December 10.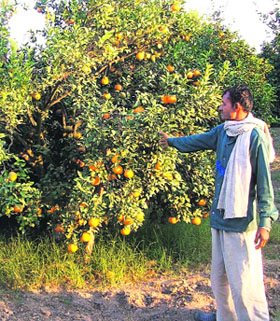 Kinnow growers taste success
Bathinda, December 9
The loss to Nagpur's orange crop has come as a gain for kinnow growers of Punjab with their produce fetching almost double of last year's price. Middlemen and retailers are also minting money. Sources say more than 15 per cent of the orange crop in Nagpur was first damaged in a hailstorm and then a fungus attack (about 30%-50%) because of incessant rain in August. Kinnow growers in Fazilka district, including parts of Abohar, are selling their produce for anything between Rs 12 to Rs 15 per kg as against Rs 7 to Rs 9 per kg last year. However, the retailers are selling the fruit at an exorbitant Rs 40 a kg. There are more than 4,000 kinnow orchards spread over 22,157 hectares in Fazilka bordering Pakistan.
A kinnow grower shows a fruit-laden tree at his farm in Fazilka. A Tribune photograph

Low potato yield to hurt consumers
Chandigarh, December 9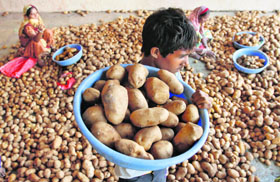 The low prices fetched by potato growers last year and the escalating cost of fertilisers have led to a decline in the crop's production this year. As such, consumers will have to continue shelling out more for potatoes with prices expected to remain around Rs 20 per kg. Last year, high potato yield had led to a glut-like situation with prices coming down to as low as Rs 2 a kg. With the government refusing to intervene and help the growers, farmers dumped their crop on the roads as a mark of protest.
Stuck mining projects: CM seeks PM's intervention
Chandigarh, December 9
Punjab Chief Minister Parkash Singh Badal today sought the intervention of Prime Minister Manmohan Singh to allow approval of mining projects in Punjab, saying the alarming scarcity of construction material could lead to a law and order problem in the state.
Dharmendra wanted to use his land for school
Ludhiana, December 9
Veteran film actor Dharmendra had planned to construct a school for poor children on his ancestral land at Ajit Nagar in Haibowal here that has been encroached upon by the land mafia. Dharmendra's father Kewal Kishan Singh Deol was a headmaster in Lalton village. He later taught at a school in Sahnewal where the actor had spent his childhood.
Conducting cancer survey costs Patiala students dear
Patiala, December 9
Hundreds of nursing students are paying out of their pockets to conduct the state government's ambitious door-to-door cancer survey that will last for over a month. The students have to find out how many people are afflicted with cancer and also need to apprise them about the various symptoms of the disease.
Groom, his family locked in marriage palace over dowry
Bassi Pathana, December 9
A bridegroom and his family were detained by the bride's family at a marriage palace after the groom's family allegedly asked for dowry during the wedding ceremony. The police had to intervene in the matter.
High-speed internet in all villages soon
Ludhiana, December 9
To provide access to high-speed internet facility at the village-level, panchayats in the state will soon be connected with optical fibre-based broadband.
Seminar on human rights held in Sangrur
Sangrur, December 9
A local NGO, Sahara Foundation, today organised a seminar on human rights at the district administrative complex here. Baljinder Singh Thakur, a member of the Punjab State Human Rights Commission was the chief guest.
Paddy lifting
Punsup official held captive
Tarn Taran, December 9
Krishan Kumar, a Punsup Inspector, was allegedly held captive by commission agents at the Naushehra Pannuan grain market today due to his "partial attitude in lifting paddy". The inspector was freed after intervention of the Sarhali police and his assurance to the commission agents to lift paddy systematically.
Van to raise awareness on Saanjh Kendras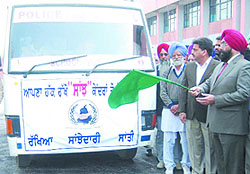 Bathinda, December 9
Mansa today became the first district in Punjab to introduce a mobile public police relations van that would move from village to village to make people aware about the services being offered by the police in its Saanjh Kendras. The sessions judge Gurveer Singh flagged off the van at Mansa in the presence of the Senior Superintendent of Police Narendra Bhargava.

Sessions judge Gurveer Singh flags off a mobile public-police relations van at Mansa on Sunday. A Tribune photograph


Shruti case: Panel to move court against DIG for releasing photos
Faridkot, December 9
A day after DIG (Border range) Paramraj Singh Umarangal was suspended, members of the action committee formed to get justice for minor rape victim Shruti have planned to move the High Court against the police official for releasing Shruti's photographs to the media.


1 killed, 11 injured in bus-canter collision
Sangrur, December 9


Canter cleaner Rahul Kumar (21) was killed while driver Anuj Kumar and 10 bus passengers were injured in a bus-canter collision in Mehlan village on the Sangrur-Patran road, over 10 km from here.
The overturned canter (left) and the mangled bus lay on the roadside near Sangrur after the mishap on Sunday. Tribune photo: Sushil Goyal

Flesh trade racket busted
Pathankot, December 9
Police today claimed to have busted a flesh trade racket with the arrest of four persons, including two women from a residential colony near Sujanpur Railway station, about 15 kms from here.