THIS ABOVE ALL
Shift to presidential form of democracy
Every five years we should elect a President and let him or her form the Cabinet from the ablest men and women available in the country, whether or not they are members of the legislature.
Khushwant Singh

YOU must often wonder if we deserve to have the sort of parliamentary democracy that we have manufactured for ourselves. Ambitious politicians spend crores of rupees to make their way to the Lok Sabha. Then they indulge in all sorts of gimmickry to see that it does not work. They assemble in the House, take oaths to perform duties expected of them and then do their best not to let it function.
Hundreds of crores of rupees go down the parliamentary drain with nothing achieved. Can we do anything to stop this waste of time and money without compromising our commitment to democracy? I believe we can and have suggested a solution earlier in this column. I repeat what I wrote before. All we have to do is to switch over from the British form of parliamentary democracy to the French or American form of presidential democracy. Every five years we should elect a President and let him or her form his or her Cabinet from the ablest men and women available in the country, whether or not they are members of the legislature.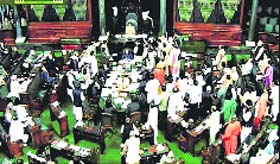 Every year or so, they should face a vote of confidence and quit if they fail to carry a majority with them. It requires will to change for the better. I don't think we have the will.
Erudite Gujral
I join Inder Gujral's family and friends in mourning his death. Although he did not make a great Prime Minister and had a very short tenure as one, he was a gentleman of great erudition. He was not a mob orator shouting "Jai Hind" at the end of his oration; he was as polished a speaker as any I have heard. Whenever I had occasion to hear him speak, I carried my notebook with me because his speeches were full of appropriately witty Urdu couplets. One I have often quoted runs as follows:
"Haq accha haq kay liye koee aur marey to aur accha,/ Tum bhee koi sarmad ho,/ Jo soolee per charroh?/ khamosh raho (Truth is great, if someone else does for it, it is better, are you some martyr who was on gallows hung? Hold your tongue.)
Footnote: I would like to add a short footnote to the obituary I have written even if it is regarded to be in bad taste. I was disappointed to note Inder Gujral's relations decided to cremate his body in the traditional manner with lots of wood. An electric crematorium was available and should have been used.
Cannot deceive death
Montaigue, the 16th century French essayist believed that, since we cannot defeat death, the best form of counter-attack is to have it constantly in mind. You should have the taste of death in your mouth and its name on your tongue. To anticipate death in this way is to release yourself from its servitude. Further, if you teach someone how to die, then you teach him how to live. Such constant death-awareness does not make him melancholy, rather, it renders him prone to fanciful dreaming, to reverie. He hopes that death will take its final house-call when he is in the middle of doing something ordinary.
(Courtesy: Prof RP Chaddha, Chandigarh)
Matter of size
"Penis size is a competition which is at the core manhood", Morten Fabricus of Singlesex.dk told a press conference in Copenhagen. "It's the most important thing for a man. There are so many unhappy men out there, who think you have to have a giant penis, but it is not normal to have a huge one, and that's why we started this competition. The rules are simple. Send in a photo of your private parts in 'rigid' mode, alongside a tape measure of course, and the man with the shortest measurement will win an iPhone. "So far we have received seven images, which are posted on our website, but more are tickling in, and we hope our competition will give people the courage to post more images anonymously. The man with the smallest organ will win, but women will also crown a winner based on votes from the site's female members. It's incredible how the media has frightened people away from showing themselves as they are. Everything has to be bigger and bigger and bigger. But now the time has come to celebrate the smallest member".
(Courtesy: Private Eye, London)
No safety valve
Santa: I have heard that using condom is very safe.
Banta: Not at all. I had used it. But still my girlfriend's husband beat me up.
(Contributed by Vinay Asawa, Howrah)