G R O U N D Z E R O
Bhai, Behen and Baba factor in the Modi roadshow
The superstardom notwithstanding, there is growing criticism that Modi is very much a one-man show and his dictatorial style has his own party wary of him.
Raj Chengappa

The whirring sound of an approaching helicopter galvanises the crowd in Himatnagar, Gujarat, which had been waiting patiently for Chief Minister Narendra Modi to arrive. No other speaker can hold their attention until the helicopter lands and Modi, a saffron scarf slung carelessly across his neck, strides onto the podium. He is greeted by a roar from the gathering and a standing ovation. They mimic his trademark 'V' sign as he waves with his two fingers to the multitude. They yell Bharat mata ki jai and Narendra Bahi aage badho, hum tumhare saath hai with gusto.
It's the penultimate day for campaigning for the 2012 Gujarat Assembly polls but Modi is showing no signs of exhaustion. I found plenty of evidence of a superstar-like popularity when I attended a few of his rallies this Friday. Many opinion polls have already predicted that Modi is heading for a record fourth term in office when the votes are counted on December 20. The discussion in political circles is not whether Modi will win but how big would it be in terms of seats and the bearing it would have on him being projected as his party's prime-ministerial candidate for the next general elections.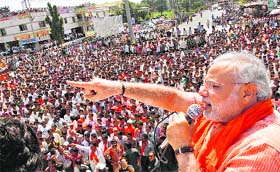 The Gujarat Chief Minister is not just the BJP's star campaigner but, much to the consternation of many of his party colleagues, there is also a grudging admission that if the BJP returns to power in the state it would be because of the "Modi magic". Modi is without doubt the ultimate showman who could give even US President Barrack Obama a lesson or two when it comes to 'crowd-connect'.
At Himmatnagar, which is on the outskirts of Ahmedabad, rather than launching into a formal speech Modi begins in an engaging, chatty style. Never the one to be modest, he says, "This is the asli Modi standing before you, not the 3D one." He was referring to the technology blitzkrieg that he had launched to regularly telecast his election speeches live on 3D screens to awestruck audiences in places he couldn't visit personally. The 3D gimmick has caught the electorate's fancy as much as the famed Modi face masks during the 2007 election campaign.
It is when he launches a diatribe against Sonia Gandhi, 'Sonia Behen' as he calls her, that the crowd becomes animated. He puts his left hand theatrically to his hip and starts, "Sonia Behen says there is no development in the state. She should do her homework before she speaks." Then he asks the crowd, "Do you all have uninterrupted electric supply?" They chant, "Yes." In a jeering tone he tells them that in Delhi 'Sonia Behen' uses generators as a back-up in her house because of frequent power cuts in the Capital. The crowds laugh.
He doesn't spare Rahul Gandhi either, referring to him scornfully as "Rahul Baba". Late Friday evening, while addressing a packed meeting in his constituency Maninagar, he tells the audience that "Rahul Baba claims his father brought about the mobile revolution." And then asks, "Did Rahul Baba's father give you mobile sets?" When the crowds in unison answer in the negative, much to their amusement, he tells them, "Then ask Rahul Baba to please distribute a free mobile set to each of you."
That he is a rabble-rouser par excellence comes through when he charges the UPA government with going soft on Pakistan on the negotiations for the dispute over the maritime boundary at Sir Creek on the Kutch-Sindh border. The topic doesn't evoke much enthusiasm with the audience, so Modi, invoking Gujarati pride, thunders, "We will not agree to give an inch of Sir Creek to Pakistan." The focus on Sonia Gandhi and Rahul is carefully choreographed to give Modi a national stature, as is the accusation about the UPA's complicity on Sir Creek. By cleverly bringing in Pakistan, Modi panders to the 'Sangh Parivar' hardliners without being accused of being communal.
Modi though is conscious that being projected as a potential Prime Minister could be counter-productive with the state electorate. So he makes it a point to reassure them that he would be around if they voted for him. Yet, Modi has been so confident of his government returning to power that he rarely dwells on what he would do for them in his third term, except to promise them more of the same "good work" he has done. That has allowed the Congress to chip away at his support base by promising free housing for the poor, which for a while caught Modi on the wrong foot. Nor does he appear sure of how much his archrival Keshubhai Patel, who floated his own outfit, would cut into the BJP's vote bank.
There is also growing criticism, which Rahul has been exploiting in his speeches, that Modi is very much a one-man show and his dictatorial style of functioning has resulted in a personality cult that makes even his own party wary of him. During the campaign, the BJP has kept such concerns muted. But after the results, the inherent contradictions in Modi's style are bound to come to the fore.