Beneficial beams
New advanced lasers and rays play an important role in the treatment of various dermatological disorders that have become resistant to conventional therapies
Dr Vikas Sharma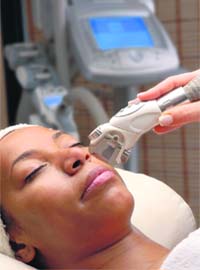 Laser technology has revolutionised dermatological treatments and this is not just limited cosmetic surgical techniques. Laser is an acronym for light amplification by stimulated emission of radiation.
Laser treatments are generally associated with cosmetological treatments like facial rejuvenation, hair reduction and wrinkle reductions etc. But lasers also play a major therapeutic role in the treatment of many chronic dermatological disorders.
New advanced lasers play an important role in the treatment of the various dermatological disorders that have become resistant to conventional therapies. As laser technology evolved over the years, dermatologists have also helped re-define the specificity of laser-tissue interaction and employed newly developed technologies in innovative ways. The net result of these technological advances has been the creation of new, effective treatment techniques. These techniques are profoundly superior to conventional technology because of that these have been rapidly incorporated into practice by most dermatologists.
Lasers in dermatological science are currently the most precise and selective surgical tools with qualities of "magic targeted bullet". The light traverses through various epidermal and dermal layers of skin without affecting the normal cellular structure and behaviour and targets selective abnormal cells. Lasers are used in chronic skin diseases like vitiligo, alopecia areata, psoriasis, rosacea, vascular anomalies, chronic eczemas, nodulocystic acne, atrophoderma, hereditary palmoplantar keratodermas, other genodermatoses etc. When these diseases do not respond to conventional therapies, laser treatment is used to target abnormal cells like the abnormally dividing and proliferating cells in psoriasis, stimulating the melanocytes to produce melanin in vitiligo, targeting the abnormal vessels in rosacea and vascular anomalies, stimulating collagen synthesis in atrophoderma.
Psoriasis
Psoriasis is an autoimmune skin disease that affects millions of Indians. It often appears as red, raised patches, which can be itchy and painful. It can be treated by a wide range of methods, including creams, oral medication and cytotoxic therapy. Oral medications are prescribed only when topical remedies fail. However, these can have serious side-effects, if not monitored. Standard light therapy, which involves standing unclothed in an ultraviolet light chamber, is effective and fairly safe. But it has a rigorous schedule - three times a week for two to three months.
During psoriasis treatment, excimer lasers are used that use a light wavelength to treat the disease. It generally takes three to five minutes. There is no pain - just a sensation of warmth when used at high intensity.
The laser is very effective for localised plaques and is particularly useful for palms and soles where topical treatments aren't practical.
Laser treatment has even benefited stubborn plaque lesions, especially on elbows and knees, not responding to conventional therapies. It usually takes about 10 to 15 laser treatment sessions to achieve substantial improvement in a plaque of psoriasis. One major advantage of laser treatment is that remission times are generally much longer than treatments based on topical creams.
Alopecia areata
Alopecia areata is one of the most common forms of hair loss. The loss usually starts as coin-shaped bald patches over the scalp and can affect facial hair in men and other hairy areas. Severe forms of the disease can lead to marked psycho-social problems.
This is useful for those taking oral steroid medications as a long-time usage of steroids can cause side-effects. The use of the laser treatment in alopecia areata is effective and safe and has good tolerability.
The bald patches over scalp, face or other body parts tend to show hair re-growth after 12-15 sessions. The treatment does not have any side effects.
Rosacea
Rosacea is a chronic, progressive skin disorder which affects more than five million people in India. The laser acts by targeting the abnormally dilated tiny blood vessels. It eliminates malfunctioning blood vessels under the skin which make the face appear red. Rosacea can have devastating effects on self-esteem of affected patients because it strikes adults who are in their prime. Sufferers often feel it affects their work and social life. The laser treatment can dramatically improve the quality of life of rosacea sufferers, most of whom are in their 30s and 40s.
Usually, rosacea first appears as a flush or red patch. Common symptoms include facial redness and inflammation around the nose, cheeks, chin and forehead, as well as visibly dilated blood vessels and a burning sensation.
If left untreated, rosacea worsens over time. The redness becomes more persistent, and bumps and pimples called papules and pustules appear.
In some cases, the eyes may be affected too, becoming irritated and bloodshot. In advanced cases, the nose can become red and swollen from excess tissue. Although rosacea can be lightened in some cases with creams and antibiotics that calm down the skin, the dilated vessels beneath remain which leads to chronicity. All these problems can now be treated with laser treatment.
The laser works by heating up the blood vessel and sealing it. Although it is not quite painless - there can be a bit of a sting with each zap of the laser - it does clear up the redness.
Heat from the laser's energy builds in the vessels, making them collapse and disappear.
Patients have no bruising but there may be some swelling for 24 to 48 hours. Treatment sessions take from 15 to 30 minutes and can be carried out at six to 12-week intervals.
Vitiligo
Vitiligo is a chronic skin condition that causes parts of the skin to become depigmented (or lose pigment). Considered an auto-immune disease, vitiligo occurs when the body's immune system attacks and destroys melanocytes (the cells that produce pigment) — leaving the affected area of skin void of colour. Vitiligo most often affects the face, elbows, knees, hands and feet. The condition is more noticeable in people with skin type 4 and 5 which Indians have.
It is a condition of hypo-pigmentation, meaning that the cells responsible for skin pigmentation (natural colour), called melanocytes, are destroyed. The destruction of these cells spreads, increasing the size and quantity of the white patches.
In laser treatment, the high-intensity laser beams penetrate the skin surface in the affected areas, destroying the diseased and useless cells, and stimulate the growth of new pigment cells. The new cells increasingly populate the white patches, restoring the patient's original, natural skin color.
Before the use of laser treatment, topical creams, oral medicines and ultraviolet (UV) light treatment were used to correct vitiligo skin patches, aiming to cease its spread and restore natural pigmentation. However, the discovery of laser treatment offers hope for vitiligo patients. In severe cases of vitiligo, laser is used to whiten all of the patient's skin, so that the patient could at least achieve an even-toned skin colour. Laser treatment actually aims to rid the white spots and restore the patient's original skin pigmentation.
Re-pigmentation has been found in stubborn patches of vitiligo after 20-30 sessions without causing any ocular or dermatological adverse reactions.
Laser treatment is useful in patients with: 10-20 per cent involvement of the body not responding to conventional topical therapies; palmo - plantar involvement, stable vitiligo, scalp lesions, lesions over face.
Vascular lesions
Vascular lesions tend to manifest at birth or in early childhood. These lesions appear as red or blue-coloured areas over the face and other exposed areas. So far no treatment other than laser has been found to be effective in these disfiguring conditions. Flash-pumped pulsed dye lasers with a wavelength of 577 nm are used for treatment of cutaneous vascular lesions like hemangiomas, portwine stains, etc. The same laser technique has also been found to be useful in reducing venous lakes, spider angiomas and telengiectasias.
Eczemas
Laser treatments also benefit patients of chronic eczemas not responding to conventional topical therapies. It is particularly beneficial for patients having thick patches of eczema over palms, soles, scalp and legs. They respond better to laser therapy.
The writer is a dermatologist and dermato-laser surgeon, Panchkula
Checklist
There are various types of lasers available in the market for different cosmetic and core dermatological problems but a patient going to get laser therapy should be aware of the types of lasers, which one is the best for his/her problem, the expected cost of the entire therapy, duration of therapy, outcome (degree of beneficial effect), the adverse effects of lasers, the qualification of the person operating the laser on his/her skin. Each laser system has its own adverse effect and complication profile specific to the cutaneous lesion being treated. So it's important to have certain precautions before, during and after laser sessions. Patient education on pre- and post-laser care will optimise results and increase the chances of favourable outcome.
Precautions
Effects on eyes: These may occur via direct or indirect ocular exposure to laser irradiation. Thus, wavelength-specific eyewear must be worn by both operators and patients.
Postoperative hyper-pigmentation: It can be observed after laser procedure. This problem is more common in Indian skin types. Hyper-pigmentation, however, is almost always temporary and responds to topical therapy and resolves completely over time.
Post-operative blistering/crusting or purpura: This can occur in few patients but is a transient phenomenon that usually lasts for 7-14 days.
Post-operative erythema: Some degree of erythema lasting less than 24 hours is present in virtually all laser procedures.
In many cases, adverse reactions and complications result from wrong technique used by non-medical / unqualified personal which occurs due to collateral damage created when energy intended for the target chromophore is diffused non-selectively and absorbed by surrounding tissues and structures.
People who intend to go for the laser treatments should undergo a comprehensive counselling session prior to laser treatment session to be fully aware about the pros and cons of these new dermato-surgical tools and have realistic expectations so that they can avail the favourable outcome with this scientific discovery.