Employees circumventing RTS Act to avoid penalty
Issuing receipts without mentioning date to escape punishment for delay in delivery of service
Balwant Garg
Tribune News Service
Faridkot, December 10
Over a year after the Right to Service (RTS) Act was introduced in Punjab to cut red tape and make government officials accountable to people by guaranteeing time-bound delivery of 67 services, the lack of support system has reduced the legislation into a political gimmick. In fact, the delivery of services has become more hassle-ridden after the implementation of the Act, say residents.
Under the RTS Act, officials found guilty of delay have to cough up a penalty ranging from Rs 500 to Rs 5,000. As a result, employees have devised new methodologies to circumvent the Act.
In one such trick, employees have stopped mentioning the date on receipts issued to applicants after the latter apply for any service under the Act. In the absence of date on the receipt from government officials, it becomes tough for an applicant to challenge the delay in service delivery.
A local resident, Col Manna Singh Virk (retd), had applied for registration of a new vehicle at the Faridkot District Transport Office sometime back. As per the RTS Act, the registration certificate was to be provided within a week. But, Virk was made to wait for over a month. When he though of complaining to the higher authorities, he found that the receipt issued to him did not have date mentioned on it.
"If an educated person can be hoodwinked, what treatment do you expect for a villager," asks Virk.
Another resident, Shagun Kataria, had applied to the same office for a driving licence on September 14, but he got one on November 29. Officially, the service should have been provided within a week.
Faridkot Deputy Commissioner Ravi Bhagat, the appellant authority under the Act, says only five complaints have been received against government employees for delay in services. "These can be termed as teething problems, mainly due to staff shortage," he says.
But, applicants claim that whenever there is a complaint under the RTS Act for delay in service, the Deputy Commissioner mostly takes a lenient view towards employee concerned, giving him or her the benefit of staff shortage.
When contacted, District Transport Officer Sukhmander Singh said the act of 'missing date' on a receipt could be an inadvertent mistake. "Otherwise, every receipt and dispatch in the office is duly taken care of," he claims.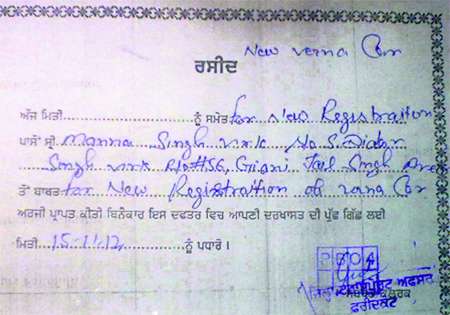 About the RTS Act
The Right to Service Act was implemented over a year ago in Punjab
The Act guarantees time-bound delivery of 67 services to the people
It makes state government officials accountable for delay, if any
Guilty officials can face a penalty ranging from Rs 500 to Rs 5,000
Major staff shortage
The shortage of staff in government offices is said to be the main reason for poor implementation of the RTS Act. Against the sanctioned nine posts of clerical staff in District Transport Office, Faridkot, only two clerks are coping with the huge workload where over 1.5 lakh vehicles are registered. In neighbouring Bathinda district, there are only three clerks against the eight sanctioned posts. In Bathinda, the number of registered vehicles is over 2.8 lakh.
Rising applications
"In 1982, staff inspection cell of the Finance Department had recommended that there should be three clerks for every 10,000 registered vehicles. But, we only have two persons for 1.5 lakh vehicles in the district. No recruitment has been done in the last 15 years," says Manmohan Luthra, a retired District Transport Officer. Moreover, government officers have been burdened with additional charge. Faridkot transport officer also has the charge of SDM. The Bathinda transport officer is also catering to Muktsar district.