OPED

Tribute
The maestro leaves a void
Pt. Ravi Shankar
1920-2012
Pandit Ravi Shankar not only enriched the sitar, the seven-stringed musical instrument he popularised across the globe, but also influenced the entire spectrum of Hindustani classical music by making it contemporary.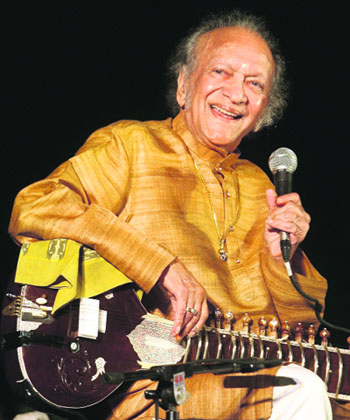 He added new dimensions to the way classical music is heard and appreciated with his genius for innovation. Photo: PTI

Pt. Ravi Shankar (7 April 1920- 11 December 2012) was born in Varanasi and spent his youth travelling Europe with the dance troupe of his brother Pt Uday Shankar. He gave up dancing in 1938 to study sitar, under the tutelage of Ustad Allauddin Khan at Maihar.
His father was a minister in Jharwad state, who left for London to fight a legal case leaving his three sons with their mother. After the case was over, he stayed on. His mother managed the family with a pension of Rs 200 that used to come from the state and was reduced to Rs 60 by the cuts taken on the way. Ravi Shankar accompanied his mother whenever she went to pawn her jewellery or Banarasi silk sarees to run the family expenses. The pain of his mother remained with him all his life. His father married an English girl and returned to India, says his official biographer Shankar Lal Bhattacharjee.
The other painful reminder in his life was, his failed marriage with Annapurna Devi, a gifted musician who decided to retire from stage after the divorce. "He would always by pass the question, if I ever mentioned Annapurna Devi. I saw his eyes brim with tears when he talked of his mother and when he finally talked about Annapurna Devi. Despite their divorce, they remained in love, it was always very painful for him to talk about her. More than husband and wife, they grew up together and shared a sort of devotion for the heritage of Maihar gharana. She was the daughter of his guru Ustad Allauddin Khan, who treated him as his older son. I met Annapurna Devi too, but I never saw any bitterness or disrespect in them for each other, their love was mutual and he remained concerned for her, till she married the second time.
He had a relationship with Kamla Chakroborty for twenty long years, but never married her. When I was working on "Raga Anuraga," Kamla Devi used to run his household. Then he married officially, the second time.
While writing "Raga Anuraga" during several discourses he shared his memoirs with me, about his journey in music, about the people and the evolution of his music. I learnt about his unique organisation of a concert, how he managed music, and the technical changes he incorporated in sitar. By adding a small tumbi on the top he got more resonance and added a thick gauged string to give more resonance to notes in the higher octave. He needed this because his alaap was played in Dhrupad ang, slowly and elaborately. He changed sitar from the way it was played earlier and enriched it in so many ways."Shankar Lal Bhattacharjee.
Pandit Vishwa Mohan Bhatt, Grammy Award winner Mohan Veena maestro and a disciple of late Pt Ravi Shankar, "We have a long- standing family association with Panditji and it dates back to 1955 when my oldest brother late Shashi Mohan became Panditji's first shagird. He was a sitar player, and I grew up listening to the beauty of Maihar gharana. Even though I had made Mohan Veena in 1970, I went under his tutelage in 1983 to learn music, in totality.
I idolised him, he was a wonderful human being, disciplined, demanding, perfectionist, strict and loving and very caring. A genius of his stature would care for the smallest detail of things like food that I ate. He knew as a vegetarian my choices in food were limited.
When it concerned music, he was demanding and exacting to the core. He was a purist when he played ragas, at the same time he was open to fusion. I went to him to understand intricacies of Maihar gharana, the ragas and talas. Guruji heard my instrument, Mohan Veena and without my asking gave me a certificate, written in his own hand. It says, Vishwa Mohan Bhatt has done a great job by Indianizing Hawain guitar by incorporating techniques and merging sounds of sitar, sarod and veena in his instrument.
His genius lay in his receptivity, he was the first one in India to work in association with other music systems of the world. George Harrison of Beatles became his disciple, he worked with Yahudi Menuhin, who was a violinist and became the first Indian to win a Grammy in 1967 for "West Meets East" with Menuhin in the Best Chamber Music Performance category. Later, Jean Paul Rampaul, Paco De Lucia, flamenco guitarist, and Philip Glass, were all very keen to work with guruji and collaborated recordings. All these collaborations gave popular music to the world.
His contribution to Hindustani music is unparalleled , he was like the Sun, who gives light to all. He will always shine in raga, in the purity of tantrakari, and the beauty of Maihar gharana."
Pt Jasraj, Hindustani classical vocalist, "His mastery over Indian classical music touched musicians of all shades and age groups. He opened the world for Indian classical music. His greatest contribution to classical music is in introducing the audiences to alaapchari, he knew how to build a raga with alaap, he could communicate with ragas like you and I communicate with words, and he was always so joyful striking friendly notes with a raga! Panditji paved the way for musicians like us and remained our guide on this path. He was one musician who never felt insecure of other musicians. Who else would take young musicians abroad, spend from his own pocket, give them exposure and introduce to other musical geniuses. His music was so powerful and music made him powerful, he used this power to promote music and musicians like no other Indian musician has ever done.
His music is so vast, it cannot be expressed in words, no musician has remained untouched by his vast mastery over music. He was a magician who hypnotised the world with music."
Gulzar, "Hindi film director, "I consider it my fortune that I worked with a maestro like Pt Ravi Shankar, I have no regrets that the film "Meera" (1980) flopped. When I narrated the script to him, he said, you are narrating sheer poetry, I will put my heart and soul into it. What Pt Ravi Shankar could achieve for the music of this film, no classical maestro would do for the medium of film."
(As told to Vandana Shukla)