Triple twelve!


You are unlikely to see this unique combination again. Photo: Kamaljeet

Attaching Zonal Hospital to ESIC college
State awaits Health Ministry's approval
Mandi, December 12
Now, the Ministry of Health and the Ministry of Labour and Employment will take the final decision to expedite the process of attaching the 300-bedded Mandi Zonal Hospital to the super-specialty Employee Service Insurance Corporation (ESIC) Medical College coming up at the Ner Chowk to start its first batch in 2013 itself.
ICAR team visits Palampur agricultural university
Dharamsala, December 12
An Indian Council of Agricultural Research (ICAR) accreditation team wrapped up its three-day visit to CSK Himachal Pradesh Agricultural University, Palampur, today. Headed by Nawab Ali, former Deputy Director-General, ICAR, the team included BS Bisht, former Vice-Chancellor, GB Pant University of Agricultural Sciences and Technology; SK Mann, former Dean, College of Home Science, PAU, Ludhiana; and Dharmeswar Das, former Joint Director, Indian Veterinary Research Institute, Izatnagar.
Assn extends support to martyr Kalia's family
Mandi, December 12
The Ex-honorary Commissioned Officers' Welfare Association, Baldwara, has conveyed its support to martyr Capt Saurabh Kalia's family to bring the "Pakistani culprits and violators of the Geneva Conference to justice", that was denied to their son for the last 13 years.
27 medical officers deputed for NRHM projects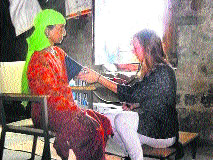 Palampur, December 12
The state government has constituted a high-level team of medical officers to monitor the implementation of the National Rural Health Mission (NRHM) projects in the state. This team will assist officials of the Health Department to make optimum utilisation of the NRHM funds allocated by the Union Government for various projects that are ongoing in the state.
A woman being examined by a doctor under the NRHM programme.
Campaign to check stray animal menace
Hamirpur, December 12
The Animal Health Department has taken an initiative of tattooing domestic cattle to keep a complete record of cattle owners to check the menace of stray animals in the state. This drive would be important in checking stray animals in urban and rural areas as a large number of cattle are released astray by owners.
Restore air services, Shanta urges Union Minister
Palampur, December 12
Senior BJP leader Shanta Kumar today called on Union Aviation Minister Ajit Singh in New Delhi today and requested him for the immediate restoration of air services to all three airports of the state, which were suspended three months ago following a lockout in Kingfisher Airlines.
Pt Ravi Shankar was India's cultural ambassador: CM
Shimla, December 12
Chief Minister PK Dhumal has expressed shock over the death of world renowned sitar maestro Pt Ravi Shankar, who had died at a hospital in San Diego, California, US, today.
Docs' assn lodge complaint against fraud
Kangra, December 12
The Resident Doctors' Association (RDA) of Dr Rajendra Prasad Government Medical College (DRPGMC), Tanda, has lodged a complaint with the Kangra police against an unidentified person for misusing the name of the association.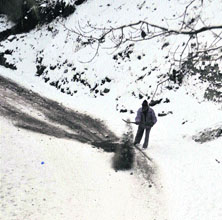 Cold wave continues after snow
Shimla, December 12
The state reeled under severe cold even today as people got respite from snow and rain. However, the current spell of inclement weather is likely to continue with the local met office indicating that the state will come under the effect of fresh western disturbance over the next two days. The mercury dropped sharply across the region following yesterday's widespread rain and snow with Keylong and district headquarters town of Lahaul and Spiti recording the lowest temperature of minus 8.5°C.
A PWD worker clears a snow-covered road at Kufri near Shimla on Wednesday. Photo: Amit Kanwar

Centre interested in foreign companies: CM
Bilaspur, December 12
Chief Minister PK Dhumal has said the Central Government was more interested in protecting the interests of foreign companies than of its own country. Dhumal was talking to mediapersons at Ghumarwin rest house here. He said had that not been so, the Congress-led Centre would not have taken interest to ensure that the FDI resolution was adopted in Parliament.
Workshop on moral values for schoolchildren held
Nurpur, December 12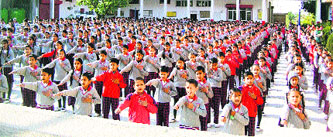 The Divya Jyoti Jagriti Sansthan, Noormahal (Punjab), has conducted a workshop on moral values as a part of its youth empowerment programme. A special lecture was delivered in the morning assembly of Noorpur Public Senior Secondary School here today.
Students of Noorpur Public Senior Secondary School being administered an oath for their commitment to character-building in Nurpur on Wednesday. Photo: Rajiv Mahajan

Hindi novel released
Shimla, December 12
Chief Minister Prem Kumar Dhumal today released a Hindi novel "Jhankar" authored by Poonam Pathak here today.
Seminar on culture of India, Oz begins
Shimla, December 12
A two-day international seminar on "Gender in National Culture: Australia and India" began at the Centre for Australian and New Zealand Study of Himachal Pradesh University (HPU) here today.
Forgery case lodged against ATM card thief
Nurpur, December 12
Following a complaint by Ran Singh of Hatli Jawalan, near here, the local police today registered a forgery case under Sections 420, 467 and 468, IPC, against Suresh Kumar, a shopkeeper, of the same village.
Tourist couple hurt as taxi falls into nullah
Kullu, December 12
A tourist couple, Balaji and his wife Jyoti, from Bangalore and their local guide were injured when the private taxi (HP 1 A 2391) they were travelling in fell into a nullah near Palchan when they were on their way back from Solang to Manali today. According to the victims, the accident occurred due to the negligent driving of Deepak. They were admitted to a Manali hospital, where they were stated to be stable. The police has booked the driver under Sections 279 and 337, IPC. — TNS
Man held with 1.5 kg charas
Kullu, December 12
The Kullu police arrested Mahender Singh, a resident of Chakorta Banjar, under the NDPS Act after the police recovered 1.5 kg of charas from him. He was caught by the police at Chharor Nalah under the Bhuntar police station. Investigation is on. — TNS
87-year-old man falls into tank, dies
Bilaspur, December 12
Hira Lal (87) of Kharli village under Paploa gram panchayat in the Kot Dhar area reportedly slipped and fell into a water storage tank and got drowned last evening. Reports said Hira Lal was going to a relative's house when the incident happened. Later, some villagers noticed him in the water tank and took him out, but he was already dead. — OC