EVM duty: Absentee ASI suspended
Solan, December 11
The Superintendent of Police (SP), Solan, today suspended Assistant Sub Inspector (ASI) Rakesh Kumar for dereliction of duty after he was found missing from guarding the Electronic Voting Machines (EVMs) at Solan since the past 13 days.
Employees' bodies exhorted to join hands
Bilaspur, December 11
The Himachal Pradesh State NGOs Federation has told all factions of employees' federations to forget personal differences join hands. Talking to mediapersons here today after a meeting of the federation state executive committee, its president Ram Singh said employees were divided into four factions.
SFI seeks withdrawal of fee hike by HPU
Kangra, December 11
The Students Federation of India (SFI) has decided to launch an agitation against the fee hike by Himachal Pradesh University (HPU).
Environment monitoring cost to be reviewed
Shimla, December 11
The State Pollution Control Board (SPCB) has decided to review the environment monitoring cost (EMC) being charged from hydro-power projects with a capacity of 10 MW or more to ensure that there is a proper check and scrutiny against any damage to the fragile hill ecology.
Central team assesses loss due to monsoon
Kangra, December 11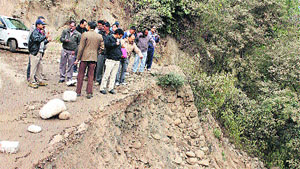 A six-member Central team headed by Home Ministry Joint Secretary Reshim Goel visited Kangra today to assess the loss due to the heavy rain last monsoon. They visited Tiara, Mehrana, Salool, Boharbali, Borhkawaloo, old Kangra and other affected villages.
A team assesses the damage caused during the last monsoon on the outskirts of Kangra on Tuesday. Photo: Ashok Raina
IT company told to pay relief to complainant
Sundernagar, December 11
The Consumer Forum, Mandi, while allowing a complaint filed by Kavita Kapoor of Chhota Bazar, Mandi, has directed Pathania Infotech System, Ram Nagar, Mandi, and HP (Hawlett and Packerd), Bangalore, to remove the defect in a computer (PC-Pavilion P-6005) of the complainant within 30 days. If the defect cannot be repaired, it should be replaced, it added.
Shortage of gravel, sand hits construction work in Kangra
Nurpur, December 11
The construction activities in lower Kangra district have been badly hit due to scarcity of material like gravel, sand and hard stones during the past a few months.
Irfan to represent state in National Rifle Championship
Chamba, December 11
A junior shooter from Chamba has been qualified for taking part in the National Rifle Championship being held in New Delhi from December 20 to 27.
TV host expresses shock over ban on purchase of land
Kangra, December 11
Host of the Big Switch Season 4 Gaurav Chopraa today expressed shock over the state government's ban on the purchasing of land in this beautiful hill state by outsiders, depriving Indians from getting settled in the state.
38 illegal structures removed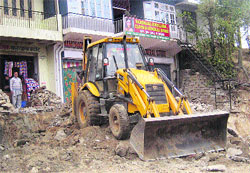 Chail Chowk (Mandi), December 11
As many as 38 dhabas and khokhas raised on the Public Works Department (PWD) land in this township in the Gohar subdivision were removed, while 28 other such structures face eviction after the green bench of the high court directed the administration to remove the encroachments on a Public Interest Litigation (PIL) filed by a local ex-serviceman, Capt Sher Singh.

A JCB machine being used to clear encroachment at Chail Chowk in Mandi on Tuesday. Photo: Jai Kumar
Poor rural health services hit Palampur
Palampur, December 11
Health services in the Palampur region of the state have been adversely affected for the past few months as no emergencies are attended in rural health institutions. Most of the cases are referred to Civil Hospital, Palampur, or DRPGMC, Tanda.
Residents hold protest against bad roads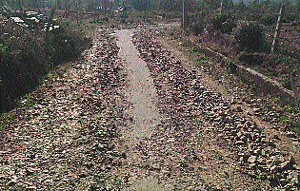 Palampur, December 11
Hundreds of residents of the Kandwari area of Palampur today held a protest over bad roads leading to the area. They criticised the state government for extending step-motherly treatment to 12 villages of the Kandwari belt. The residents came out of their houses and criticised the Public Works Department (PWD) for its failure to repair the roads. Despite repeated requests, no efforts were made to fill deep potholes.
A stretch of the Dharman-Kandwari road in Palampur subdivision. Photo: Ravinder Sood
Elderly woman killed in mishap
Palampur, December 11
An elderly woman was killed on the spot and her son injured seriously when a speeding truck hit them near Baijnath today. Hailing from Madhya Pradesh, her son was posted at the Alihalal Army cantonment near here.
Two bodies found
Nurpur, December 11
The local police recovered two bodies near Bhadroya under the Kandwal police chowki today. One of the deceased, a man in his sixties, could not be identified. The cause of the death seemed to be excess drinking and severe cold. The body has been kept in the local hospital mortuary.
Jewellery, metal artefacts stolen
Bilaspur, December 11
Thieves stole jewellery and metal artefacts from the shop of Hira Jewellers in Diara sector here last night. The shop is located in front of the main gate of the bus stand and about 200 metres from the City police station.
Murder case registered
Mandi, December 11
The police has registered a case of murder in connection with the death of Jagat Bandhu, whose body was found under mysterious circumstances at Khoyad on November 20. His father Ganga Ram lodged a complaint today that his son was murdered by some unidentified assailant. — TNS