DIG Umranangal reinstated
Chandigarh, December 11
The Punjab Government today reinstated the services of controversial Deputy Inspector-General (DIG) of Police Paramraj Singh Umranangal who was suspended on December 8 after the murder of Assistant Sub-Inspector Ravinderpal Singh by an Akali worker in Amritsar.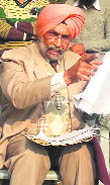 Retired DSP points finger at Umranangal
Faridkot, December 11
Kuldip Singh, a retired Deputy Superintendent of Police (DSP), today accused PS Umranangal, Deputy Inspector-General of Police, of misusing the official machinery to implicate seven innocent persons in a criminal case.





Retired DSP Kuldip Singh in Faridkot on Tuesday.

ASI's family wants police post for son
Chandigarh, December 11
The Punjab Government is undecided whether to enlist slain Assistant Sub-Inspector Ravinderpal Singh's son Navpreet Singh or his daughter Robinjeet Kaur with the Punjab Police.
State to verify self-reported cancer cases
Chandigarh, December 11
The state Health Department has started a follow-up exercise on self-reported cases of cancer which came to the fore during the first phase of the ongoing state-wide door-to-door cancer awareness campaign.



State BJP president election on Dec 16
Chandigarh, December 11
A discreet tug-of-war has begun among various contenders for the president's post of the state unit of the BJP. The nomination papers will be filed on December 15 and the election, if required, will be held on December 16.



Ex-DGP Gill rubs Akali, BJP leaders the wrong way
Moga, December 11
Former Director-General of Police (DGP) Paramdip Singh Gill, who lost the assembly elections at the hands of Congress strongman Joginder Pal Jain, is trying hard to keep his hold over local politics.
RTS panel: Act against erring Faridkot staff
Chandigarh, December 11
Taking suo motu notice of a news item published in these columns, the Punjab Right to Service Commission has directed the Faridkot Deputy Commissioner to take action against the official concerned and to get the service delivered to the applicant.
Kabaddi World Cup
Katrina to perform at closing ceremony
Ludhiana, December 11
At least 35 dignitaries from Pakistan will attend the closing ceremony of the Kabbadi World Cup to be held at Guru Nanak Stadium here. Bollywood Actress Katrina Kaif will reportedly perform at the ceremony.
Mohali police yet to book Namdhari
Mohali, December 11
The Mohali police is yet to register criminal cases against Sukhdev Singh Namdhari as directions of Deputy Chief Minister Sukhbir Singh Badal in this connection are yet to be received. Namdhari, an accused in the case pertaining to murder of Ponty Chadha and Hardeep Singh Chadha, had procured an arms licence from District Magistrate, Roopnagar, in 1995 after submitting fake documents.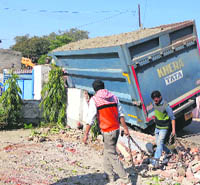 Trucks take detour to avoid Ropar toll plaza
Ropar, December 11
The traffic on the road going through Behram Pur Zimindari, Asmanpur, Solakhian villages near Ropar has increased manifold and has put the lives of many villagers at risk.




A truck hit the boundary wall of a house in Behrampur village of Ropar. A Tribune file photograph

Dharmendra's land grab
Imposter helped obtain fake land record: Vigilance
Ludhiana, December 11
The Vigilance Bureau has discovered that a woman imposter was also a part of the gang that usurped actor Dharmendra's property worth several crore rupees. The bureau is currently conducting raids in Jalandhar to nab a woman who posed as Sheela Rani and helped the gang obtain a fake land record. In revenue records, Sheela Rani died in 1990.


Faith beckons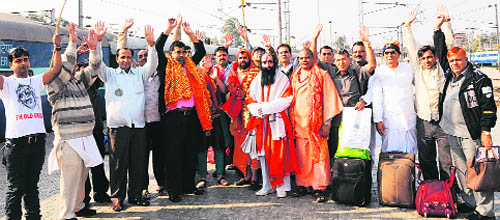 A group of Hindu pilgrims on Tuesday crossed over to Pakistan through Wagah (pic) to celebrate the birth anniversary of Sant Sadha Ram Sadh


On a 14-day tour, led by Satyavart Sadani of Sadani Durbar from Raipur, the pilgrims will visit various temples situated across Pakistan


They will visit Ved Mandir at Matheno in Sindh; a temple in Kahanpur Mehar Addalpur; Sadani temple in Gotki; Deharki in Mirpur Mathello area


The pilgrims, mainly from Madhya Pradesh and Uttar Pradesh, will also visit Gurdwara Dera Sahib and Sri Krishna temple — TNS Photo: Vishal Kumar
Graft case: Pherurai challenges conviction
Chandigarh, December 11
Just about three months after Patiala Special Judge convicted former Senior Superintendent of Police (SSP) Gurcharan Singh Pherurai in a corruption case, the latter today moved the Punjab and Haryana High Court alleging the trial court "erred in law and facts on the file in recording his conviction".
Single Bench order set aside
Chandigarh, December 11
In an exceptional order, a Division Bench of the Punjab and Haryana High Court has literally expressed surprise at the way a Single Bench decided a petition.



Farmer commits suicide, two arhtiyas booked
Moga, December 11
Jaswinder Singh (29), a debt-ridden farmer of Noorpur Hakima village, allegedly committed suicide yesterday after he was pressurised by two arhtiyas to repay the loan he had taken from them.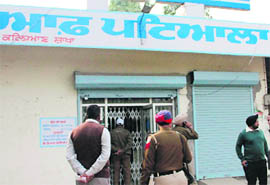 Rs 5.5 lakh stolen from Patiala bank
Patiala, December 11
Over Rs 5.5 lakh was stolen from the State Bank of Patiala in Kalyan village in the wee hours today. Police has registered a case. Police said the thieves entered through the roof ventilator of the bank, cut through the safe and escaped with the money. "It seems that it is the handiwork of two persons," officials said.

Policemen at the State Bank of Patiala in Kalyan village of Patiala district following a theft of over Rs 5.5 lakh on Tuesday. A Tribune photograph

Man found murdered
Patiala, December 11
Patiala police has initiated investigations into the murder of a 28-year-old man identified as Jaswinder Singh, who was a resident of Hassanpur Parota village, after his blood-stained body was recovered from Sirhind Road, here today morning. Police has registered a case under Section 302 of the IPC at Sadar police station.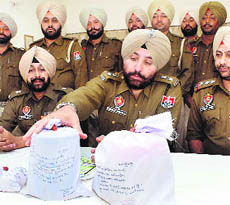 Drug haul in Patiala, police arrests two
Rajpura, December 11
The Patiala police on Monday arrested two persons and seized 1.5 kg smack and 1 kg opium from the accused, who were trying to smuggle the contraband.




Police officers display the contraband seized, at Shambhu police station on Monday. A Tribune photograph