Assembly pays tributes to eminent personalities
Chandigarh, December 17
The Punjab Assembly today paid obituary references to former Prime Minister Inder Kumar Gujral, former Shiv Sena supremo Bal Thackeray, Namdhari sect head Jagjit Singh, film personalities Yash Chopra, Dara Singh, Jaspal Bhatti and a number of other eminent persons from various walks of life.
Government identifies flaws in working of legal machinery
Chandigarh, December 17
The Punjab Government has carried out an elaborate exercise to identify missing links in the handling of legal affairs.
Another Chandigarh-Amritsar express on cards, says Bansal
Chandigarh, December 17
Union Railway Minister Pawan Kumar Bansal has said that the second Chandigarh-Amritsar express was on the cards. Speaking to The Tribune here, Bansal said the Railway Ministry had, after analysing the demands of the residents of both the cities, decided to start the train from Chandigarh to Amritsar in the morning and from Amritsar to Chandigarh in the evening.


Sarna, Badal to cross swords in Delhi gurdwara panel elections
Amritsar, December 17
With the stage set for the DSGMC elections next month, archrivals — ruling SAD (Delhi) led by Paramjit Singh Sarna and the opposition SAD (Badal) — are all geared up for the polls that will be keenly contested which is evident from the violent clash between the two groups at the Gurdwara Rakabganj in New Delhi on November 15.
Change in state Cong leadership likely: Bajwa
Bhaini Sahib (Khanna), December 17
Senior Congress leader and Gurdaspur MP Partap Singh Bajwa today hinted at organisational changes in Punjab Congress next month as the present leadership has "failed to give any new light to the party men in the state".


Waive power bills or face stir: Labourers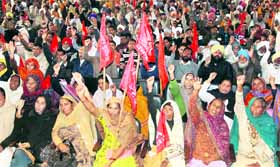 Jalandhar, December 17
Hundreds of activists of five rural and farm labour organisations today asked the state government to implement their "already accepted demands" of waiving their power bills and providing five-marla plots to them.




Activists of various labour unions hold a protest in Jalandhar on Monday. Photo: Sarabjit Singh

RTS panel to start SMS service soon
Chandigarh, December 17
Those approaching the Punjab Right to Service Commission will soon get information regarding developments in their case through SMS.
State not in safe hands, says Sanjha Morcha
Sangrur, December 17
Expressing concern over the alleged deteriorating law and order situation in the state, leaders of the Sanjha Morcha, comprising People's Party of Punjab (PPP), Shiromani Akali Dal (Longowal), the CPI and the CPM, today urged the Punjab Governor to dismiss the SAD-BJP government and impose President's rule in the state.
SGPC steps up efforts to save ancient 'ber' trees

Amritsar, December 17
Following an advice from Punjab Agricultural University (PAU) experts, the SGPC has decided to remove marble flooring around ancient 'Ber' trees in the Golden Temple Complex so that the life of these trees could be prolonged.




A view of the widened enclosure around Dukhbhanjani Ber at the Golden Temple Complex in Amritsar on Sunday. A Tribune photograph

Twelth Plan to focus on 'viability' of small farms
Ludhiana December 17
Subsidies should shift from small farmers to cooperatives formed by farmers. This was stated by Dr Abhijit Sen, Member, Planning Commission of India, while speaking at the annual convocation of PAU here today.
Historical chimneys facing neglect
Sangrur, December 17
The Royal Foundry, established by Maharaja Raghubir Singh of the erstwhile Jind state in1876 here, is no longer in existence. However, its two chimneys still remind the people of the golden era of the princely state.
Stray dogs maul boy to death in Sangrur
Barnala, December 17
A three-year-old Dalit boy, Arshdeep Singh, was mauled to death by stray dogs in Dhaner village of Barnala district.
Punjab plans 600-acre IT City in Mohali
Chandigarh, December 17
After having scrapped its much touted flagship industrial project at Rajpura last year, Punjab government is now all set to come up with an IT City project in Mohali. The project will come up on 600 acres, and will be meant for IT, ITeS and other non polluting industries.
Pbi varisty to be under CCTV surveillance
Patiala, December 17
In the wake of the recent incidents of violence, Punjabi University, Patiala, has started installing high-tech CCTV cameras at various places on its premises. These cameras have been installed on a trial basis and can capture quality images even in low light.
Patiala dotted with illegal hoardings
Patiala, December 17
Even though the Punjab Deputy Chief Minister Sukhbir Singh Badal had instructed the municipal bodies to remove illegal hoardings, several such hoardings can be spotted in various parts of the city.
Pensioners seek hike in medical allowance
Sangrur, December 17
Celebrating the Pensioners' Day here today, the state government pensioners asked the Punjab government to enhance their fixed medical allowance from Rs 500 per month to Rs 1,000 per month. Besides, they also asked the government to immediately release the second installment (30 per cent) of the arrears of the revised pay scales of the Fifth Pay Commission.
Workers unqualified to conduct cancer survey
Patiala, December 17
The much-hyped cancer awareness and survey programme launched by the Punjab government seems to be a mere paper exercise as the field workers who have been deputed to collect the data are not qualified for the task.
Projects worth Rs 45 lakh set up at Fatehgarh Sahib village
Fatehgarh Sahib, December 17
Pawan Kumar Teenu, Chief Parliamentary Secretary, Sports and Youth Welfare Department, today inaugurated development projects worth Rs 45 lakh in Chalehri Khurd village.

5 policemen hurt after being attacked by mob
Abohar, December 17
Five policemen had a narrow escape at a farmhouse in Seetogunno village last night when they were fired at allegedly by a mob led by an accused in a poppy smuggling case, Vijay Kumar alias Raisahib.