Rare migratory birds spotted at Harike
Harike (Ferozepur), December 16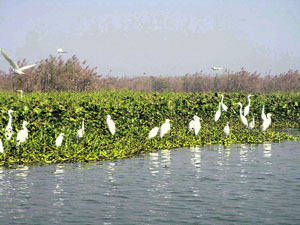 Migratory bird watchers are in for a feast this winter as endangered Jerdon Babbler Scindicum has been spotted for the first time ever in the country at the world-famous Harike wetland here. Found in certain wetlands of Pakistan and Myanmar, the International Union for Conservation of Nature has listed Jerdon Babbler as a vulnerable species. The Myanmar species of the bird has already become extinct. The population of the species has fallen by more than 30 per cent due to the shrinking of wetlands.
Winged visitors present a visual treat at Harike on Sunday. A Tribune photograph
Cong leaders spar at party meeting
Jalandhar, December 16
Former Congress minister Avtar Henry allegedly used abusive language against PCC secretary Ashok Gupta in the presence of several senior party leaders at the Congress Bhawan here today. Talking to The Tribune, Gupta said he would lodge a formal complaint with the party high command and demand disciplinary action against Henry.
DSGMC elections likely on Jan 27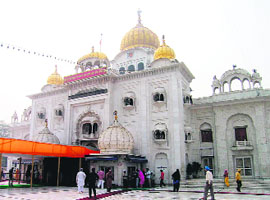 New Delhi, December 16
The Directorate of Delhi Gurdwara Election is likely to announce the date of elections to the Delhi Sikh Gurdwara Management Committee tomorrow. Sources said the elections were likely to be held on January 27 and nomination papers will be filed from December 31 to January 7. Documents of candidates will be scrutinised on January 8 and withdrawal of candidature would be allowed till January 10. The results will be announced on January 30. This is being done following direction of the Supreme Court, which had rejected a plea by the Delhi Government to extend the December 31 deadline for holding the elections.


No indoor facility at 5 ayurveda hospitals
Ludhiana, December 16
Five newly constructed ayurveda hospitals in the state are yet to see the light of day. The buildings of these hospitals have been constructed at a cost of Rs 3.16 crore under a Central government scheme. Each of the 50-bedded hospital has been supplied medicines worth Rs 2 lakh.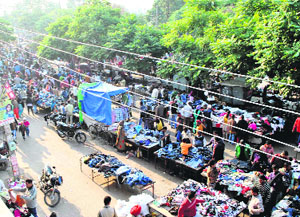 Encroachments at Sunday Market irk Patiala residents
Patiala, December 16
With the Patiala Municipal Corporation turning a blind eye to encroachments by hundreds of makeshift vendors during the Sunday Market in the Chhoti Baradari area, the commuters are at their receiving end since they have to face huge traffic snarls.


Encroachments galore at the Sunday Market in Chhoti Baradari in Patiala on Sunday. Tribune photo: Rajesh Sachar

Won't allow radicals to raise separatist agenda, says Overseas Cong
Chandigarh, December 16
The Indian Overseas Congress, United States, has decided not to allow radical Sikh elements to raise separatist agenda at any meeting or conference in the US and has appealed to the community to beware of "opportunists out to make a fast buck" in the name of Khalistan.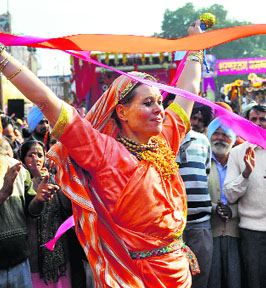 Joy of devotion:

A foreigner takes part in Lord Jagannath Rath Yatra in Ludhiana on Sunday. Tribune photo: Himanshu Mahajan

Breast cancer cases on the rise
Amritsar, December 16
There is an increase in the incidence of breast cancer by over 5 per cent in the past one decade while that of cervix cancer remained almost the same. This was revealed by a study conducted recently by the Department of Pathology, Government Medical College.
Fire safety equipment lies defunct
Muktsar, December 16
The Local Bodies Department had spent a huge amount in 2001 on installing three huge antennas and providing wireless handsets to as many sub-divisional fire stations in the district for their inter-connectivity.
Kin of 1971 war heroes honoured
Fazilka, December 16
To commemorate the victory of India in the 1971 Indo-Pak war, around 980 students of different schools and youths of Fazilka participated in "Vijay Diwas" celebrations at the war memorial in Asafwala village today.
2,500 policemen to be deployed at Jor Mela
Fatehgarh Sahib, December 16
Keeping in view the huge rush at the historic Fatehgarh Sahib Gurdwara during the three-day Jor Mela to be held from December 25, about 2,500 policemen would be deployed to keep round-the-clock vigil for a smooth conduct of the annual fair.
Thakur Uday Singh made Namdhari sect head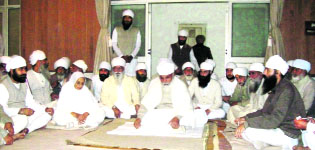 Bhaini Saheb (Khanna), December 16
Thakur Uday Singh, nephew of the late Satguru Jagjit Singh who was made administrator after the sect head's death, was today nominated the chief of Namdhari Darbar.
Thakur Uday Singh (on white cloth) during a meeting at Bhaini Saheb on Sunday. Tribune photo

Stray cattle a traffic hazard in Malout
Malout, December 16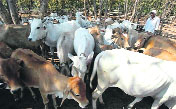 Stray cattle menace has made driving tough on the roads in Malout, so much so that four persons have been killed in related accidents in the last one month alone. Two youth were killed and one injured on the night of November 19 after the car they were in collided with a truck parked on the Fazilka-Delhi National Highway when a stray animal came before their moving vehicle.
Need to check antecedents of NRI grooms, says CJI
Hoshiarpur, December 16
Chief Justice of India Justice Altamas Kabir has advised the parents to verify the antecedents of NRI grooms before marrying off their daughters. Addressing a gathering during a seminar on 'NRI Abandoned Brides and Illegal Immigration' here today, he said it was only through verification that desertion of NRI brides could be checked. "NRI grooms deserting their wives and duping of innocents by fake travel agents have become serious issues," he said.
Direct cash transfer scheme reviewed
Fatehgarh Sahib, December 16
Rajat Sachar, Economic Advisor, Department of Financial Services of the Union Ministry of Finance, yesterday held a meeting of the District Level Consultative Committee to review and oversee the implementation of the Direct Cash Transfer Scheme in the district.
'Railways to try out escalators at stations'
Chandigarh, December 16
The Union Ministry for Railways has decided to install 122 escalators at railway stations across the country to facilitate the movement of elderly and differently abled passengers across platforms.
Panels to review unauthorised possession of government land
Chandigarh, December 16
The Punjab Government has constituted two Cabinet sub-committees comprising five ministers each in a bid to review the cases where government land was under unauthorised possession in rural and urban areas.
Khatra made NSUI national general secy
Chandigarh, December 16
The Punjab unit chief of the National Students Union of India (NSUI), Gobind Khatra, has been appointed national general secretary of the organisation.


Five of gang behind burglaries in Mansa village arrested
Mansa, December 16
The Mansa police has busted a gang of Boria criminals which was allegedly involved in a number of burglaries at Mansa, Bathinda and Muktsar in the last one year. Their regular exploits in Akalia village of Mansa district had led to a clash between the police and angry residents, causing the death of two persons in July this year.
Notorious criminal lands in police net
Rajpura, December 16
Kapurthala resident Joginder Singh (50), who has allegedly committed more than 24 crimes and had fled from police custody a couple of times, was finally arrested by the Rajpura police yesterday.