Job schemes must address women more
Given the growing feminisation of poverty and concentration of women in the informal and farm sectors, the failure of MGNREGA, the job guarantee scheme, to fulfil the expectations with which it was conceived hurts women the most
Shahira Naim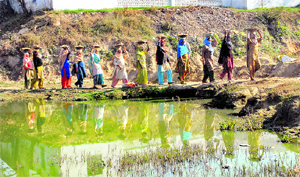 MGNREGA is a significant tool for women's empowerment as it provides 33 per cent provision for women and pays them equal wages. Tribune file photo: Malkiat Singh
A compensation of Rs 53 crore was recovered during the last one month in Andhra Pradesh for delaying payment to workers under the Mahatma Gandhi National Rural Employment Guarantee Act (MGNREGA). Of this, Rs 35 crore was recovered from government functionaries while banks were made to cough up Rs 18 crore.
Unless the penalty clauses enshrined in the Act are strictly enforced, the "guarantee" of work becomes a mockery. It is causing disillusionment among workers, especially women who have to light the "chulha" every evening and do not have the cushion to take delayed payments, which often run into months.
Now into its seventh year of implementation, MGNREGA is projected as a flagship programme of the UPA government and flaunted at international platforms as being the biggest employment programme run by any state in the world.
At the same time there is a vocal section which cites loopholes in its implementation causing low participation as proof that it has outlived its utility and should be scaled down. The veracity of such a belief and the real reasons for the low participation, especially of women, was critically analysed and the gender-responsiveness of MGNREGA at the ground level was reviewed at a national consultation in Lucknow on "Claiming their space — women's participation in MGNREGA".
Speaking at the consultation organised by the Gender at Work and UN Women, National Advisory Council member Aruna Roy said a weak political will was responsible for the violation of the provisions of the "guarantee".
Capturing demand
Pointing out that MGNREGA was a demand-driven programme, Roy said if the government failed to accurately capture demand at the ground level, it would contribute to a dangerous picture of the MGNREGA outliving its utility.
MGNREGA is a significant tool for women empowerment as it not only provides 33 per cent provision for women, but also pays women equal wages in a sector where they are paid lower wages and are exploited, given the semi-feudal environment.
It also provides for various enabling factors, including the provision of crèches at worksites, providing job opportunities near their homes and bank accounts in their names (or jointly).
The fact that women are systematically being edged out has huge ramifications to their larger struggle for claiming their space in the public realm. As per the 2012 indicators, women's share in MGNREGA has reached 55 per cent at the national level. But this piece of statistics fails to capture the real picture as women participation is a whopping 92.85 per cent in Kerala and as low as between 18 and 20 per cent in Uttar Pradesh.
Jean Dreze, economist and honorary professor at Delhi School of Economics and Allahabad University, pointed out that the word "household" had no place in an entitlement-based law like MGNREGA and recommended that job cards be given separately in the name of individual men and women.
Several innovative methods of capturing demand emerged during the consultation. Principal Secretary Rural Development Rajiv Kumar said he would take up Aruna Roy's suggestion of holding special camps to capture demand. He promised to look into best practices in other states in order to take the women participation level in UP to at least 33 per cent by March 2013.
Andhra model
Among best practices is the Andhra Pradesh model where demand is captured every Saturday and a government order (GO) assures automatic unemployment allowance to those who do not get work within the stipulated timeframe despite enrollment.
The UP Adviser to the Supreme Court on Right to Food, Arundhati Dhuru, shared the social, political and cultural context responsible for the low participation of women in Uttar Pradesh.
The innovative practices initiated in four pilot projects developed to increase participation of Dalit and Muslim women in UP were also showed, which brought out the fact that if structural and ideological barriers that prevent women from entering the workforce on equal terms are addressed, women do come forward to participate in large numbers.
It included the training of Dalit women as worksite supervisors (mates) in Lalitpur in Bundelkhand where women were now no longer harassed for coming without their partners. The innovative practice included all-women worksites in Chitrakoot where Dalit women were involved from planning, getting work plan sanctioned to supervising the implementation of building a large pond under the new Scheduled of Rates (SOR).
After drafting a pro-woman SOR under pressure from women activists, the UP Government virtually derailed its own initiative by limiting the SOR to women-only worksite, rather than applying it to all worksites where women were working.
The pilot project at Jalaun in Bundelkhand increased Dalit women's engagement with panchayats. The fourth pilot project was undertaken in Varanasi, the only one outside Bundelkhand, which helped include participation of Musahar and Muslim women.
To ensure increased women participation in MGNREGA, Union Minister for Rural Development Jairam Ramesh said he would soon write to all state governments to ensure that 50 per cent of the mates on MGNREGA worksites were women. He also promised to prepare an action taken report within a month on the resolutions that emerged.
National Consultation recommendations
Job cards
All types of single women (unmarried, abandoned, widowed) can have their own job cards as per the operational guidelines. The states will be sent a reminder and will be asked to implement it.
Female share
Union Minister for Rural Development would issue a letter to all states to ensure that at least half of the mates should be women.
Wage delay
Issue a notification to ensure that when MGNREGA wages are delayed, labourers are given compensation. The Centre will explore the possibility of replicating the Andhra Pradesh model where labourers are automatically given compensation when wages are delayed. To start with, compensation will be given in cases where the delays are recorded, starting with Jaunpur and Sitapur.
Flow of funds
A failure to do so, either at the level of the Centre or the state should not result in workers being penalised by not getting work or in a delay in their payments. Each step in the flow of funds process will be made available online — when were documents (UC, social audit reports, etc.) received from the district; how long did it take for the Centre to process these; when was feedback sent back to the district; how long did it take to respond to these queries; and when the money was credited into the districts accounts, etc.
Capture true demand
Work towards awareness generation and keep all channels of recording demand open (not just limiting it to online capture). Take cue from the Andhra Pradesh model on automatic unemployment allowance.
Grievance redress
Helplines will be reinstated. If there is any MGNREGA violence, the state government will initiate a social audit in that gram panchayat.
Skill ladder
Enhance skills of women from workers to mates to gram rozgar sewaks to even data operators.
Gender audit
Social audit to include provisions to specifically include gender indicators.
Pilot projects
Civil society organisations have successfully implemented pilot projects that have increased awareness, participation and leadership of women (particularly among Dalits, Mushasaars, tribals and Muslims), including positive discrimination and reservation for women, skill development and capacity building and by addressing issues of equity through women's collectives. These need to be upscaled in order to be mainstreamed.
Schedule of Rates
Schedule of Rates (SOR) to be reviewed (through time and motion studies) to be responsive to gender, age and disability. The revised SOR should be applied universally.
Financial inclusion
Individual job cards and bank accounts in the names of women, so they access and control the money they earn and can decide how it is to be spent.
Convergence
Important for integration of the provision of childcare facilities, training panchayat presidents and women ward members.
National Rural Livelihood Mission link: It is needed for transferring the use and control of resources generated through MGNREGA work.
Women & Child Development: Essential for the construction of aanganwadi centres under MGNREGA and expansion of childcare service.
Annual follow-up: To keep track on the issue of women's participation in and access to MGNREGA.