In the near absence of an indigenous military-industrial complex of its own, India is largely dependent on foreign vendors for its security as well as nuclear power needs. Lately, India has emerged as one of the leading nations in weapon procurements from abroad. Major powers that rely heavily on weapons trade vie with one another to secure these multi-billion dollar contracts. India thus finds itself subjected to devious influences and pressures from the competing powers.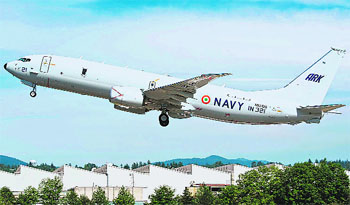 The Indian Navy's US-made Boeing P-8I maritime surveillance aircraft.
India, however, is quite conscious of the sensitive nature of the problem and tries for decisions that are entirely merit based. The endeavour is to maintain equitable relationships without showing bias towards any one of them. For, it is not only the military hardware that India needs from these powers but also their wider cooperation in furtherance of its national objectives. This has come out clearly in India finally choosing the French Rafael fighter aircraft against heavy pressures from the Russians and the Americans in favour of their MiG-35 and F-16 respectively.
Defence relations between India and Russia have a historical perspective. The cooperation is not only limited to a buyer-seller relationship but also extends to joint research and development, training and joint army, navy and air force exercises. The last joint naval exercise was held in April 2007 in the Sea of Japan and air borne exercises in September 2007 in Russia. Similarly, a joint army exercise was held later in October 2010 in Uttarajkand.
Stress in ties with Russia
However, the cozy bilateral relations seem to be drifting apart lately. Russia cancelled joint army exercises unilaterally and turned back the Indian flotilla of five warships from Vladivostok in 2011 without carrying out any manoeuvres or exercises. Apparently, elimination of the MiG-35 from the $12 billion medium multi-role combat aircraft (MRCA) competition in 2011 seemed to have upset the Russians. They could not perhaps reconcile to the fact that despite meeting India's strategic needs for decades, they have been left out from this crucial deal. However for India, it was a decision based on merit, as also assertion of its autonomy.
Notwithstanding this, India and Russia have several major joint military programmes that include development of the fifth generation fighter aircraft, multi-role transport aircraft, BrahMos cruise missile and the SU-30 MKI programme. Besides, India has purchased/leased military hardware that includes T-90 tanks, Akula-II nuclear submarines, T-22 bombers, $900 million upgrade of MiG-29s, 80 Mi-17 helicopters and some IL-76 aircraft for the purpose of airborne warning and control system (AWACS).
Indian pie in the global arms bazar
In the backdrop growing security challenges, both in the convectional as well as the sub-conventional domain, and the Indian military-industrial complex struggling in the doldrums, the import list of the armed forces is huge, running close to a hundred billion dollars. Despite being the world's largest importer of military equipment, the procurement process is tedious and often bogged down in bureaucratic delays and allegations of corruption, leaving the services deficient of critical requirements.
Earlier this year, the government approved the 15-year Long Term Integrated Perspective Plan (LTIPP) that would form the basis of weapons purchase for 2012-2027. The LTIPP is compiled from the government's assessment of current and emerging threat scenarios and the capabilities the armed forces should have. It identifies the types of weapons systems, ammunition, surveillance equipment, logistics measures and support paraphernalia that need to be procured. It also lists the capabilities and output that the Defence Research and Development Organisation and industry should develop.
The Indian armed forces are in the global market for acquiring combat aircraft, heavy and tactical transport aircraft, helicopter gunships, refueling aircraft, heavy-lift and light utility helicopters, artillery guns, submarines, recce and surveillance aircraft, helicopter-mounted early warning systems, battle tanks as well as small arms and personal equipment. In addition are a series of projects underway for the modernisation and upgrade of fighter aircraft in collaboration with foreign vendors.
With a large defence budget and ever growing needs, India makes for a lucrative market for military hardware and allied services, with scores of foreign companies setting up shop here. The offset policy mandated by teh government also offers opportunity for the Indian industry.
Indo-Russian relations have also come under stress for another reason. The nuclear plant at Kudankulam and the Sistema telecom row pending in the Supreme Court are behind this dispute. Russian Sistema holds 56 per cent stakes in Sistema Shyam Teleservices, whose all but one licence along with scores of other people's licences were cancelled by the Supreme Court in February on grounds of arbitrary allotment by the Telecom minister. Russia feels that the Indian government is not doing enough to resolve the issue.
Besides, under the prevalent circumstances, the government of India does not consider it prudent to grant nuclear liability law waiver to the Russian manufacturers for units 3 and 4 of the Kudankulam nuclear power plant, although it is legal under a 2008 inter-government agreement. The government is already facing public protests and litigation in the Supreme Court pertaining to units 1 and 2 of the power plant. The Russian government is so upset with India's stand on these issues that to India's utter surprise, President Putin pulled out of the India-Russia summit meeting scheduled for November 1 at the last minute. To avoid embarrassment, the government of India had to coax the Russian to re-schedule the summit meeting for December.
Notwithstanding this, India's relationship with Russia continues to remain significant considering that a number of defence related agreements have been signed in recent times, though trade between the two countries has not progressed significantly despite efforts. However, India cannot afford to allow relations with Russia to deteriorate unduly, considering that the Russians have all along been an asset for India in the past.
Strengthening Indo-US bond
The US too was unhappy when it was also denied the multi-billion dollar MRCA contract, especially in the light of progressively improving defence relationship and frequent joint military exercises being held between the armed forces of the two countries. Also, Indian restrictions on US defence and home land security investment in India is another sore point with the US. In its view it inhibits trade, investment and joint manufacturing between the two countries. This notwithstanding, the US aerospace and defence companies have been able to garner defence contracts worth billions of dollars in the last few years that include $4.1 billion contract for ten Boeing C-17 Globemaster strategic airlift aircraft, $2.1 billion deal for eight Boeing P-8I maritime patrol aircraft, and $1 billion contract for six Lockheed C-130J cargo aircraft. Negotiations for six more C-130J and additional P-8I patrol aircraft are already under way.
Realising the trade and economic potential, the US secretary of defence has ordered an export reform and defence procurement review to jump start the Indo-US defence trade. The US willingness to sell military hardware to India, unlike in the past, also suits India's policy of diversification or acquisitions while accessing cutting edge technology from the US. This new found relationship is of great advantage to India.
However, US' attempts to bolster India are not without reasons of its own. Although, it knows that India cannot become its official military ally that would support its politico-strategic agenda in Asia, especially vis-a-vis China, it still prefers to work with India as its strategic partner. India too values this relationship. US investment in India is critical to its economic development. So is its presence in Asia that would help countervail Chinese influence in the region. China's assertive policies and arrogant display of military might vis-a-vis its neighbours is a challenge to reckon with that India alone cannot meet.
Building national power
South East Asia also looks at rising India with its growing politico-military potential as an asset that could help moderate the Chinese aggressiveness. The US too expects India to play some significant role in the Asian context. But India has its own strategic constraints that inhibit it from doing so. First, as a matter of principle, India has always been against alliances. It does not want to be seen as ganging up against any other country. Second, it feels that such an alliance will be counterproductive when it is having serious border dispute with China. As it is, China is unhappy with the growing Indo-US relations which it feels are directed towards it. India is in fact, presently caught in a strategic conundrum.
The only way to emerge out of this situation is to concentrate on building comprehensive national power, with marked emphasis on economic and trade ties. This will be an effective peace time deterrence against any outside adventure. Two of the world's fastest growing economies, India and China, despite their long pending border dispute over which they even fought a war, have realised the importance of following the path of bilateral trade and economic cooperation. They have gone ahead and even signed a Strategic Economic Dialogue in order to give further boost to their economic ties. Its significance lies in the fact that India is the second country in the world with which China has signed this Strategic Economic Dialogue. A mere $10.84 billion trade in 2004 hit a record $73.9 billion last year. It is expected, in all probability to cross the set target of $100 billion by 2015.
Besides, India's repeated assertion that there is enough space for both India and China to grow peacefully, especially in the Asian context, has now been tacitly acknowledged by China. China may continue to keep the border dispute alive for some strategic reasons but would not resort to any provocation that may lead to any armed conflict. It is aware of the serious implications of such a conflict, however brief it may be. India needs to pay similar attention on building trade and economic relations with other powers too, including Pakistan, so as to obviate conflict situations and concentrate on nation building.
The writer is a former Director- General of Perspective Planning, Government of India