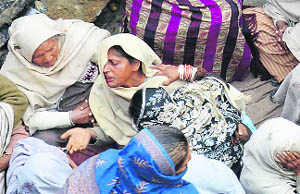 5 of family charred to death near Amritsar
Amritsar, December 27
A woman and her four children were charred to death at Thothian village, 25 km from here, this morning when the room in which they were sleeping caught fire. As the fire engulfed the room, the roof caved in, leading in the deaths.
Relatives mourn the death of Manjit Kaur and her four children in Thothian village near Amritsar on Thursday. Photo: Sameer Sehgal

Quality of life improving in state: Census
Chandigarh, December 27
Half (49.9 per cent) of the houses in Punjab are good condition living quarters, revealed the data of the Census Directorate which was released today.
Akali Dal emerges stronger


Chandigarh, December 27
The year 2012 saw strengthening of the Shiromani Akali Dal (SAD) under its president Sukhbir Singh Badal who emerged as a leader in his own right. But its fag end put his leadership abilities to test with the confidence of the people being shaken by several incidents of brazen disregard of law and order by Akali workers.

Rein in Bikram Sena, Amarinder to CM
Chandigarh, December 27
Punjab Pradesh Congress Committee president Capt Amarinder Singh today asked Chief Minister Parkash Singh Badal to sack Revenue Minister Bikram Singh Majithia to send across a strong message that lawlessness would not be tolerated.

Amarinder Singh at a press conference in Chandigarh on Thursday. A Tribune photograph

Capt trying to tarnish SAD image, say ministers
Chandigarh, December 27
Three ministers and a senior Akali leader today accused Pradesh Congress president Capt Amarinder Singh of trying to tarnish the image of the SAD. In a statement, ministers Sikander Singh Maluka, Janmeja Singh Sekhon and Sarwan Singh Phillaur, and Mahesh Inder Singh Grewal, adviser to the Chief Minister, said that Amarinder was deliberating targeting Bikram Majithia on the issue of law and order as the Congress was bereft of any agenda.
SAD offers Jain chairmanship of Warehousing Corp
Chandigarh, December 27
Rewarding former Moga MLA Joginderpal Jain, who deserted the Congress to join the ruling Shiromani Akali Dal (SAD), the Punjab Government today offered him a "priced posting" as the Chairman of Punjab State Warehousing Corporation. An order to this effect was passed by Chief Minister Prakash Singh Badal yesterday evening itself.
FIRST LIST
SAD releases 15 names for DSGMC poll
Chandigarh, December 27
Shiromani Akali Dal president and Deputy Chief Minister Sukhbir Singh Badal today announced the first list of 15 candidates for the Delhi Sikh Gurdwara Management Committee (DSGMC) elections.



Jor Mela concludes amid fervour
Fatehgarh Sahib, December 27
The three-day Shaheedi Jor Mela concluded here today amid performing of religious ceremonies. A nagar kirtan was taken out from Gurdwara Fatehgarh Sahib to Gurdwara Jyoti Swarup Sahib. The palanquin carrying Guru Granth Sahib was placed on a well decorated vehicle.

Devotees take out a nagar kirtan at the Shaheedi Jor Mela in Fatehgarh Sahib on Thursday. Tribune photo: Vicky Gharu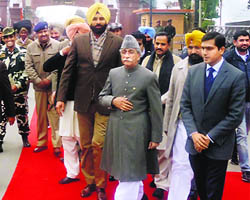 Time to 'consolidate' bilateral relations
Amritsar, December 27
Revenue Minister Bikram Singh Majithia today accorded a warm welcome to Pakistan's Punjab Assembly Speaker Rana Mohammad Iqbal Khan at the Attari Wagah joint check post. Khan has come to India to attend the wedding of a friend's son.


Revenue Minister Bikram Majithia welcomes Pakistan's Punjab Assembly Speaker Rana Mohammad Iqbal Khan at Attari on Thursday. Tribune photo

Teachers urge Governor not to approve new pension Bill
Ludhiana December 27
Lecturers who have retired from government aided colleges approached the Punjab Governor Shivraj Patil to persuade him not to approve the Bill passed by the Punjab Assembly. If the Bill is implemented then college teachers working in government aided colleges, which are privately managed, would not be entitled to government pension, they say.
162 NCC cadets to attend Republic Day camp in Delhi

Ropar, December 27
The Punjab Haryana Himachal Pradesh and Chandigarh NCC Directorate will send a contingent of 162 cadets, including 36 girls, to represent the region at the Republic Day (RD) NCC Camp 2013 that commences in New Delhi next month.

Cadets from the region, selected to attend the Republic Day camp in Delhi, during a drill at the NCC Academy in Ropar on Thursday. A Tribune photograph

Sangrur garbage depots become a health hazard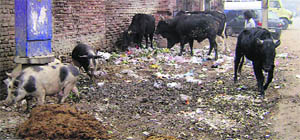 Sangrur, December 27
The garbage collection depots situated in populated areas of the city are proving to be an unavoidable nuisance for residents. Though the municipal authorities lift the garbage from these depots daily, the residents and passers-by complain of the foul smell that emits from these huge dumps in the heart of the city.
A garbage collection depot, situated behind Guru Nanak Public School in Sangrur. A Tribune photograph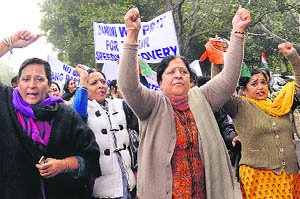 Activists of the Punjab Mahila Congress, led by its president Dr Malti Thapar (second from right), hold a march to express solidarity with the Delhi gang rape victim in Chandigarh on Thursday. Tribune photo: Manoj Mahajan
AAP's Sangrur unit formed
Sangrur, December 27
The district unit of the Aam Aadmi Party (AAP) was formed at a meeting, held under the presidentship of party's central observer Abhishek Mishra here today. The unit has been formed under Mission Buniad of the party. Dr AS Mann has been made the district convener of the party.
Ethiopian delegation meets Punjab Speaker
Chandigarh, December 27
A seven-member delegation of the Federal Democratic Republic of Ethiopia met Punjab Legislative Assembly Speaker Dr Charanjit Singh Atwal at the Punjab Legislative Secretariat here today. The delegation sought to learn about the procedure adopted by the government in passing the budget.


Sobti takes over as president of state IMA
Ludhiana, December 27
Dr Manoj Sobti has taken over as President, Indian Medical Association (IMA), Punjab, here today. He claims to be the first Neurosurgeon who started Stereotactic Surgery (Burrhole Surgery) in North India in the 90's.


Reliving the past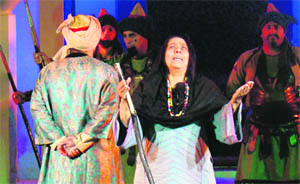 Actors perform a play "Sirhind Di Diwar" at the Shaheedi Jor Mela in Fatehgarh Sahib, on Thursday. Tribune photo: Rajesh Sachar.
PSPCL allowed to clear dues through installments
Patiala, December 27
The Central Electricity Regulatory Commission (CERC) has allowed the Punjab State Power Corporation Limited (PSPCL) to clear its outstanding dues of Rs 131 crore through installments by March 31, 2013 for overdrawing power. During this summer, the PSPCL had overdrawn power through Unscheduled Interchange (UI). The Northern Region Load Dispatch Centre (NRLDC) authorities had reported that PSPCL was not clearing its dues regarding UI charges.
Bathinda residents object to newly carved out wards
Bathinda, December 27
Nineteen objections have been filed pertaining to the wards carved out in all 315 villages of the district. District Development and Panchayat Officer Rajinder Batra said objections have been received from villages of Bhagu, Balhad Mehma, Pathrala, Kishangarh, Buladhewala, Maanwala, Jodhpur Bagga, Pucca Kalan, Jhumba, Bager Mohabbat, Jangirana, Jhanduke, Selbrah, Bhagwangarh and others.



Delhi HC upholds dismissal of officer
New Delhi, December 27
The Delhi High Court has upheld the dismissal of GC Verma, a 1973-batch Punjab cadre IPS officer, in 1994 for "habitual indebtedness."



Panch's murder
Two women arrested
Sangrur, December 27
The Dirba police has arrested two women in a case relating to the murder of an adhikarat panch of Dhandoli Kalan village (Dirba) Hakam Singh and injury to his son Yadwinder Singh.
Rape: Sarpanch held after 3 months
Abohar, December 27
Burjmuhar village sarpanch Baldev Singh has been finally arrested in connection with a case registered against him by the Sadar police station police under Section 376 of the IPC on September 24.
Heroin worth Rs 30 cr seized
Ferozepur, December 27
In yet another seizure of contraband from an area close to Indo-Pakistan border, the Ferozepur police has seized 6 kg of heroin worth Rs 30 crore and arrested two persons.