Vidhan Sabha passes Bill to prevent human trafficking
Chandigarh, December 21
The Vidhan Sabha passed the Prevention of Human Smuggling Bill, 2012, making the offence non-bailable with a provision of three to seven years in jail. The registration of travel agencies has been made compulsory.
House session ends on bitter note
Chandigarh, December 21
The five-day winter session of the Punjab Vidhan Sabha ended on a bitter note today with relations between the SAD-BJP coalition government and the Opposition Congress touching a new low over a discussion on law and order.
Sidhu protests against 'poor' law and order
Amritsar, December 21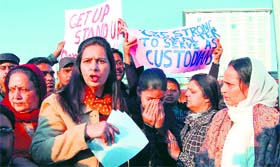 While the state government faced the heat from the Opposition on the floor of the House over law and order, the issue today evoked a strong reaction from one of its own members with Chief Parliamentary Secretary Navjot Kaur Sidhu staging a protest outside the venue of the ongoing All-India Conference of Commissioners of Police here.

Navjot Kaur Sidhu, Chief Parliamentary Secretary, Health, protests in Amritsar on Friday. Photo: Sameer Sehgal

Badal justifies grant for Muktsar, says it was needed to check water-logging
Chandigarh, December 21
Rebutting allegations levelled by the Leader of the Opposition, Sunil Jakhar, in a section of the press on "diversion of money, favouritism in disbursement of grants and misutilisation of funds" meant for the housing for SCs and weaker sections in Muktsar district, Chief Minister Parkash Singh Badal today termed these as " baseless, factually incorrect, politically motivated and highly misleading".
Farmers being forced to buy costly fertilisers with urea
Chandigarh, December 21
Farmers across Punjab are finding it difficult to get urea supply for the ongoing wheat sowing season. Reason: Traders are refusing to supply urea to farmers if they do not buy zinc sulphate or weedicide along with urea making a deep hole in their pocket.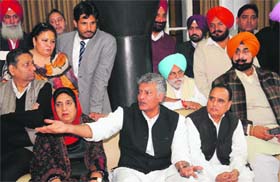 venting ire:

Congress Legislature Party Leader Sunil Jakhar addresses a press conference at the Punjab Vidhan Sabha complex on Friday. Tribune photo: Manoj Mahajan
Sarna vows more transparency in running DSGMC affairs
Amritsar, December 21
Delhi Sikh Gurdwara Management Committee (DSGMC) president Paramjit Singh Sarna today said the Evacuee Trust Property Board had handed them over the 'kar sewa' of Gurdwara Dehra Sahib in Lahore.
Gurjeet urges Akal Takht to punish Majithia
Chandigarh, December 21
Senior Congress leader and party legislator Rana Gurjeet Singh, who was involved in a confrontation with Revenue Minister Bikram Majithia during the Assembly session, today urged Akal Takth Jathedar Giani Gurbachan Singh to summon Majithia for "insulting Sikhism".
Staff Shortage
Sangrur village residents lock school gate
Sangrur, December 21
Residents of Laad Banjara Kalan village (near Dirba) today locked the main gate of Government Senior Secondary School in protest against teachers' shortage. They also held a protest in which students, their parents and village panchayat members participated.
Change shortage: Bank to supply coins to PRTC
Patiala, December 21
In an arrangement with the State Bank of Patiala (SBoP), the Pepsu Road Transport Corporation (PRTC) will get coins worth Rs 20 lakh in the denomination of Rs 1, 2 and 5 from the bank in lieu of payment made by the PRTC.
Amol Rattan Singh sworn in as additional judge
Chandigarh, December 21
Judge designate Amol Rattan Singh was today administered oath as an Additional Judge of the Punjab and Haryana High Court by Chief Justice Arjan Kumar Sikri.
ITBP passing out parade held
Patiala, December 21
As many as 247 cadets of the 43rd Battalion of Indo-Tibetan Border Police (ITBP) today participated in the passing out parade at the battalion headquarters in Chaura village, near here.
Sukhbir inaugurates Morinda overbridge
Morinda, December 21
Punjab Deputy Chief Minister Sukhbir Badal inaugurated the railway over bridge (ROB) on Chandigarh-Ludhiana road and the new building of the sub tehsil.
Three killed in road mishap near Patiala
Patiala, December 21
Three persons were killed and four others were reportedly injured in an accident between an autorickshaw and a tipper, on the busy single lane Patiala-Chandigarh road, near Bahadargarh.
Arms licence: Namdhari booked in Mohali
Mohali, December 21
Eleven days after the directions given by Punjab Deputy Chief Minister Sukhbir Badal, a criminal case against SS Namdhari, an alleged prime accused in Ponty Chadha murder case, has been registered at the State Crime Branch, Phase 4, here today.


HC stays PCS selection process
Chandigarh, December 21
Issuing notice of motion to the Punjab Public Service Commission (PPSC) and other authorities, the Punjab and Haryana High Court today stayed further process for making selections on 160 PCS (Punjab Civil Services) posts.


Liquor seized in Chandigarh, one arrested
Patiala, December 21
The Rajpura police has confiscated a canter and recovered 210 boxes of Indian Made Foreign Liquor (IMFL) meant to be sold only in Chandigarh. The police has also arrested a person, who smuggled liquor to Punjab, Rajasthan and Haryana.