People being harassed: Cong
Chandigarh, December 19
Alleging police harassment at the instance of their political bosses, Congress leaders today mentioned several instances where Akali leaders had bullied people and no action was taken against them by the police. Brahm Mahindra said he had been told by a "very senior" police officer that the police was helpless under the present political setup.
Marking attendance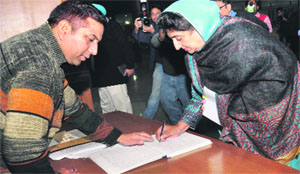 Congress MLA Rajinder Kaur Bhattal signs the attendance register at the Punjab Vidhan Sabha in Chandigarh on Wednesday. Tribune photo: Manoj Mahajan
Sukhbir, not Badal, pens House script
Chandigarh, December 19
There were two incidents that proved that Chief Minister Parkash Singh Badal, until now the star of the House, is no longer the driving force. The first incident occurred immediately after the altercation between Congress legislator Rana Gurjeet and Revenue minister Bikram Majithia. Even as there was chaos in the assembly, party legislators grouped around Majithia and Deputy Chief Minister Sukhbir Singh Badal. Badal sat forlorn and did not participate in the proceedings.
House passes resolution on diversification
Chandiagrh, December 19
The Vidhan Sabha today unanimously adopted a resolution urging the Centre to help the state in promoting diversification and demanded a technology mission with an allocation of Rs 5,000 crore for Green Revolution states on the pattern of "Bringing Green Revolution to Eastern India (BGREI)" during the 12th Five-Year-Plan.
Majithia Aurangzeb in making: Capt


Chandigarh, December 19
Condemning the suspension of Congress MLA Rana Gurjit Singh from the assembly, Punjab Pradesh Congress Committee president Capt Amarinder Singh today expressed displeasure over the Speaker's decision, saying it was biased as it was Revenue Minister Bikram Majithia who had used unparliamentary language against Rana Gurjit and Om Prakash Soni. Amarinder, who did not attend the assembly today, said it was unfortunate that Speaker Charanjit Singh Atwal did not act in an impartial manner. The PCC president said the Congress stood behind Rana Gurjit.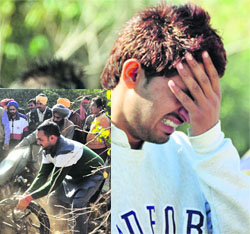 Three youths die in Ludhiana crash
Gahor/Ludhiana, December 19
Three motorcycle-borne youths, who were heading to Ludhiana, died after their bike rammed into a tree on the Ludhiana-Ferozepur highway near Gahor village, 20km from here. The trio was going to the city to donate blood for a friend, who is undergoing treatment at a local hospital following an accident. The victims were single and have been identified as Pritam Singh (22), Iqbal Singh (21) and Gobind Singh (20). They belonged to Attar Singh Wala village and Dhanola village in Barnala.
Jagpreet grieves over the death of his younger brother Gobind. (inset) Relatives of the three youths at the accident site on Ferozepur Road near Gohar village. Tribune photos: Himanshu Mahajan
Pak delegation arrives for PAU Alumni Meet
Ludhiana December 19
It will be a proud moment for the alumni of Agriculture College of Lyallpur, (now University of Agriculture Faisalabad, Pakistan), the mother institute of Punjab Agricultural University (PAU), when they join the Golden Jubilee Alumni Meet of Punjab Agricultural University on Thursday. A delegation from the University of Agriculture, Faisalabad, has arrived to attend the meet at PAU.
74 food samples fail safety test in Sangrur
Sangrur, December 19
As many as 74 samples, of the 524 samples of various food items collected, failed to clear the safety test on account of substandard or misbranded food items. The district health authorities had collected 524 samples of various food items till November 30 from different parts of the district to check various types of adulteration.
Pak Rangers' team arrives for quarterly meeting
Attari, December 19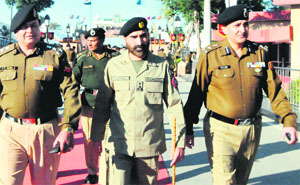 A delegation of Pakistan Rangers arrived for the quarterly co-ordination meeting with their Indian counterparts today. The delegation blamed 'high demand for drugs' among Indians for the rising number of smuggling cases across the border.
BSF Deputy Inspector-General PS Bains (L) with Pakistan Rangers Director- General Brig Mohammad Jamil at the Wagah border on Wednesday. Photo: Vishal Kumar
Patwaris not given medical reimbursement for 8 years
Jalandhar, December 19
Patwaris of the Revenue Department have not got reimbursement of their medical bills for the past eight years, courtesy empty coffers of the state government.
Misuse of non-subsidised domestic LPG rampant
Chandigarh, December 19
There is a huge difference in the prices of non-subsidised domestic and non-domestic LPG cylinders. This difference of Rs 845 per cylinder has led to diversion of domestic cylinders for non-domestic purposes with middlemen availing the arbitrage.
Former Akali minister Raja Narinder dead
Patiala, December 19
Former Akali minister and senior SAD leader Raja Narinder Singh (89) passed away today at his Nabha residence. Narinder Singh is survived by his wife Shivdev Kaur, son Harinder Singh and daughter Charankanwal Kaur. He will be cremated in Nabha tomorrow.
Sarna denies hospital ownership charge
Amritsar, December 19
Delhi Sikh Gurdwara Management Committee (DSGMC) chief Paramjit Singh Sarna said there had been no transfer of ownership of the DSGMC hospital on Gurdwara Bala Sahib premises in New Delhi.
Kala Sanghian to be pollution-free in 16 months, State tells HC
Chandigarh, December 19
In another 16 months, the Kala Sanghian drain in Jalandhar will be pollution-free – at least this is what the State of Punjab is claiming.
Avtar Henry citizenship case
Lodge FIR if charges proved, HC tells police
Chandigarh, December 19
Directing the Jalandhar Commissioner of Police to examine a complaint against former state minister Avtar Henry regarding his citizenship, the Punjab and Haryana High Court today made it clear that an FIR would have to be registered in case the allegations were prima facie found to be true.
Honour killing
Mother among 3 get death sentence
Ferozepur, December 19
A local court has awarded death sentence to three persons, including the mother of the girl, who along with her lover was brutally murdered by her relatives in a case of honour killing. Sources said the victim, Pooja (18), of Nurpur Sethan village in this district, was in love with Rakesh (20) of the same village. Since Pooja's family was against their relationship, she was sent to her relatives in Kotwal village.
Saini's Promotion
Govt adopting dual procedure: Amicus curiae
Chandigarh, December 19
Punjab today came under fire for allegedly adopting dual procedure on the promotion of police officers. As a petition challenging the appointment of Sumedh Singh Saini as Punjab Director-General of Police (DGP) came up for hearing this morning, amicus curiae-cum-senior advocate KN Balgopal argued that in 2009 Saini was promoted to the rank of Additional DGP, when charges had been framed against him.
Sarpanch embezzled welfare funds: Probe
Gurdaspur, December 19
A report prepared by the Gurdaspur district administration has found Sihari village sarpanch guilty of misappropriating funds meant for beneficiaries under the Indira Awas Yojna (IAY).
ASI's murder: Fifth accused nabbed
Amritsar, December 19
Sandeep Rampal alias Sunny, the fifth accused in the murder of Assistant Sub-Inspector (ASI) Ravinderpal Singh, has been arrested from Madhya Pradesh by the CIA staff. He had been on the run since the murder on December 5.