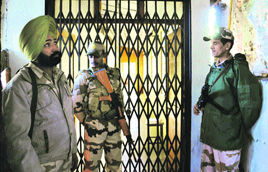 Paramilitary personnel keep watch outside a strongroom where voting equipment is kept, in Shimla on Wednesday. Photo: Amit Kanwar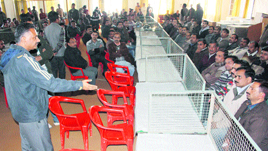 Employees are deputed for counting of votes in Dharamsala on Wednesday.
Photo: Kamaljeet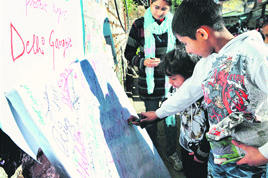 Children take part in a signature campaign against the recent gang-rape incident in New Delhi, at the Mall in Shimla on Wednesday. Photo: Amit Kanwar

Candidates anxious
Solan, December 19
Candidates are facing anxious moments. With the Congress having lost from all five constituencies of the district in 2007, the results are crucial for the party to assess how much lost ground it has gained.
Cong comeback or BJP's Mission Repeat
Counting of votes to seal fate of political parties today
Mandi, December 19
The smokescreen of claims and counter-claims by the two main rivals, the ruling BJP and opposition Congress, will be lifted by tomorrow morning. The counting of votes begins tomorrow at 8 am.
BJP banks on Hamirpur
Hamirpur, December 19
With political analysts predicting a close contest between the ruling BJP and the opposition Congress in the Assembly polls, the ruling BJP is pinning its hopes on its performance in the 17 Assembly segments under the Hamirpur constituency.
Power corporation celebrates 6th Raising Day
Shimla, December 19
The Himachal Pradesh Power Corporation Limited celebrated its 6th Raising Day by organising a "Health Walk" from the Ridge to the Indian Institute of Advance Studies. Around 170 employees of the corporation participated in the walk, which was flagged off by Chief Secretary Sudripto Roy, who lauded the idea of a health walk.
Youth exhorted to play role in AIDS awareness
Bilaspur, December 19
The youth have an important role to play in preventing the occurrence of and spreading awareness about HIV/AIDS in and around their villages. This responsibility should be shouldered with a full sense of duty and dedication by them.
Woman killed, 10 hurt in accidents
Kangra, December 19
A 62-year-old woman was killed and 10 others, including eight students, were injured in road accidents in the district over the last 24 hours. Phungla Devi, 62, a resident of Shahpur, was seriously injured after she was hit by a van at Sarnu village yesterday. She was rushed to the CHC, Shahpur, from where she was referred to the DRPGMC Hospital, Tanda, where she succumbed to her injuries today. The driver has been arrested.
Youth held for defrauding elderly man
Palampur, December 19
The Bhawarna police has arrested one person in connection with the theft of Rs 25,000 from an ATM. Police sources said an elderly couple today came to the ATM at Bhawarna town, 15 kilometres from here. When the elderly man could not use his ATM card properly, he requested a youth standing behind him in the queue to help him in withdrawing the cash.

Kangra boy wins silver
Kangra, December 19
Parminder Choudary, a class IX student of GAV Public School here, has won laurels by winning a silver medal in the kumite event in the under-40 kg category during the sixth Asia Goju-Ryu Karate-Do Open Championship.
Multi-specialty medical camp organised
Nurpur, December 19
The health and family welfare department organised a free multi specialty medical camp for residents of Masroor, a remote area under Nagrota Surian medical block in Jawali sub-division today.
Woman commits suicide
Kangra, December 19
Mohani, 24, allegedly committed suicide by hanging herself from the ceiling at her house in Duhak village this evening. The police said no suicide note was recovered from her body. Police said the post-mortem examination would be conducted at the Dharamshala Hospital tomorrow. OC
One held with illicit liquor
Hamirpur, December 19
One person was arrested with illicit liquor by a team of the Anti Corruption and Vigilance Bureau. The liquor was recovered from a truck last night in Hira Nagar area of Hamirpur. Owner of the truck, Shishan Kumar of Una district, has been arrested in this case. TNS
90 bags of wheat recovered
Dalhousie, December 19
The police recovered 90 bags of wheat and impounded the truck in which it was being carried at Goli on the Chamba-Pathankot highway last evening. The wheat belonged to the state Food and Supplies Department, but the driver of the vehicle could not produce any documents to prove the same. The driver has been booked in the case. — OC
Man gets six-month jail
Bilaspur, December 19
Ashok Kumar, alias Pappu, of Masyani village, Sarkaghat, has been sentenced to rigorous imprisonment for six months for negligence in driving. He has also been fined Rs 1,000. In addition he has also been awarded rigorous imprisonment for one month and a fine of Rs 500.Three persons were killed in an accident due to rash driving by the convict on the National Highway-21 on November 11, 2005. — OC