Drug licensing official also worked as consultant
Solan, December 18
Kapil Dhiman, the drug licensing authority official who was arrested on Sunday for amassing property disproportionate to his known sources of income, had been actively providing consultancy services to upcoming pharmaceutical units set up in Solan and Sirmaur districts during his tenure.
Lab technician, driver attend to patients at PHC
Keylong, December 18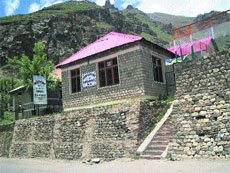 The ruling BJP government, which has bagged a national award in health, seems to have accomplished its mission to give health services at patients' doorstep in its own way: An ambulance driver and a lab technician have been 'trained enough' to give prescription for common cold and headache at the Primary Health Centre (PHC) at Sissu in the landlocked tribal Lahaul-Spiti district.

The Primary Health Centre at Sissu in Lahaul-Spiti district.


Quota in promotions
Anti-reservation body to start stir
Shimla, December 18
The Himachal Pradesh Anti-Reservation Employees Federation has condemned the passing of the 117th Constitutional Amendment to provide reservation in promotions to Scheduled Castes and Scheduled Tribes and decided to start an agitation to oppose it.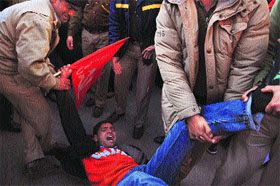 Activists of various trade unions protest against the decision to allow foreign direct investment in retail, in Shimla on Tuesday. Photo: Amit Kanwar
Coop bank awarded
Shimla, December 18
The Himachal Pradesh State Co-operative Bank (HPSCB) has been conferred the "Best Performance Awards" for 2011-12 and 2010-11 by the National Federation of State Co-operative Banks (NAFSCOB) for its various initiatives in Core Banking Solutions (CBS).
HC wants electronic barriers by April 1
Shimla, December 18
The Himachal Pradesh High Court (HC) has directed the state government to ensure that all toll collection centres at major entry points to the state, such as those at Parwanoo, Paonta Sahib, Kala Amb, Swarghat, Mehatpur and Damtal, are fitted with mechanical or electronic barriers by April 1 next.
Work together to curb drug menace: ADM
Bilaspur, December 18
Addiction to drugs and intoxicants is an evil for which all citizens must collaborate in abolishing from society. The call was given by Additional Deputy Magistrate (ADM) Darshan Kalia, who was the chief guest on the occasion, at a seminar on "Nasha Nivaran" organised by the District Public Relations Department at Jhandutta, 55 km from here.
HPTU cancels affiliation of MG Engineering College
Hamirpur, December 18
The Himachal Pradesh Technical University (HPTU) has cancelled the affiliation of MG Engineering College, Badu, in Mandi district with immediate effect, discontinuing the current academic session.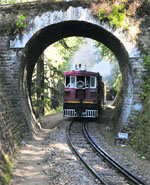 Two special trains from December 21
Shimla, December 18
The Railways has decided to operate two special trains on the Kalka-Shimla narrow-gauge section to cope with the increasing rush of winter tourists from December 21 to 31.





The only narrow-gauge steam engine with Northern Railway, the KC-520, built in 1905 and recommissioned in 2001 for small trips by corporates and foreign tourists, runs on the UNESCO World Heritage rail track in Shimla. Photo: Amit Kanwar

Road blocked, later cleared
Bharmour, December 18
Vehicular traffic on the Chamba-Bharmour highway was disrupted for some time due to the accumulation of debris on the highway as a result of blasting of the hillside along the highway near Mehla yesterday.
Kingfisher passenger seeks ticket refund
Kangra, December 18
Resentment prevails among passengers who had booked tickets for Kingfisher Airlines flights which had got cancelled. They were not being paid refund of their tickets with the Director General, Civil Aviation (DGCA), and the Ministry of Civil Aviation (MOCA), remaining mute spectators to this public trauma.
Irregularity in MBA exam result
Probe panel set up
Shimla, December 18
A four-member committee headed by Dean of Studies will look into the gross irregularity of five MBA students topping the examination without taking the papers in Himachal Pradesh University (HPU).
School lecturers' body flays rationalisation policy
Bilaspur, December 18
The Himachal Pradesh State School Lecturers Association has condemned the rationalisation policy of the Education Department and termed it as anti-people. It has said the policy will be opposed by the association and 'well-wishers' of the state.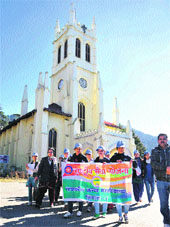 NSS volunteers take out an awareness rally at the Ridge in Shimla on Tuesday. Photo: Amit Kanwar
Trader fined
Bilaspur, December 18
A flying squad of the state Excise and Taxation Department, led by Deputy Excise and Taxation Commissioner (DETC) Dev Raj Sharma and Assistant Excise and Taxation Commissioner (AETC) Amar Nath, has caught Jitender Pal Singh, a trader from Amritsar, with 182 gm of gold.
Man gets 3-year jail for thrashing priest
Nurpur, December 18
The Judicial Magistrate, Indora, Pankaj Kumar, today convicted Soma, son of Chuni Lal of Tibbi village, for thrashing and injuring Babajeet Gir, a priest of local Lakhdata Peer temple. He was awarded imprisonment for three years and fined Rs 5,500.