Students distribute literature on foeticide
Fatehgarh Sahib, December 27
The staff and students of the Sri Guru Granth Sahib World University led by Vice-Chancellor Dr Gurmohan Singh Walia participated in the Nagar Kirtan reciting mool mantar and distributed the literature among the devotees related to female foeticide.
Three killed in road accident
Ropar, December 27
Three persons, including a woman died in a road accident near Ropar today evening while nine others were seriously injured.


Couple surrenders in court
Chandigarh, December 27
After remaining on the run for around two months and escaping the eyes of police, a couple, accused in the sensational kidnapping case of a hotel manager from Bangalore last month, surrendered before the court today. Kajal and her husband Vijay, who were accused of kidnapping Dhiresh Shah for Rs 20 lakh ransom in November surrendered in the court today.


Man held on charge of kidnapping daughter, son-in-law
Chandigarh, December 27
The UT police today arrested a person for allegedly kidnapping his daughter and her husband from Maloya and keeping the two in confinement for the past three days.
19 booked for illegal mining
Mohali, December 27
As many as 19 persons have been booked by the police on the charges of theft and illegal mining in the Mohali sub-division.
Assault on youth in Mohali
Akali leaderís kin may be involved: Police
Mohali, December 27
In case of the bashing up of Harpreet Singh, an employee of DELL, on Tuesday night by some youngsters, the Mohali police believed the involvement of a relative of an Akali leader.

Camp venue sHifted; players suffer
Chandigarh, December 27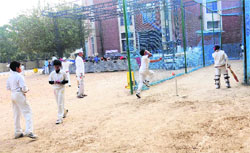 In a sheer mockery of sports, the UT Education Department has shifted the camp of cityís cricket team, boysí (U-14), to a school which has no cricket pitch from a well equipped field of the Government Model Senior Secondary School, Sector 32.



Players practise on an uneven turf at Saupinís School, Sector 32, in Chandigarh. tribune photo: Manoj Mahajan
Arshalan beats Aneeth
Chandigarh, December 27
Arshalan Naqvi beat Aneeth Kumar by 21-18 and 21-19, to move further in the boys (U-17) category during the ongoing Smt Krishna Khaitan All-India Badminton Tournament, held here today.
Punjab National Bank emerge victorious
Chandigarh, December 27
In the ongoing 42nd SN Vohra All-India Gurmit Memorial Hockey Tournament, the team of Punjab National Bank defeated Northern Railway by 4-2.
Ropar cricket team win by 43 runs
Chandigarh, December 27
The Ropar cricket team defeated the Chandigarh Cricket Academy by 43 runs during the ongoing Chandigarh Cricket Tournament for boys (U-12) being held here today.