Badal favours fast-track courts for rape cases
Fatehgarh Sahib, December 25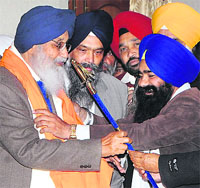 Chief Minister Parkash Singh Badal today paid obeisance at Gurdwara Fatehgarh Sahib on the 308th martyrdom day of the two Sahibzadas and Mata Gujari. He said he would honour the edict issued by the Akal Takht chief, Jathedar Gurbachan Singh, directing all parties to desist from mudslinging during their political conferences at the Shaheedi Jor Mela. Expressing shock at the Delhi gangrape case, Badal announced that the Punjab Government would ensure that the harshest punishment was awarded to perpetrators of the heinous crime.

Chief Minister Parkash Singh Badal being felicitated at Gurdwara Fatehgarh Sahib on Tuesday. Tribune photo: Rajesh Sachar

Sack Sukhbir and Majithia, says Bajwa
Chandigarh, December 25
Gurdaspur Member of Parliament Partap Singh Bajwa has demanded that the Deputy Chief Minister, who holds the Home portfolio, and his brother-in-law, Revenue Minister Bikram Majithia, should resign from the Cabinet for the "complete breakdown of law and order" in the state.
UP minister 'slaps' rail coach attendant
Amritsar, December 25
A rail coach attendant of Punjab Mail (Howrah-Amritsar) has filed a complaint with the Amritsar Government Railway Police (GRP) against Uttar Pradesh Cabinet Minister Mohammad Azam Khan who allegedly slapped him and made him do 50 sit-ups due to the latter's failure in arranging his bedding "properly" during his journey from Lucknow to Rampur on December 18.
Capt flays assault on police officer
Chandigarh, December 25
Condemning the assault on SS Mand, Assistant Inspector-General of Police (AIGP) Intelligence, Ludhiana, by one Sunny Johar, believed to be an associate of Revenue minister Bikram Majithia, Punjab Pradesh Congress Committee president Capt Amarinder Singh today warned that such instances would demoralise the Punjab Police.
Flawed seniority list has teachers fuming
Faridkot, December 25
A large number of master cadre government schoolteachers have been grumbling since the office of the Director of Public Instructions (DPI) released their seniority list for the purpose of promotion and pay fixation last week.
Oil tankers to keep off road from Friday; supply may be hit
Jalandhar, December 25
Oil tankers will remain off road from Friday. This is likely to affect the supply of petrol and diesel in the state and parts of Himachal Pradesh, Jammu and Kashmir and Rajasthan.
Sunny, Banda were expelled in May this year: YAD

Chandigarh, December 25
The Youth Akali Dal (YAD) today claimed that Maninderpal 'Sunny' Johar and Rishi Banda, who allegedly beat up Assistant Inspector-General of Police, Counter-Intelligence, Surinderjeet Singh Mand, at a Ludhiana hotel last night, had been expelled from the party in May this year.
Anandpur Sahib civic body office bearers elected
Ropar, December 25
Manpreet Kaur Arora and Mohinder Kaur were unanimously elected as Senior Vice President and Junior Vice President of Anandpur Sahib Municipal Council, near here. Local MLA and Punjab Health Minister Madan Mohan Mittal was also present on the occasion.
New device developed to empower visually impaired
Chandigarh, December 25
A new, handy gadget is now available to empower the visually impaired and give them direct access to reading material.
Sikh hardliner detained in Amritsar
Amritsar, December 25
Sikh hardliner Baba Baljit Singh Dadduwal was detained after his flight from London landed at Sri Guru Ram Dass International Airport here today.
I-T Dept offers incentive for retail consumers
Ludhiana, December 25
The Excise and Taxation Department has come up with a lucky coupon scheme to encourage people to take retail invoices from November 4 to March 31 next year. Prizes up to Rs 10 lakh per division will be awarded on the basis of a lucky draw in the seven excise and taxation divisions of the department.
Sangrur employment office runs with skeletal staff
Sangrur, December 25
The district employment office here has been run by only one officer as vacancies at the office had not been filled for the past few years. The posts that are lying vacant are that of an employment officer (vocational guidance), statistical assistant, six clerks and two Class IV employees.
Canal breached near Lehragaga
Sangrur, December 25
A small canal called Dialpura Rajwaha was breached at Nangla village on Monday, over five kilometres from Lehragaga. The breach was 35-feet wide. The water flooded standing crop in over 40 acres of land.



For a just cause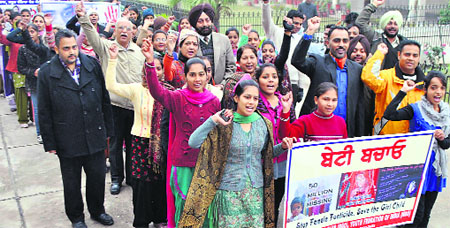 Students and teachers of Government Mohindra College hold a rally against female foeticide during the NSS Camp in Patiala on Tuesday. Tribune photo: Rajesh Sachar
HC issues notice to Chandigarh admn for filing false affidavit
Chandigarh, December 25
A former superintendent engineer has accused the UT chief engineers of filing 'wrong' and 'false' affidavits in the court.
After HC ruling, riot victims demand houses
Ludhiana, December 25
Ever since the High Court asked Mohali and Ludhiana district administration to allot accommodation to riot victims, people affected by the riots in other districts have also begun to demand the same.
5 gangsters held after encounter in Amritsar village
Amritsar, December 25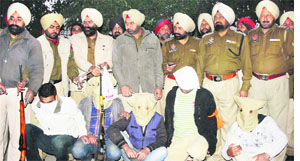 The Amritsar (rural) police today arrested five gangsters after a fire exchange at Mattewal village of Majitha constituency this afternoon. Three of their accomplices, including the son of a slain terrorist, escaped. Two 315 bore rifles, two 315 bore pistols and a 32 bore revolver were found at the encounter site.
Policemen with arrested gangsters at Amritsar's Mattewal village on Tuesday. Photo: Sameer Sehgal

Teenager raped in Ferozepur
Ferozepur, December 25
A 13-year-old girl of Jeeva Bharian village was allegedly raped by a youth belonging to an affluent family of the village on December 17.
Minor raped in Ferozepur
Ferozepur: A 13-year-old girl of Jeeva Bharian village was allegedly raped by a youth belonging to an affluent family of the village on December 17. The victim belonged to a poor family and was warned against reporting the matter to the police. Mustering courage, she approached the police on Wednesday. She was accompanied by her father. The police sent her for a medical examination.
In Hoshiarpur, woman attacked
Hoshiarpur, December 25
Kamaljit Kaur, a 24-year-old woman of Chaggran village, was shot at by an unidentified man wearing a mask this morning. She was rushed to hospital by her husband and brother as village residents converged on the crime site.
Sangrur village panch killed, son injured
Sangrur, December 25
Hakam Singh, an "adhikarat" panch (who is authorised to perform the duties of sarpanch), of Dhandoli Kalan village was killed and his son Yadwinder Singh injured when they were allegedly attacked at their house last evening.
Man held for murder of autorickshaw driver
Patiala, December 25
The Patiala police today claimed to have solved the murder case of an autorickshaw driver named Jaswinder Singh, who was found murdered on December 11 near Baran village.